2004: A year in cinema
After three years of hobbits, wizards and kings, 2004 was going to be a Lord of the Rings free year at the cinema. So did the avid movie watcher have much else to look forward to? Of course they did. After watching almost 200 movies in 2004, I've managed to whittle my favourites down to a top fifteen and some noticeable mentions for the year.
So lets get down to the countdown…
15. The Motorcycle Diaries


Walter Salles's beautiful portrayal of the early life of Ernesto Guevara de la Serna, who would later become the revolution know as Ché. Exceptionally acted by leads Gael García Bernal and Rodrigo De la Serna, the movie charts Ernesto and his best friend Alberto Granado's life changing journey through South America. This is an excellent movie that offers a fascinating insight into the man and the continent that he loved.
CLICK HERE to read the review
14. 21 Grams


Three powerhouse performances from Sean Penn, Naomi Watts and Benicio Del Toro combine to bring you one of the traumatic and moving movies of 2004. Alejandro González Iñárritu's film throws convention out of the window, leaping around the timeline and exposing you to just enough information to keep you enthralled as the story is thrown at you in pieces. This is gut-wrenching stuff and might be a tad too much for some but the power of the performances and the passion in which the story is told makes this one of the most compelling movies you will ever see.
CLICK HERE to read the review
13. Lemony Snicket's A Series of Unfortunate Events


A new franchise begins as Daniel Handler's beloved series of novels comes to the big screen. Very dark and extremely amusing, the film introduces us to the Baudelaire orphans, Violet, Klaus and Sunny and their nemesis Count Olaf. A chance of Jim Carrey to shine and guest stars to capture you imagination, this is another family movie that brings out the inner child in all of us as it is a total joy to watch, whatever your age.
CLICK HERE to read the review
12 & 11 House of Flying Daggers and Hero

After the success of Ang Lee's Crouching Tiger, Hidden Dragon, Chinese historical dramas that combined the mysticism of the Far East with modern martial arts techniques to bring the fascinating stories of Chinese folklore to life on the big screen. Yimou Zhang brings his own visual style to Hero and House of Flying Daggers to produce two of the most beautiful movies you will ever see. Each frame is a masterclass in cinematography but this is not all about visuals but both films have excellent, enthralling stories. The performances are also first rate with Jet Li,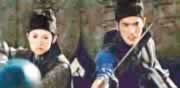 Takeshi Kaneshiro, Andy Lau, Ziyi Zhang, Tony Leung, Chiu Wai and Maggie Cheung bringing their characters to life with great gusto and brilliant martial arts expertise. These movies are examples of exceptional filmmaking and how all films should look.
CLICK HERE to read the Hero review
CLICK HERE to read the House of Flying Daggers review
10. Garden State


The move from actor to director is never an easy one but when you throw in writing the movie as well then you make things really difficult but Zach Braff raises to this challenge superbly. Showing immense promise and a real flare for the visual medium, Braff delivers a story and a performance that is as far removed from his Scrubs TV character as he could ever get. This is a tale about rediscovering life that will touch you on every level and live with you for a very long time. Zach Braff is a filmmaker to watch.
CLICK HERE to read the review
9. The Station Agent


Once in a while a movie comes along that you instantly fall in love with, The Station Agent is one of those films. This small budget, character driven comedy drama is an absolute joy to watch and it is due to a joyous script and three marvellous performances from Peter Dinklage, Bobby Cannavale and Patricia Clarkson. An absolute gem, the film takes you into their lives and to the point that you really care about these three people, which very few films can actually achieve.
CLICK HERE to read the review
8. Shrek 2


The rule is that sequels are never as good as the original but there are exceptions to the rule and Shrek 2 is a classic example. The creative team and vocal talent return to tell the next chapter in the tale of the green ogre, the princess and their noble steed and it is just as fun as the first. Along with all your favourite characters, the sequel introduces some memorable new characters and one instant classic in the shape of Puss-in-Boots. This is quality family entertainment and proof again that great CG visuals are nothing unless you have a great story.
CLICK HERE to read the review
7. Kill Bill Vol. 2


Quentin Tarantino's revenge opus concludes in dramatic and exciting fashion. After the extreme excitement of Vol. 1, the second part of the saga see the return of the writer/director's trademark dialogue but this isn't at the expense of the action. With some classic scenes, The Bride's martial training is one of the best scenes of 2004, and an excel conclusion to the tale, Kill Bill is an instant cult classic.
CLICK HERE to read the review

6. Shaun of the Dead


Once in a while a British movie comes along from nowhere and becomes an instant cult classic, Shaun of the Dead is one of those movies. The world's first Rom-Zom, this is a homage to George A. Romero's zombie trilogy but with a British sense of humour. With so many classic moments and quotable lines, this is the cult hit of 2004 and the best British movie in a long time.
CLICK HERE to read the review
5. The Bourne Supremacy


Matt Damon returns as the intriguing character Jason Bourne for another espionage adventure that is just as good, if not better than the first. America has always struggled to find a franchise that can compete with the mighty British Bond movies but in the Bourne series that have a character and a storyline that is better than anything Bond has done since the Connery years. This is dark and realistic stuff that draws you in and then grabs you and takes you on a roller coaster ride of intrigue and action, setting the standard for the spy movie.
CLICK HERE to read the review
4. Spider-Man 2


Your friendly neighbourhood wallcrawler returns in a movie that is arguably better than the first and the best comic book movie ever made. Director Sam Raimi and his cast and crew take the franchise to the next level in both story telling and action. The special effects in the movie are jawdroppingly good but it is the story that makes this film far better than anything else in the genre. This sets a new standard for big budget features
CLICK HERE to read the review
3. Eternal Sunshine of the Spotless Mind


Charlie Kaufman has been proclaimed as the most original screenwriter working in Hollywood today and this film clarifies that. Imagine if you could remove the unwanted memories of a painful relationship but as they disappeared you had to relive them, making you realise that they are precious, life defining moments of your life. This is a brilliant plot that is superbly acted by Jim Carrey and Kate Winslet. A complete joy.
CLICK HERE to read the review
2. Lost in Translation


Bill Murray and the beautiful and talented Scarlett Johansson come together for one of the best character driven comedy dramas you will ever see. This completely wonderful film is a complete joy to behold and an instant classic. It is a feel good movie that you just want to watch again and again. Bill Murray is amazing as Bob Harris, showing his comic genius and writer/director Sofia Coppola is just as talented as her illustrious father. A classic.
CLICK HERE to read the review
1. The Incredibles

When choosing your film of the year, you don't just look for performances, cinematography, storyline and characters, you also have to take into account how the film made you feel and out of all this year's contenders for the crown, there wasn't a movie that filled you full of joy in the same way as 'The Incredibles'. Pixar have done it again and produced a movie that hits on every level and is a film you want to watch again and again. Filled with great moments, fantastic characters and a storyline that will have you grinning from ear to ear, this is the definition of a family movie, as there is just as much for the adults to enjoy as the kids. If you have not seen this movie, seek it out, watch it and embrace it, as it is a film that you will treasure for the rest of your life and the best movie of 2004.
CLICK HERE to read the review
Noticeable Mentions
Overall, 2004 has been a good year for movies and there are many films that didn't make the top fifteen that are well worth a mention. Elvis took on a Mummy in 'Bubba Ho-Tep'. Tom Cruise and director Michael Mann combined to produce an excellent thriller with 'Collateral'. Guy Ritchie's producer Michael Vaughn made his directorial debut with the excellent British gangster flick 'Layer Cake'. Johnny Depp and Kate Winslet told the story of how J. M. Barrie wrote Peter Pan in 'Finding Neverland'. Jack Black taught kids how to rock in 'School of Rock'. Alfonso Cuarón bought us the best trip to Hogwarts with 'Harry Potter and the Prisoner of Azkaban'. Kerry Conran pioneered a new form of filmmaking with 'Sky Captain and the World of Tomorrow'. William H. Macy found love and violence in 'The Cooler'. Tom Cruise took on Japan in 'The Last Samurai'. Tim Burton returns to form with the magical 'Big Fish'. We witnessed the twists and turns of 'Oldboy'. Geeks ruled in 'Napoleon Dynamite'. Guillermo del Toro brought us 'Hellboy' and none of us will ever eat McDonalds again after watching 'Supersize Me'.
Along with all of these gems there are bound to be a few stinkers and 2004 had its share. Halle Berry and Ben Affleck really need to find themselves new agents after 'Catwoman' and 'Saving Christmas'. British movies took another hammering with 'Churchill: The Hollywood Years', 'Tooth' and 'Thunderbirds'. The Wayans Brothers proves that 'Scary Movie' was just a plot on their copybooks with 'White Chicks' and the Festive season movie was murdered in 'Christmas with the Kranks'. But what were the three worst movies of 2004.
3. Sex Lives of the Potato Men
Johnny Vegas and McKenzie Cook star in a movie that shows everything that is bad about the British film industry. This is a movie that make the 'Confessions of a…' films look like Oscar winners.
CLICK HERE to read the review
2. The Football Factory
Another British movie that tries to cash in on the thug/Chav mentality of a selective few football fans (if you can call them that). This is a film that should have nothing to do with the beautiful game and anyone who even considers it good, is not a true football supporter. A truly deplorable movie.
CLICK HERE to read the review
1. Birth
If you ever want to watch a film that will make you long for the sweet embrace of the grave then this is it. A trip to the dentist to have every tooth in you mouth drilled with no pain killing injection would be more pleasurable that watch this tripe. Nicole Kidman and everyone involved in its production should be rounded up and flogged for making critics and the general public alike endure it. Excruciatingly painful and one of the worst movies ever made.
CLICK HERE to read the review
So there you have it, 2004 all wrapped up. A good year for film and a great year for the small budget hits but what should we be looking out for in 2005?
2005 should already have your pulse racing if you are a movie fan. A new franchise starts with 'The Chronicles of Narnia: The Lion, the Witch and the Wardrobe'. Brad Pitt fights Angelina Jolie in 'Mr and Mrs Smith'. Frank Miller's classic graphic novel series 'Sin City' comes to the big screen. Mr Fantastic, The Invisible Woman, The Human Touch and The Thing are the 'Fantastic Four'. We return to Hogwarts for a fourth year with 'Harry Potter and the Goblet of Fire'. Tom Cruise takes on the aliens in 'War of the Worlds'. Jennifer Garner returns from the dead to kick some butt in 'Elektra'. Naomi Watts gets another video in 'Ring: Two' and Jennifer Connelly finds her new flat flooded with 'Dark Water'. 2005 is all about three movies however and they should already have you salivating with anticipation.
King Kong
Peter Jackson follows up 'The Lord of the Rings' Trilogy with his dream project. Setting the film in the 1930s and recreating the look and feel of the original movie, this should already have you swinging from the trees as you count down the days until Christmas 2005.
Batman Begins
After Joel Schumacher ruined the franchise with 'Batman & Robin' but Warner Bros have actually done the sensible thing and decided to start again. 'Memento' and 'Insomnia' director Christopher Nolan has taken over and totally redesigned the character and took him back to his comic book roots. Gone is the campiness of the TV series and the movies and in its place we have a gritty, more realistic portray of the dark knight. Could DC comics finally get a workable franchise?
Star Wars Episode III: Revenge of the Sith
The final episode of the prequel trilogy that has the potential to be the best Star Wars movie ever, Episode III has so much going for it. Think about what we will have to see. The fall and destruction of the Jedi, the rise of the Empire, the Emperor's plan coming together, the start of the rebellion, the birth of Luke and Leia, Yoda escaping and going into hiding and the big one, Anakin fighting Obi-Wan and becoming Darth Vader. If that doesn't get you excited, nothing will.
Roll on 2005.
---
The Usher Home | Hush, Hush... | The Big Story | The Usher Speaks
Stuck @ Home | Coming Soon | Links | Contact the Usher