"A ring-a-ding-ding"
Bob Harris
Travelling to Japan and getting paid $2 million to endorse a whiskey might sound good but for aging movie star Bob Harris (Murray), he couldn't be more bored. He doesn't understand the language, he is away from his family and friends and he is really suffering from jet lag. Charlotte (Johansson) thought that coming to Tokyo with her photographer husband (Ribisi) would be the trip of a life time but she didn't count on him working all the time and being too tied to do anything when he got back to the hotel. Not able to sleep, the two weary travellers meet in the hotel and quickly form friendship that will see them having fun for the first time since they got to the land of the rising sun.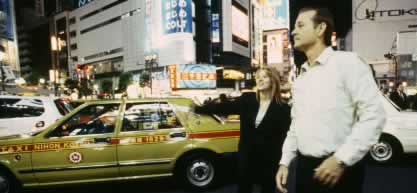 After been bombarded with "event movies" for a very long time, it is refreshing to just sit down and watch a character driven comedy/drama that has more to say about life than most of the films released at the moment.
Lost in Translation is a movie that captures the feeling of many in western society at the moment, "What am I doing with my life?" As more and more people become disillusioned with the way their lives are turning out, up and coming filmmaker Sofia Coppola emphasises this feeling even more by transplanting our weary characters into a completely alien culture. So consumed by their own disillusionment and personal crisis's, Bob and Charlotte fail to see the new world of wonders around them until they come together and discover what life and Japan have to offer.
At the heart of this movie are two extraordinary performances. Scarlett Johansson cements her name in the category of "destined for superstardom". This purely natural performance brings a sense of reality to the character as she deals with the questions of young adulthood and her fears for a future she cannot even envisage. Bill Murray is at last getting his career back on track with his best leading role since Groundhog Day in 1993. Coppola gives Murray the chance to shine as Bob Harris, a once big time actor who is struck in a rut in both his career and personal life. Maybe seeing a lot of himself in the part, he grabs the role with all of his comedic conviction and provides some of the biggest belly laughs to grace the silver screen in a very long time but then complements these with some tender moments that show his true acting diversity.
Its when the two characters come together however, is when the movie really shines. These are two people going through a similar life crisis, who would have never have even met if it wasn't for their location. As they both feel like outcasts in a completely different world, it was fated that they should meet and get along so famously. Like any holiday friendship or romance, it is the need to have someone to share the experience with that drives them together and kindles a connection that would have never have even crossed their minds back home. By the end of the movie you have the feeling that they have both become so dependant on each other to make their current situation feel secure.
The support is limited but good. Anna Faris gives a hilarious take on the dumb American film starlet abroad. Filled with her own self-importance and her quest for attention, this is a great performance from Faris that might get her noticed by more influential filmmakers. Giovanni Ribisi is as good as ever in a very small part. The other main support is Japan itself. As well as providing an amazing backdrop for the movie, with Coppola capturing the essence of both modern and historical Japan, the people are also the stars of the film. From an overly enthusiastic masseuse to the world's worst translator, the fish out of water scenes with Murray and his Japanese colleges are hysterical but if you think that these scenes are patronising to people involved, Coppola then throws in a respectful look at a country drenched in culture and tradition.
Lost in Translation is a triumph for Bill Murray and Scarlett Johansson and an astonishing achievement for Sofie Coppola. As both a writer and director she excels, mixing complex issues about life with brilliant observations of cultural differences and diversity. This movie re-ignites Murray's career and propels both Scarlett Johansson and Sofie Coppola into the big leagues.


PICTURE & SOUND
Presented in Widescreen 1.85:1 Anamorphic with a choice of Dolby Digital 5.1 and dts soundtracks, the transfer is very good, as you would expect from a modern film. Sofia Coppola's visionary journey through the neon lit streets of Tokyo is recreated superbly with bright colours and deep blacks. The sound is also good with the surround coming into its own during the nightclub scenes. The inclusion of both a Dolby Digital and dts track is also an added bonus.
BONUS FEATURES
'Lost' on Location (29.56 mins)
Behind the scenes video footage shot by Sofia Coppola and her husband, fellow director Spike Jonze. The featurette includes interviews with producer Ross Katz and the Japanese crew and documents the most of the shoot in Tokyo. It reveals the secrets of low budget filmmaking and some of the risk you have to take to get your required shot. Bill Murray is on top form throughout and watching him use of his only Japanese phrase is extremely funny.
Matthew's Best Hit TV (4.38 mins)
Your chance to see the full Bob Harris interview with Matthew Minami on Japanese TV. What makes this even funnier is that Matthew's Best Hit TV is an actual show in Japan that gets huge ratings. Here is your chance to find out what was in the box and how Bob reacted to it.
Kevin Shields "City Girl" Music Video
Kevin Shields's song from the soundtrack is accompanied by the video that includes many clips from the movie.
Deleted Scenes (10.23 mins)
Five extended or deleted scenes with the highlight being the extended scene with Bob speaking to the small Japanese man in the Hospital waiting room. A director's commentary on why some of these scenes were removed would have been good as some scenes; especially the one with Charlotte and the Robots could have been easily added into the final cut. So why were they cut?
A Conversation with Bill Murray and Sofia Coppola (9.45 mins)
Recorded in Rome in October 2003, the pair talks about their experiences making Lost in Translation. Sofia and Bill reminisce about the cast and crew, shooting particular scenes and talking Japanese. They also talk about the look of the movie and Sofia mentions the fact that the role of Bob Harris was only to be ever played by Bill Murray.
Theatrical Trailer
The final theatrical trailer is available to watch.
OVERALL
An absolute gem of a movie is packaged with some interesting and funny extras. The "Lost on Location" is a must watch aspiring moviemakers as it gives you an insight into the world of low budget filmmaking. The inclusion of the full interview with Matthew Minami is also great and very funny. The inclusion of an audio commentary would have been nice but this should not distract you from what is a well packages and nicely presented DVD for a low budget feature. Besides the movie makes it a must purchase anyway.
DVD


The Virgin Suicides
---
The Usher Home | Hush, Hush... | The Big Story | The Usher Speaks
Stuck @ Home | Coming Soon | Links | Contact the Usher

2004