"Welcome Home"
Coming home to New Jersey for the first time in nine years for his Mother's funeral, Andrew Largeman (Braff) really doesn't want to be there. Not really speaking to his father (Holm), Andrew catches up with his high school friends and meets Sam (Portman), a girl he instantly connects with. While his life had been pretty empty in LA, Andrew actually starts to wake up to life and the possibilities that he could actually be happy.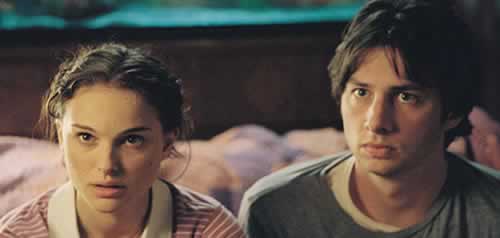 The move from actor to director is a big one but when you throw in writer as well, you are joining a very select band of filmmakers. Zach Braff easily makes that heady list.
Starring, written and directed by the actor more known for his role as J.D. in the hit medical comedy 'Scrubs', this is an outstanding debut and a showcase for a genuine talent. Any fan of the show will already know that Braff is a talented comedic actor but no one would have guessed that is was only a smidgen of his talent.
In 'Garden State' he brings us a story and a set of characters that you can instantly connect with and are completely captivating. These are average, everyday people wondering through life, slightly scared to experience everything it has to offer. Our lead is Andrew Largeman, Large to his friends, a man riddled by guilt who, because of drugs prescribed by his psychiatrist, had been numb to life for over nine years. Due to the unfortunate death of his mother, he returns to New Jersey, leaving his pills behind in L.A., and starts living for the first time. This is like an awaking for the character and the audience as Braff skilfully introduces you to a world of wonder, friendship and love but always keeps this ground in reality.
Joining him on his journey are Natalie Portman and Peter Sarsgaard. You might have forgotten that there is more to Natalie Portman's career than starring in a franchise set in a galaxy far, far away. She was an actress described as one to watch and this is a role that re-ignites that interest. As Sam she creates a kooky, off the wall character that instantly endears herself to you, making it easy she why Andrew is so taken by her. This is a role that Portman can excel in, as she has finally finds a script and a character that allows her to express her talent. Peter Sarsgaard is making a name for himself as a talented character actor. As Mark, Andrew's High School buddy who now digs graves for a living, he creates an everyman who is still grabbing onto the insanity of youth and refusing any resemblance of responsibility. Partying, taking drugs and loving women, the character also goes through a journey of discovery as he finally realises that the things he does can have consequences. Sarsgaard captures this superbly and highlights again that he is an actor to watch.
The movie is all about the talents of Zach Braff however and this is a real showcase. It has been a long time since someone has made such an accomplished debut but with 'Garden State', Braff announces to the world that he is a serious talent to be watched. As Andrew he creates a character that is slowly waking up to life and the joys it can bring. After existing in a drug-induced stupor for the last nine years of his life, he finally feels what it is like to be alive and becomes a better person through it. This is a restrained performance from the talented comedic actor that grows as the movie progresses and the drugs wash out of the character's system. As a director he shows a real visual flare. Every shot is a pallet of colour and style, as he reveals his view of the Garden State to the world. Mixing in fast cuts, slow motion and lingering shots of a place that he clearly loves, Braff shows that he has a real eye for cinema. Finally, as a writer he creates a story and characters that are enthralling and engaging. Plodding along at just the right pace, even thought the story might seem slow and too slight for some, this is a journey of discovery for the three main characters and one that make you look at own life and question if you are living enough.
Garden State is an impressive debut from a true emerging talent. This is a movie that will engage you on many levels and get you thinking for a long time after. With a great script, fantastic performances and a visual style that you can't help but watch, this is picture that makes Zach Braff a filmmaker that you should be taking notice of.


I'll be the first to admit it, but Garden State is not normally the sort of movie I would generally go and see. Yes, it seems like a very thoughtful film, and you won't find any explosions or big-budget action sequences here.
What Braff is probably more famous for, however, is playing medical intern 'J.D.' in the popular American sitcom 'Scrubs' and this shows in this, his directorial and writing debut. The humour is offbeat and little black at times, like 'Scrubs', but there is a much darker tone to the humour, such as the scene of Andrew's mother's funeral. Personally, I was a little uncomfortable not knowing whether or not to laugh at some of the humour in this scene, but it did provoke a lot more thought than Scrubs usually does.
As well as the comedy, the story itself shines, although it is rather hard to follow at times. The relationship between Braff and Portman's characters seems strikingly real, and this makes the romantic scenes towards the end more poignant. This is probably helped by the fact that the story is based on Braff's own experiences and his own life, but the sense of emotion (or lack of) from Braff throughout the movie is a key factor in making the film a really thoughtful and intelligent watch.
There are also nice juxtapositions of scenes throughout the film, even the beginning of the movie where Largeman seems to be in the middle of a plane crash, yet he is still, calm and quiet, then snapping into the next scene where he is in his very minimalist bedroom. These touches and other uses of imagery throughout the film create some interesting questions to the viewer like; what is Andrew really searching for? Has he ever been happy about life? Was he responsible for his mother's death in some way?
Zach Braff shows competence and a remarkable talent in Garden State as both an actor and Writer/director with the future looking promising if this debut is anything to go by. The only criticisms about this movie are that it is an acquired taste, and not everyone will enjoy it or indeed follow it perfectly. The movie gained respectable takings in the USA box office, but it remains to be seen if it can do the same thing over here, and I'm not sure if we Brits will 'get' the subtle humour in the movie and as a result may suffer over here. If you get chance, try something different, try Garden State. You'll be pleasantly surprised.
Ben Borthwick


PICTURE & SOUND
Presented in Widescreen 2.35:1 Anamorphic with Dolby Digital 5.1 soundtrack, the transfer is extremely good. Zach Braff's visual treat is vividly brought to life via an extremely sharp picture that really takes you into Large's world. The sound quality is also very good, emphasising dialogue but also filling the speaker with some great music.
BONUS FEATURES
Commentary by Director/Writer/Actor Zach Braff and Actor Natalie Portman
This is a fun and chatty commentary from two people you can tell have become friends. Zach Braff talks extensively about the story behind the movie, how and why he wrote it and how he based it on real events that occurred in his life. Natalie Portman reveals how she got involved in the project and she talks about her character and what it was like working on the film. The pair has just as a good a chemistry off screen as they do on and this makes for a great commentary.
Commentary by Director/Writer/Actor Zach Braff, director of photography Lawrence Sher, editor Mayron Kerstien and production designer Judy Becker
This is a more informative and technical commentary but it is still chatty and fun. The director and his crew talk about the visual style and look of the film, revealing how lighting and visuals were utilised to show Large's journey back into life. The group talk about casting, the actors involved and their characters and most importantly the story and how it differs from your usual Hollywood structure. This is another good commentary track for the movie.
Deleted Scenes (31.40 mins)
Entitled 'Century Pavilion', 'The Audition', 'Restaurant Kitchen', 'Talk to the Hand', 'Wallpaper Shirt', 'Mezuzah', 'Musical themed Bar Mitzvah', 'Kenny's kid', 'Suicide Room', 'Stoned on the couch', 'Meeting Olivia', 'First talk', 'Egg babies', 'Ritalin (Handi-World)', 'Interior Ark - Part One' and 'Bath tub talk', these deleted scenes have optional commentary by Director/Writer/Actor Zach Braff, director of photography Lawrence Sher, editor Mayron Kerstien and production designer Judy Becker, who explain why the scenes were removed from the final cut.
Making Garden State (27.31 mins)
Writer/Director Zach Braff, producer Gary Gilbert, director of photography Lawrence Sher, production designer Judy Becker, 1st assistant director Michael Lerman, art director Laura Ballinger, producer Pamela Abdy, script supervisor Michael Taylor and stars Natalie Portman and Peter Sarsgaard take you behind the scenes of the making of 'Garden State'. The featurette includes footage from the shoot, including rehearsals, location scouting and walkthroughs of scenes as the cast and crew talk about their experiences making the film. This is a very good featurette that gives you a fascinating insight into low budget filmmaking.
Outtakes/Bloopers (3.21 mins)
A montage of goofs and gaffs from the set that includes the hilarious outtakes showing how Zach received 'Dog Love'
Soundtrack Promo Spot (0.31 mins)
A trailer for the excellent 'Garden State' soundtrack
OVERALL
For a small budget movie this is an excellent DVD presentation. Two outstanding commentary tracks, deleted scenes (with commentary) and a very good making of… featurette combine to produce excellent value for the first time viewer and fans of the film. This is a complete must by for anyone who loves independent cinema.
DVD


---
The Usher Home | Hush, Hush... | The Big Story | The Usher Speaks
Stuck @ Home | Coming Soon | Links | Contact the Usher

2004