"I need some assistence Gromit"
Wallace
With only days to go before the Tottington Giant Vegetable Competition, humane pest-controllers Anti-Pesto, Wallace (Sallis) and Gromit are on high alert. With the rabbit population trying their best to get their buck teeth into the biggest vegetables they have ever seen, Anti-Pesto are busier than ever. When Lady Tottington (Bonham Carter) charges Wallace and Gromit with humanely removing the rabbits from her estate before her suitor Victor Quartermaine (Fiennes) brings his very big gun. Thinking they have the problem under control everything goes haywire when the full moon brings the biggest pest Wallace and Gromit have ever seen, a creature of myth, the were-rabbit.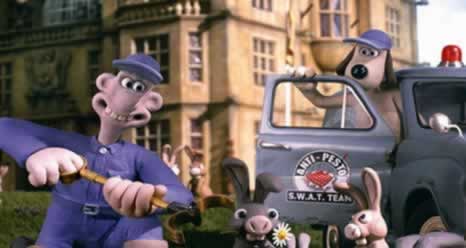 After Oscar success with the animated shorts, Nick Park brings his beloved creations Wallace and Gromit to the silver screen but can they make the jump to a feature length adventure?
Of course they can and it is cracking! When it comes to capturing the true essence of Northern England in plasticine there is no one better than the stop motion experts at Aardman Animation. Now with the backing of DreamWorks, Nick Park and his creative team can bring their most famous characters to the silver screen for a full length cracking adventure. Losing nothing of the charm and utter British-ness that made them such a firm family favourite in the first place, this is one of the best animated films ever.
To create a truly great family film you have to appeal to both the younger and older audience. Pixar and DreamWorks' own 'Shrek' movies have achieved this and went on to make millions at the box office and the good news is that 'Wallace & Gromit: The Curse of the Were-Rabbit' follows this formula. Youngsters will love the cute characters and fun storyline but the older will revel in the continuing run of movie references, double-entendres and sight gags that will have them laughing themselves silly. This is an extremely funny movie on so many levels and you really need multiple watches to take in every thing that the filmmakers have put on screen.
The animation itself is jaw-droppingly superb and surpasses anything you have ever seen before in either Wallace and Gromit's animated shorts or any other stop-motion feature. The attention to detail is staggering but you can still see the figureprints of the animators on the models, revealing that they stayed true to the hand animated feel that made you fall in love with the characters in the first place. With action sequences that would give any Hollywood blockbuster a run for its money, this is edge-of-your-seat action that never loses touch with its comedic underpinnings. Your heart will be racing one minute during the action packed finale only for Nick Park to throw in a gag that will have you laughing out loud.
Wallace and Gromit make the transition to feature length adventure with ease and the vocal performances bring Wallace and the new characters to life. A Wallace and Gromit movie would be nothing without the voice of Peter Sallis breathing life into everyone's favourite cheese-loving inventor. Typically Northern, the eccentric, good-natured man is the embodiment of everything that is good about people from the region and Peter Sallis's voice epitomises this completely. Coming into the fold are Hollywood superstars Ralph Fiennes and Helena Bonham Carter as Victor Quartermaine and Lady Tottington, with both of them getting into the spirit of Wallace and Gromit with ease. Add to this some great vocal performances from British comedic talents Peter Kaye, Mark Gatiss, John Thomson and Nicholas Smith and you have a recipe for a classic.
'Wallace & Gromit: The Curse of the Were-Rabbit' is a classic and one of the best family films ever made. Directors Nick Park and Steve Box have transferred the magic of the Oscar winning shorts into an amazing feature length adventure that never loses any of its British-ness that made it so brilliant in the first place. The film is quite simply 'Cracking'.


PICTURE & SOUND
Presented in Anamorphic Widescreen 1.85:1 with Dolby Digital 5.1, the movie is presented brilliantly, highlighting the fantastic animation and sound design.
BONUS FEATURES
Disc 1
Cracking Commentary
Co-writers and directors Nick Park and Steve Box provide a smashing commentary for the first big screen Wallace and Gromit adventure. The pair offers fascinating insights into how the movie was made over the five-year period, highlighting the changes to the script, the deleted or alternative sequences and how they set out to pay homage to classic horror genre movies. They also talk about the differences between this and the previous award-winning shorts, highlighting the difference in scale and budget. This is an excellent commentary that is very enthusiastic and suitably British, just like the movie.
Deleted Scenes (13.13 mins)
Entitled 'Alternative opening and deleted PC Mac scene', 'Deleted Mind-O-Matic scene', 'Deleted Launch scene', 'CG alternative rabbit ears', 'Alternative ending: West Wallaby Street', 'Alternative ending: The Wedding', 'Anti Pesto Song', 'The Anti Pesto Song reprise' and 'Deleted shot', these storyboarded and completed scenes are accompanied by audio commentary by directors Nick Park and Steve Box.
The History of Wallace & Gromit (20.23 mins)
Creator Nick Park, Aardman Animation founders David Sproxton and Peter Lord, CEO of DreamWorks Animation Jeffrey Katzenberg, co-director Steve Box and vocal stars Peter Sallis, Helena Bonham Carter and Ralph Fiennes talk about the cracking adventures of a crackpot inventor and his trusted canine companion. This featurette reveals how Wallace and Gromit went to Hollywood. From the lowly beginnings as Nick Park student film 'Grand Day Out' and then onto Oscar winning success with 'The Wrong Trousers' and 'A Close Shave', we also see Aardman's impressive history from 'Creature Comforts' to 'Chicken Run'.
Behind the Scenes of the Curse of the Were-Rabbit (15.23 mins)
Co-directors Nick Park and Steve Box, CEO of DreamWorks Animation Jeffrey Katzenberg, producer Claire Jennings, 2nd unit director Merlin Crossingham and vocal stars Peter Sallis, Helena Bonham Carter and Ralph Fiennes take you behind the scenes of Wallace & Gromit's first big screen adventure. We see how the self-proclaimed first vegetarian horror movie was designed and realised, highlighting the painstaking attention to detail afforded by all of the 30 animators that worked on the project, as well as amazing character and set design throughout the movie.
A Day in the life at Aardman (8.25 mins)
Take a tour of the Bristol studios of Aardman as we look in on the rigging, vegetable, art, backdrop, production office, animators, editing, model making and storyboard departments.
How to build a bunny (3.31 mins)
Model making team leader Harriet Thomas shows you how to make a bunny, just like the ones that Wallace and Gromit have to capture. The Family Album Here you can look at 'Signs', 'Storyboards', 'Wallace & Gromit's Photo Album' and 'Behind the scenes' images.
DreamWorks Kids
Anti-Pesto S.W.A.T.
Team Become a member of the team and help Wallace and Gromit capture bunnies in this interactive game.
Victor Quartermaine's Guide to Cool
Follow Victors tips on how to be cool as he offers his insights into guns, hair, clothes, flowers, women and been heroic, with video clips as examples.
Style with Lady Tottington
You get to decide what Lady Tottington should be wearing as she goes about her stately life.
Build your own Bunny
A step-by-step guide showing you how to make your own Bunny like the one that Anti-Pesto is after.
DVD ROM
Insert disc 1 into your PC and view loads of other special features. Kids can "invent" their own fun with an assortment of creative activities and printables featuring Wallace & Gromit, including bookmarks, colouring pages, iron-ons, masks, photo frames, recipes, stencils, stickers and much more.
Trailers
Watch previews of 'Over the Hedge', 'Flushed Away', 'Madagascar', 'Shark Tale', ' Shrek 2', 'Nanny McPhee' and 'Wallace & Gromit: The Curse of the Were-Rabbit - Interactive DVD Game'
Disc 2
Making the Were-Rabbit (9.45 mins)
Co-directors Nick Park and Steve Box, Were-Rabbit team leader Ellie Weston, lead animator Ian Whitlock and animature model maker Andrew Bloxham show you how the very different Were-Rabbit model was made for the new Wallace and Gromit movie.
Cracking Contraptions (23.49 mins)
Watch ten Wallace and Gromit animated shorts entitled 'The Soccermatic', 'The Tellyscope', 'The Autochef', 'The Snoozatron', 'The Turbo Diner', 'The Bully Proof Vest', 'The 525 Crackervac', 'A Christmas Cardomatic', 'The Snowmanotron' and 'Shopper 13'. Cracking.
The Amazing World of Wallace & Gromit (15.05 mins)
Nick Park and Aardman founder David Sproxton talk about the history of the company and the integral role that Wallace and Gromit have played in its success. This featurette is almost the same as the 'The History of Wallace & Gromit' featurette on the first disc and you have to wonder why they included it.
Stage Fright (15.02 mins)
An animated sort from Aardman is about a bullied dog juggler who gets his revenge on his tormentor. Brilliant animation but a strange story.
OVERALL
DreamWorks have done a cracking job with the DVD for Wallace and Gromit's movie debut. The bonus features are superb, with loads of featurettes and a smashing commentary. When you add in 'Cracking Contraptions' you have a two-disc set that fans will revel in.
DVD


---
The Usher Home | Hush, Hush... | The Big Story | The Usher Speaks
Stuck @ Home | Coming Soon | Links | Contact the Usher

2005