"He's my Boss"
Dan
Dan Foreman (Quaid) has been selling advertising space in America's most popular sports magazine for twenty-three years and was on top of his game but when Globecom buy the publication, they plan to make some changes. Firstly Dan now has a new boss, up and coming salesman Carter Duryea (Grace) who just happens to be young enough to be his son but is filled with ideas and a remit to slim the sales team down.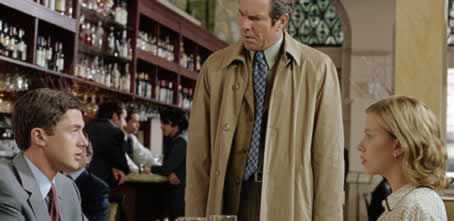 Films that look at the everyday lives of normal human beings can draw you in and make you invest in the characters.
'In Good Company' is one of those movies. Real human drama and the funny things in life are elements that can make you instantly connect with a group of characters and their situation. Without any larger than life situations, characters that you are never going to meet or outlandish special effects, this is the kind of movie everyone needs to see every now and again, as its subject is the human condition. Posing the questions 'Am I told old to start again?', 'Is this the right career for me?', 'Should I leave the comforts of home?' and 'Am I doing the right thing?', 'In Good Company' asks questions that everyone has pondered or will ponder sometime in their lives.
Here we have a life long career man, working hard to provide for his family and an excellent salesman. We also have an achiever, climbing the corporate ladder at an accelerated pace as he has been earmarked for success. In the middle we have a young woman about to start her life by leaving the nest and entering adulthood. This trio's stories become intertwined, driving each of their presents and defining their futures.
Once one of the biggest stars in Hollywood, Dennis Quaid's career is enjoying abit of a renaissance. The role of Dan Foreman, takes him away from the glut of blockbuster leading men he has been associated with lately and makes him the ordinary man. This is a part that showcases Quaid's quality as a character actor, who brings realism and a hint of comedy, to a man who has to cope with change. As his career and home life are turned upside down, Quaid makes the character believeable and easy to connect with.
Raising star Topher Grace might just be leaving his TV career behind him and becoming a major big screen star. As Globecom hotshot Carter Duryea, he creates a driven young man with many flaws as quite a lot is missing from his life, but he hasn't realised this yet. This is a role that he excels in, making Carter's drive very visible but exposing his vulnerabilities at the same time.
Scarlett Johansson continues to prove that she is one of the best young actresses in Hollywood at the moment. As Alex, Dan's eldest daughter, she is just starting out in her adult life as she leaves home and heads off to college. Her naturalist acting style really suits the role and makes the character more real and easy to connect with. Alex has a lot to experience and Scarlet portrays her with an air of innocence and determination that make her instantly appealing.
At is essence the film is a human comedy/drama with a message about the growth of big corporations and how it affects the ordinary men and women who get caught up in mergers and takeovers. Taking a swipe the corporate giants led by very public media moguls, this part of the story plays second fiddle to human drama but does push the film in the right direction.
'In Good Company' is a film that is it impossible not to like. A well-written script is complemented by three excellent performances from the leads and a supporting cast that helps them all the way. It is hard not to connect with this movie in some way as the characters and the plot draw you in from the start. If you like this you'll be in good company.


PICTURE & SOUND
Presented in Anamorphic Widescreen 1.85:1 with a Dolby Digital 5.1 surround sound, transfer is very good.
BONUS FEATURES
Feature commentary with director Paul Weitz and star Topher Grace
This chatty and fun commentary has the director and his star revealing behind the scenes gossip and offering insights into the making of 'In Good Company'. The pair talks candidly about the plot, with Weitz offering insights into the feeling behind the piece for a writer's point of view, and Grace revealing his feeling from a character and actor's prospective. Filming styles, the story and the editing process are also discussed in this fun and informative track.
Featurettes (23.35 mins)
Split into seven parts (which can be viewed separately) entitled 'Stars', 'Youth', 'Getting Older', 'Real Life', 'New York Locations', 'Editing' and 'Story', these features cover most aspects of the films production. Director Paul Weitz, executive producers Chris Weitz and Andrew Miano and stars Dennis Quaid, Topher Grace, Scarlett Johansson, Marg Helgenberger and David Paymer chat about the characters, story, locations and how they became involved with the project. Writer/director Paul Weitz reveals secrets behind the screenplay and the featurettes also take you behind the scenes of a real Sports magazine and speak to its staff about the validity of the film and its characters.
Deleted Scenes (16.08 mins)
Entitled 'Int. Airplane Dan, Louie and Morty', 'Carter calls wife from hospital', 'Dan tells Ann about his demotion', 'Dan hears Carter retching after firing Enrique', 'Dan Golfs', 'Carter talks to co-workers about his wife', 'Dan arrives early for the meeting', 'Dan dyes hair and it drips during the meeting', 'Office phones not working, cell phones not working' and 'Dan quits his job', these deleted or extended scenes have optional commentary by director Paul Weitz.
Cast & Filmmakers
Read text biographies for Dennis Quaid, Scarlett Johansson, Topher Grace, Marg Helgenberger, David Paymer, director Paul Weitz, producer Chris Weitz and executive producers Rodney Liber and Andrew Miano.
OVERALL
The DVD transfer of 'In Good Company' is a good one with bonus material that should really please fans. The commentary track is fun and informative, the featurettes cover most aspects of the films production and the deleted scenes are accompanied by a commentary track, which is really a must. The charming, gem of a movie gets the DVD transfer it deserves, as fans will be very happy and it is a good rental for anyone who missed it at the box office.
DVD


---
The Usher Home | Hush, Hush... | The Big Story | The Usher Speaks
Stuck @ Home | Coming Soon | Links | Contact the Usher

2005