"Don't go the whole 100!"
Hitch
For men who have problems forming a relationship with a woman in New York, they now have hope in the shape of Alex 'Hitch' Hitchens (Smith), a self proclaimed 'Date Doctor'. With insights into the female form that most men could only dream, Hitch has helped many find the girl of their dreams but with all his knowledge of the opposite sex his own love life isn't as buoyant as his client's.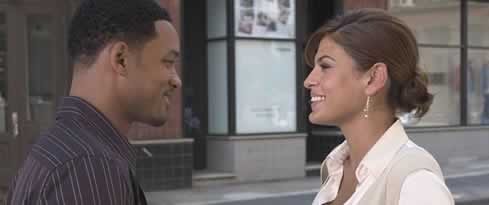 Will Smith takes a break from epic blockbusters and returns to his comedy roots but can he remember what it is like to do a romantic comedy?
The Fresh Prince has grown up since ending his hit TV series in 1996. Gaining Oscar nominations, winning numerous awards and starring in some huge box office smashes, Will Smith has become one of the biggest and most commercial stars working in Hollywood today. Every film he is now involved in is a huge, commercial endeavour and 'Hitch' is no different but it isn't his usual action, SFX filled affair.
As Alex 'Hitch' Hitchens, Smith is a 'Date Doctor', a man who knows the ins and outs of woman and shows men how they should act to woo the woman they adore. The role takes him back to his comedic roots and reminds us what a range the actor has. He is one of those people you cannot help but like, meaning that his character is easy to connect and emphasis with. It is a role that Smith excels in and the film is better than it should have been for it.
Playing the female lead is an up and coming actress that is as talented as she is beautiful. Eva Mendes has made a name for herself playing strong female roles but she has a gift for romantic comedies. As Sara, she is a career driven journalist who doesn't have time for a man in her life until Alex tries to sweep her off her feet. This is a role that Eva Mendes can excel in, as she is not just the natural beauty that she is but also a woman that is intelligent and independent, making her a strong female character.
The supporting cast is also good. Kevin James moves onto the big screen with ease to play Albert, the lowly accountant that has fallen for a beautiful heiress, who is way out of his league, or so he thinks. With the help of Hitch, his true colours get the chance to emerge and he might actually have the chance of been noticed. James grabs the role with both hands making Albert instantly likeable and extremely easy to get behind. He brings hope to all the geeky but nice men out there who just want to be noticed. Amber Valletta is Allegra Cole, the object of Albert's affections and a high society heiress who is constantly hounded by the paparazzi. She is a woman who lives her life through the media but no one really knows who she is until she meets Albert. The role could have been so easy to play as bitchy and self centred but Valletta makes her appealing and not repulsive, making you understand why Albert likes her.
While 'Hitch' might not bring anything new to the genre, the premise and the cast make it an excellent date movie. Will Smith and Eva Mendes excel, even though the story becomes extremely sugar coated during the finale, the movie has enough for both sexes to enjoy and it brings a little bit of hope to all those single men who long to be noticed.


PICTURE & SOUND
Presented in Anamorphic Widescreen 2.40:1 with Dolby Digital 5.1 surround sound, the movie is presented very well.
BONUS FEATURES
Gag Reel (3.49 mins)
Watch Will Smith and the rest of the cast make a complete hash of their lines.
Deleted Scenes (13.44 mins)
Entitled 'Hitch meets Cressida', 'I could use a bathroom' and 'Film opening with George Fenton score', these deleted or extended scenes are accompanied by intros from director Andy Tennant.
Featurettes
Dance steps made easy (8.18 mins)
Director Andy Tennant and stars Will Smith and Kevin James take you behind the scenes of dance scene between Hitch and Albert. Here we see Kevin James' hilarious improv dance moves with names like 'slow thriller' and his own take on the 'Moonwalk'.
I Love New York (6.50 mins)
Director Andy Tennant, executive producer Michael Tadross, producer James Lassiter and stars Will Smith, Amber Valletta, Kevin James and Eva Mendes take you behind the scenes of the New York locations used in the movie. Here we see Downtown, Ellis Island, Sky Studios, Battery Park and Fulton Fish Market.
Hitch Style (6.33 mins)
Director Andy Tennant, costumes designer Marlene Stewart and stars Will Smith, Kevin James and Amber Valletta take a look at the clothes worn in 'Hitch'. The group talk about creating a look for each of the characters and how Will Smith had a hand in Hitch's 1980s look.
The Dating Experts (11.22 mins)
Director Andy Tennant and star Will Smith are joined by dating expects and life coaches to talk about the basic principles of dating. The group discuss body language, communication, what women are looking for, best friends approval and the all important first kiss.
Will Smith's Carpet Race (3.53 mins)
On February 22nd 2005, Will Smith attempted to break the Guinness World Record for the most public appearances in 12 hours by a film star. This is how he got on.
Music Video by Amerie '1 Thing' (3.58 mins)
Watch the promotional music video for Amerie's song that featured in the movie.

Trailers
Previews of 'Are we there yet?', 'Man of the House', 'Spanglish, 'Little Black Book' and 'Bewitched'.
OVERALL
Sony has done a decent job with the DVD transfer of 'Hitch'. The featurette are informative and fun, the deleted scenes could have easily been added into the film but the director explains their removal and the gag reel is very funny. The only minus point is the lack of a commentary track. Fans of the movie will be pleased however and for those who missed it at the cinema, 'Hitch' is a really good rental choice.
DVD


---
The Usher Home | Hush, Hush... | The Big Story | The Usher Speaks
Stuck @ Home | Coming Soon | Links | Contact the Usher

2005