"Don't forget 60B"
Drew Baylor (Bloom) has lost his girlfriend, his job and the company he worked for one billion dollars but just as he thought things couldn't get any worse his sister Heather (Greer) calls to tell him that his father has passed away. Now he has to put his own problems aside and head to Kentucky to the place of his father's birth, Elizabethtown. With all the arrangements to see to and his father's family to deal with, Drew doesn't really have time to for anything else until he meets airhostess Claire (Dunst).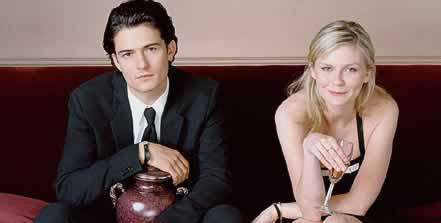 When Cameron Crowe writes and directors a movie people take notice but can 'Elizabethtown' capture the same magic as 'Jerry Maguire' and 'Almost Famous'?
What draws people to Cameron Crowe's movies is that they are personal stories that you can find some connection with. 'Elizabethtown' really plays to his strengths of creating likeable characters and situations that will touch you and make you laugh. As with all his films, he has to have a strong protagonist and the character of Drew just about makes it.
As leading man, the jury is still out on Orlando Bloom. While the British actor is the current flavour of the month in Hollywood, there is no denying that he has acting talent and there is more to him than just his boyish good looks. As Drew both he and Crowe create a leading man that is easy to get behind and like. This is a man who has thrown himself into work only for it to blow up in his face and cause the biggest fiasco in shoe manufacturing history. This pales into insignificance when he gets the news of his father's death and from then on we are taken on a journey of self-discovery and the realisation that there is more to life than just a job. Orlando does have a bit of a dodgy American accent but this is another important role for him and one that proves he can actually carry a movie.
Stealing the show from the leading man is the leading lady, Kirsten Dunst. As Claire, the airhostess with a heart, she makes a connection with Drew that gives him one really positive thing in his otherwise depressing situation. She is that little voice that pushes him in the right direction and keeps him focused on what he needed to do. Kirsten Dunst is an actress who cannot help but like and she has the talent to make you like her even more.
An excellent supporting cast accompanies our two leads but some of them could have done with a little more screen time and development. Susan Sarandon and Judy Greer are very good as Drew's mother and sister. Paul Schneider is ex-musician father and Drew's cousin Jesse, who brings some music and comedy to the proceedings. There are also good performance from Bruce McGill, Alec Baldwin and most of Drew's extended Kentucky family.
As with all of Cameron Crowe movies, the soundtrack is superb. With contributions from Elton John, Tom Petty, Ryan Adams, The Hollies and many others, the music drives the emotions just as much as what you are watching on screen. Add to this another brilliant score by Nancy Wilson and you have a musical accompaniment that complements and drives the story on.
'Elizabethtown' is another fine example of the writing and directing talents of Cameron Crowe. With a story that will touch you and characters that you quickly become involved with, this is a movie that you can't help enjoying. With his eclectic view on life and drawing from his own experiences to produce a fiction tale, Crowe continues to be a writer/director that you have to take notice of.


PICTURE & SOUND
Presented in Widescreen 1.85:1 Anamorphic with a Dolby Digital 5.1 soundtrack, the transfer is good.
BONUS FEATURES
Meet the Crew (2.35 mins)
On the first day of the shoot we get the see some of the people worked on the movie that you usually never get to see, even on featurettes.
Extended Scenes
'Rusty's Learning to Listen Part 8' (3.34 mins)
Watch the full version of the child training film that shows kids how to be quiet and listen to their parents and if they do, Rusty will blow up a house.
Hanging with Russell in Memphis (7.27 mins)
The man behind the bar at Rusty's place regales you with stories from Memphis and the famous Sun Studios.
Photo Gallery
View images by Neal Preston entitled 'Behind the Scenes', 'Mercury', 'Drew Baylor', 'Mitch, Hollie, Drew and Heather: The Baylors', 'Claire Colburn', 'Drew & Claire', 'Kentucky', 'The Memorial', 'The Funeral' and 'The Road Trip'.
Theatrical Trailers
Watch the promotional trailers entitled 'Bad Day' and 'Drew'
OVERALL
The DVD treatment for 'Elizabeth Town' is a little lacklustre. With only some very short featurettes, some extended scenes and a photo gallery, fans will be very disappointed with the bonus features on this DVD.
DVD


Jerry Maguire
Say Anything...
Singles
---
The Usher Home | Hush, Hush... | The Big Story | The Usher Speaks
Stuck @ Home | Coming Soon | Links | Contact the Usher

2005