"My name is Domino Harvey"
Captured by the FBI, bounty hunter Domino Harvey (Knightley) recounts the events that left mobster, casino owners and agents dead, the Stratosphere Hotel in Las Vegas destroyed and $10 million missing. In the interview she tells Agent Taryn Miles (Liu), how a girl who had a privileged upbringing and an ex-model became one of the most renown bounty hunters on the West Coast and how Ed Mosbey (Rourke), Choco (Ramirez) and her became involved in this trail of devastation.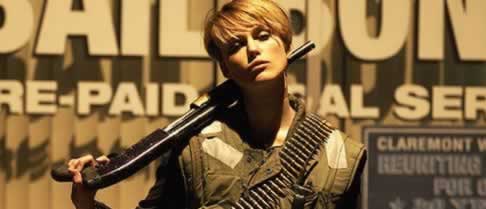 The notion of a daughter of a film star, who grew up with everything she ever wanted and became a model, transforming herself into a fearless bounty hunter is an intriguing one but can it make a good movie?
The stylised story of a model turned bounty hunter is the obvious territory for director Tony Scott. His music video approach to filmmaking should be well suited for a film of this style but the problem is that he totally goes over the top. Famed for his visual style of fast cuts and taking the camera into the action, he ruins riot and almost makes the film unwatchable. With visuals very similar to his last movie 'Man on Fire', he pushes these techniques to the maximum, throwing you around with the action but never giving you a clear look at what exactly is going on. The camera is never still, with shots moving in and out of focus, and colour bleeding out of the frame. While this worked well in 'Man on Fire', Scott pushes this style far too much making the film very difficult to comprehend.
Keira Knightley is becoming the hottest female property in Hollywood and to her credit she is not sticking to any particular genre or style of film but the role of Domino Harvey might just be a little too much for her. Even when you watch her on screen you can not really take her seriously as a hardnosed bounty hunter. The thought of Keira been regarded as hard doesn't really work for the film or the character. She struggles to command the screen and it is very hard to believe that she is control on two seasoned and deadly bounty hunter, who follow her lead. The fact that Domino Harvey is actually a real character (but much of the story is fictional), makes this even harder to digest.
The supporting cast try there best with the material but they don't really have much to work with. None of the characters are developed enough to form any sort of connection with. Even Mickey Rourke's Ed Mosbey and Edgar Ramirez's Choco never really appeal or give you anything to invest in. The rest of the characters have little or no background and have little time to establish themselves in Domino's world.
'Domino' is an interesting story and a great topic for a movie but this adaptation of the bounty hunter's life is a complete mess. With characters you just don't care about and visuals that make it extremely difficult to watch, the people behind the film need to be hunted down themselves and made to pay for their crimes again Domino Harvey's story.


Not Available

---
The Usher Home | Hush, Hush... | The Big Story | The Usher Speaks
Stuck @ Home | Coming Soon | Links | Contact the Usher

2005