"He's about to paint his masterpiece"
Washed up ex-army specialist Creasy (Washington) is given a second chance when long time friend Rayburn (Walken) offers him a job protecting a family in Mexico City. Remote and still drinking, Creasy sees this a just a way of passing the time but this changes when he meets the family's daughter Pita (Fanning). She gets him to open up for the first time in years and gives him a reason to live. Creasy's happiness is short lived when Pita is kidnapped and he is almost killed in the ambush. As soon as he is able to get back on his feet, Creasy swears vengeance on anyone that profited from or had anything to do anything to do with Pita's kidnapping.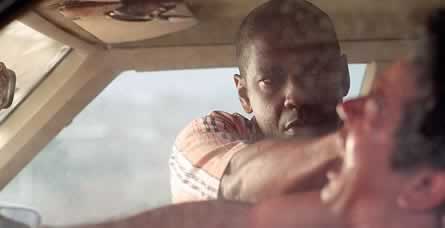 The revenge movie is making a comeback but does Tony Scott's latest have what it takes to dish out some punishment? The answer is a very intense yes.
The flamboyant director utilises all of his MTV style tricks of the trade to bring a visual feast to the screen but the difference is that this movie has the story to match the visuals. Based on the novel by A.J. Quinnell with a screenplay by the excellent Brian Helgeland, this is a movie that doesn't placate to the normal structure of the action drama. The film refreshingly takes its time building character and cementing the relationship between Creasy and Pita. This is where the picture really works as you really start to care about the characters and their situation. By the time the kidnap happens and the action really starts, you have enough time invested in the both Creasy, Pita and her family for you to feel the same way as principles on screen.
The performances match the quality of the script. Everyone knows that Denzel Washington is one of the finest actors working in film today and in Creasy he portrays a troubled man who rediscovered life. We meet the character when he is emotionally closed, a drunk and wondering around Latin America with no direction, then he meets Pita. At first he sees her as a distraction but slowly, over the first hour of the movie, Creasy opens up to the young girl and becomes part of her life. Washington conveys this with his usual talent and panache, making the character believable and approachable. After the kidnapping we witness the emergence of the Creasy that has tormented him for so long. This is an artist who specialises in death and the people involved are going to pay. In Washington's performance we don't ever doubt this.
Dakota Fanning is the best child actress working in Hollywood today. For someone so young, she conveys emotion better than some actors that have been in the business longer than she has been alive. As Pita, she portrays a child character that is likeable, which makes a change for Hollywood. This was a must for the story, as you really had to gain sympathy for her plight.
The support of the two leading characters is also first rate. Aussie Radha Mitchell continues to make inroads into Hollywood with another fine supporting performance as Pita's mother Lisa. Her reaction to her daughter's kidnapping is exactly as you'd expect it to be, drawing up all the emotion and pain that comes from that dreadful situation. Rachel Ticotin and Giancarlo Giannini are good as Creasy's information sources. The smaller supporting are drawn from the always excellent Christopher Walken and the rejuvenated Mickey Rourke.
Tony Scott summons up all of his visual flair to produce a unique look for the movie. He really excites viewer by combining extremely quick cuts and zooms with a yellow tinge to bring the vibrant Mexico City to life. He also utilises subtitles is a unique way, throwing them onto the screen not just to translate the Spanish language but also to highlight key conversations or words. They then fade away into the frame. This is probably Tony Scott's best movie since True Romance.
While some of the characters are not developed enough and we don't really get to find out much about Creasy's background, Man on Fire is still an engaging story wrapped in a blood-drenched coat. The film treats the viewer with a level of intelligence by building character and emotional attachment before snatching it all away from you and dragging you kicking and screaming onto the path of revenge.


PICTURE & SOUND
Presented in Widescreen 2.40:1 Anamorphic with Dolby Digital 5.1 and dts soundtracks, the transfer is extremely good. Tony Scott's visual feast is vividly brought to live with a very sharp picture that is radiant throughout. The sound quality is also superb, with a strong emphasis on dialogue but it really comes into its own during Creasy's revenge as the surround sound engulfs you.
BONUS FEATURES
Disc 1
Commentary by director Tony Scott
This extremely informative commentary track comes from a visual director that is on the top of his game. He talks about his twenty-two year association with project, how the concept for the movie has changed over that time and how the location changed from Italy to Brazil to Mexico. He then discusses the casting process, revealing how Denzel Washington and Dakota Fanning got their parts, as well as the rest of the cast. The most interesting facet of the track is when Tony Scott talks about how they designed a scene, the look, sounds and shooting style he used to capture that moment. This is all the more riveting when you are watching the kidnapping scene and Creasy's revenge.
Deleted Scenes (31.12 mins)
Entitled 'Lisa asks for a body guard', 'Lisa & Samuel have sex', 'Lisa talks to Creasy/Creasy meets Jordan Kalfus', 'Pita prays for a dog', 'Pita asks Creasy about his family', 'Pita asks Creasy about his hand', 'Creasy saves Lisa at assassination/Sex with Lisa/Aftermath', 'Lisa tells Samuel that Creasy has to go', 'Samuel plays piano/Creasy talks to Manzano/Lisa prays', 'Pita's ghost appears in the backyard', 'Creasy kills kidnapper Sandri', 'Jordan Kalfus explains the kidnapping of Pita', 'Samuel kills Jordan', 'Creasy talks to Marianna and Manzano' and 'Alternate Ending', these fifteen deleted scenes have optional commentary by director Tony Scott. Each of these scenes could easy go back into the movie and the alternative ending see a more traditional, Hollywood style finale.
Previews
Trailers for Dodgeball: A True Underdog Story, The Clearing, Johnson Family Vacation, Taxi and Alien vs. Predator
Disc 2
Documentary - Vengeance is mine: Reinventing 'Man on Fire' (72.42 mins)
Split into six sections entitled 'Twenty-year Odyssey: Project Development', 'The Business of Kidnapping: Technical Advisors', 'Caught in the Cross-Fire: Casting and Characterisation', 'City of God: On Location' and 'Fire and Passion: Visual and Emotional Style', this documentary covers every aspect of the movie. Director Tony Scott, producer Lucas Foster, screenwriter Brian Helgeland, associate producer Don Ferrarone, executive producer James W. Skotchdopole, production designer Chris Seagers, director of photography Paul Cameron and stars Denzel Washington, Dakota Fanning, Christopher Walken, Marc Anthony, Radha Mitchell, Giancarlo Giannini, Rachel Ticotin and Mickey Rourke talk about bringing 'Man on Fire' to the silver screen. The documentary takes you behind the scenes of the movie, from pre-production, through filming and postproduction, highlighting the development of the project, the stylistic techniques used and what the actor brought to their characters. This is a fascinating insight onto big budget, Hollywood filmmaking.
Pita's Abduction (4.16 mins)
Via an optional commentary track, director Tony Scott takes you through the different techniques used to capture the exceptionally emotional and powerful kidnapping sequence in 'Man on Fire'. You can view the director's original storyboards and then watch the sequence from four different camera views, with information about the frames per second and the lens used to capture the action.
Photo Gallery
A collection of behind the scenes and promotional images from 'Man on Fire'
Music Video (3.15 mins)
Your chance to watch the promotional music video for 'Oye Como Va" by Kinky
Trailers & TV Spots
Watch the three theatrical trailers and the four TV spots entitled 'Meeting', 'Time', 'Fire' and 'Masterpiece'
OVERALL
20th Century Fox has proved again that they are the best at release two-disc special editions of their big movie. The 'Man on Fire' release is exceptionally good. The documentary is first rate, covering ever aspect of the film's production, the breakdown of 'Pita's Abduction' is a masterclass for up and coming film students and the commentary track is from a director on the top of his game. Add to this some fascinating deleted scenes and the film itself and you an exceptional package that no film fan should be without.
DVD


True Romance
---
The Usher Home | Hush, Hush... | The Big Story | The Usher Speaks
Stuck @ Home | Coming Soon | Links | Contact the Usher

2004