"Look at me again"
Chilli Palmer
Disenchanted with the movie business, Chilli Palmer (Travolta) is thinking about going back to loan sharking when an opportunity for his unique expertise arises in the music industry. After seeing a young singer called Linda Moon (Milian) at a club, he decides to become her manager, much to the grievance of her current representatives Nick Carr (Keitel) and Raji (Vaughn). Taking her under his wing, Chilli introduces Linda to record label owner Edie Athens (Thurman) but getting Linda's record deal up and running will mean that Chilli has to deal with the Russian mob, gangster rappers and hit men.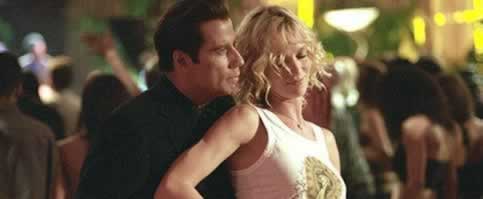 Ten years after we last saw John Travolta don the black suit and tell people to 'Look at me', he returns to the role of Chilli Palmer but does this sequel have what it takes to be considered cool?
Elmore Leonard's follow up novel to 'Get Shorty' sees Chilli Palmer move from the movie business to the music industry only to find that his new preference is even more corrupt than the last one. As with the first film, the script tries to acquaint showbusiness to organised crime, with a gangster mentality but this time is pushes the fact that much more but it ends up falling into cliché.
The first movie had a certain amount of style and coolness that 'Be Cool' seems to be lacking. While the performances are good and the character of Chilli Palmer is still one of John Travolta's best creations, the film seems more of a collection of set pieces, stereotypes and a forced finale that drains away all of the humour and clever witticisms of the first movie. In fact the film is just a very poor impression of the first movie, just replacing the film business with the music industry and filling it with the same type of characters.
Again we have dim-witted gangsters, this time protection racket running Russian mafia but they don't have the class, comedic skill or presence of Dennis Farina. We also have an underachieving talent that needs a lucky break but Uma Thurman's Edie, though looking gorgeous, is no Gene Hackman's Harry Zimm. Even the chance of seeing John Travolta and her dancing together again doesn't change the fact that the character is unoriginal. Cedric the Entertainer's money lending gangster rappers are too stereotypical and not have the presence or menace of Delroy Lindo's Bo Catlett. Harvey Keitel's character is also like Lindo's but again suffers from a lack of screen time to really give the character a chance. The only shining light is The Rock's portrayal of a gay bodyguard with dreams of stardom. He steals the show and proves that there is more to his talent than just big muscles but even his character has similarities to James Gandolfini's Bear from the first film.
There are some new types of characters but only Christina Millian's Linda Moon is at all likeable. We all know that she is a talented singer and performer but here she shows that she is also a talented actress, playing a character that you cannot help but like. The same can't be said about Vince Vaughn's gangster rap wannabe Raji however. This character is funny during his first scene but after that, the act just gets tired and extremely annoying. How many more clichéd sayings and mannerisms can Vaughn repeat before you want to slap him and call him a b'atch?
'Be Cool' is more of a rehash than a continuation of the adventures of Chilli Palmer in showbusiness. This fact makes it almost criminal especially after watching the opening sequence where Chilli talks about how much he hates sequels and see them as cash-ins with no real artistic value. Irony or a joke at the watching audiences expense?


Deleted scenes
Gag reel
Music video
'Close Up' profiles of Christina Milian, The Rock, Andre 3000 and Cedric The Entertainer

---
The Usher Home | Hush, Hush... | The Big Story | The Usher Speaks
Stuck @ Home | Coming Soon | Links | Contact the Usher

2005