"Look at me"
After his boss meets an untimely end, loan shark Chilli Palmer (Travolta) is forced to work for Ray 'Bones' Barboni (Farina), a man he doesn't really like. While trying to collect a debt from B-Movie director Harry Zimm (Hackman), Chilli discovers that the movie business is not that far away from his own gangster roots. He also has an idea for a movie that Hollywood's biggest star Martin Weir (DeVito) just happens to adore.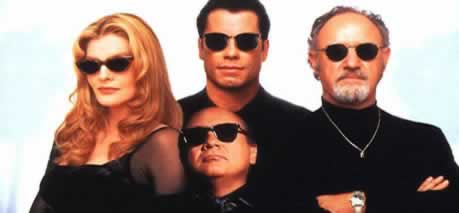 Legendary crime author Elmore Leonard's books have never really been big successes when they transferred to film but 'Get Shorty' is the first film to change all that.
Already a huge best seller, as with many of his novels, Elmore Leonard's 'Get Shorty' had all of the hallmarks of a big screen hit. It had collection of great characters, fantastic dialogue and a premise set in the heart of Hollywood itself but no one before 1995 had managed to transform Leonard's into successful movies. This all changed when director Barry Sonnenfeld, producer and star Danny DeVito and screenwriter Scott Frank managed to get hold of the rights to the book.
The noticeable difference between this and many other crime capers that had gone before it, is that is a character driven piece with lots of dialogue and no big action set pieces. With the emergence of directors like Quentin Tarantino (Reservoir Dogs and Pulp Fiction) and Bryan Singer (The Usual Suspects), Hollywood started to see the potential of well written, character driven thrillers again, as they did in their heyday in 60s and 70s. These films where also commercially successful and potential award winners as well. 'Get Shorty' also contributed to this revival.
It is the excellent ensemble cast that makes the movie so memoriable. Leading this illustrious band is John Travolta as the super cool Chilli Palmer. After re-igniting his career a year early in 'Pulp Fiction', Travolta's next project was all important and with a little help from his new friend (Quentin Tarantino) he chose wisely with 'Get Shorty'. He oozes confidence and style as the gangster turned movie producer, as he brings a whole new approach to getting a film made. This is another defining role for Travolta and shows that, with the right script, he is a great character actor. Gene Hackman always brings a touch of class to any production and in his first real comedy role this rule isn't broken. Hackman is the consummate actor who can turn his talents to any role and he shows that he has a real gift for comedy (which he proved again in 'The Birdcage', 'The Royal Tenenbaums' and 'Heartbreakers'). The idea of Danny DeVito as the biggest star in the world, Martin Weir, is enough to make anyone laugh. While he might not have as much screen time as you'd like, DeVito is everything you would expect from a megastar. Consumed by his own talent and expecting everything and everyone to be in awe at his very presence, DeVito creates a character that the public expect their superstars to actually be like. This movie was made when Rene Russo was in her heyday and it showcased her beauty and talents as an actress. As with many actresses, soon as the pass the 40 barrier the parts start to dry up and this is a real shame as there is a lot more to here that just good looks.
The support is also good. Delroy Lindo is a fantastic character actor who excels as fellow gangster Bo Catlett, who also wants to get into the movie business. James Gandolfini shows the promise that would get him the part of 'Tony Soprano' four years later. Dennis Farina almost steals the show as old school gangster Ray 'Bones' Barboni. His scenes with Travolta's Chilli Palmer are hilarious.
'Get Shorty' is an excellent crime caper movie that successfully explores the similarities between the movie business and organised crime, in a comedic way of course. With great characters and an all-star ensemble cast, this is a fantastic example of the genre and a film that people are still quoting now.


PICTURE & SOUND
Presented in Anamorphic Widescreen 1.85:1 with Dolby Digital 5.1 surround sound, this transfer is very good. The stylised look at Hollywood has never looked so good as Chilli Palmer's world comes vividly to life. The sound quality is also good, strongly emphasising dialogue, which is crucial in a film like this.
BONUS FEATURES
Disc 1
Audio Commentary by director Barry Sonnenfeld
Cinematographer turned director Barry Sonnenfeld provides an informative commentary about bringing 'Get Shorty' to the silver screen. He talks about adapting Elmore Leonard's book and how he and screenwriter Scott Frank tried to capture his style on film, a feat that had never been achieved before. He also talks candidly about the 'real' Chilli Palmer, on who the character was based and his cameo in the movie, the characters and the great ensemble cast he gathered together for this piece. For a single person commentary, this isn't bad at all, as Sonnenfeld clearly knows a lot about film and loves to talk about it.
Disc 2
Featurettes
Get Shorty: Look at Me (25.48 mins)
Director Barry Sonnenfeld, screenwriter Scott Frank, author Elmore Leonard and stars John Travolta, Danny DeVito, Gene Hackman and Rene Russo talk about adapting 'Get Shorty' from the page to the big screen. Covering plot, characters, actors and gangsters this featurette looks at the three main male roles in the picture, Chilli Palmer, Harry Zimm and Martin Weir. The actors themselves talk about their roles, revealing how they got the part, what the character means to them and how they played them. This is a good featurette that isn't just your usual backslapping but a look into character and motivation for a role and a movie.
Get Shorty: Wise Guys and Dolls (19.38 mins)
Director Barry Sonnenfeld, screenwriter Scott Frank and stars John Travolta, Danny DeVito, Gene Hackman, Delroy Lindo, Dennis Farina and Rene Russo continue the look at the key characters from 'Get Shorty'. This featurette looks at characters Karen Flores, Ray Barboni, Bear and Bo Catlett. It also highlights the director, showcasing his style and use of the camera.
Page to Screen: Get Shorty (28.21 mins)
Director Barry Sonnenfeld, screenwriter Scott Frank, author Elmore Leonard, researcher Greg Sutter, John Travolta, Danny DeVito, Quentin Tarantino, David Paymer, Dennis Farina and the real Chilli Palmer talk about how the novel came to the silver screen. From its 1988 publication to the release of the film, we hear about Elmore Leonard's impressive career and the problems involved in getting 'Get Shorty' made. The group also talk about the changes made in the screenplay and the all-important casting of the characters.
Going Again (5.20 mins)
Director Barry Sonnenfeld and Danny DeVito talk about keeping the camera rolling and not shouting 'cut'. With footage showing DeVito trying to get the conversation scene with John Travolta and Rene Russo in Martin Weir's house, this shows the amount of time and effort that goes into every scene in the movie.
Get Shorty Party Reel (5.34 mins)
A montage of behind the scenes footage and outtakes from the filming of 'Get Shorty'
Be Cool: Be Very Cool (7.58 mins)
Director F. Gary Gray, author Elmore Leonard and stars John Travolta, Uma Thurman, The Rock, Cedric the Entertainer, Christina Milian and André 3000 preview the further adventures of Chilli Palmer in 'Be Cool'.
Deleted Scene (7.31 mins)
Director Barry Sonnenfeld introduces the main deleted scene from the movie. Starring a young Ben Stiller, the director explains why the scene was cut, enough though it was a very funny and well acted moment in the movie.
Photo Gallery (2.15 mins)
A montage of behind the scenes and publicity images from 'Get Shorty'
Theatrical Trailer (2.29 mins)
Your chance to watch the preview trailer that promoted the film back in 1995.
OVERALL
MGM have done a great job with a special two-disc version of 'Get Shorty'. The extras are very good, a combination of an informative commentary and some well produced featurettes with the cast and crew reflecting on the movie. Fans will rejoice and for those who missed it, the DVD package makes this well worth checking out.
DVD

---
The Usher Home | Hush, Hush... | The Big Story | The Usher Speaks
Stuck @ Home | Coming Soon | Links | Contact the Usher

CLASSICS