Starring:
Vicky McClure, Joseph Gilgun, Thomas Turgoose, Andrew Shim, Danielle Watson, Andrew Ellis, Rosamund Hanson, Jo Hartley, Johnny Harris and Stephen Graham
Created by:
Shane Meadows and Jack Thorne
Out to buy on Blu-Ray/DVD 12/03/12
Two and a half years have past and Lol (McClure) is still struggling to cope with the events that changed her life forever. Raising her daughter Lisa by herself, distancing herself from the old gang and Lisa's father Milky (Shim), Lol is on a downward spiral that is leading her to a very dark place. Woody (Gilgun) has tried to move on with his life, finding his self a new girlfriend, earning a huge promotion at work but leaving his old friends behind. Even after all this time both Lol and Woody are bottling everything up but something has to happen before ever of them can move on. This is England.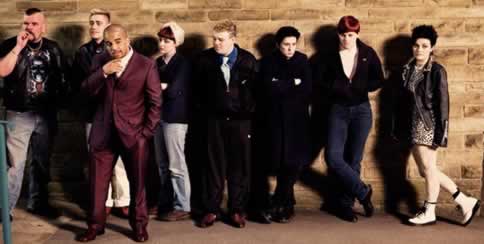 The switch from the big screen to the small has given creators Jack Thorne and Shane Meadows the chance to develop the characters they introducing in 'This is England' back in 2006 but can this three episode special be as powerful as what has come before?
Bringing 'This is England' to television in 2010 might have seemed like a gamble but with heaps of critical acclaim, extremely good audience figures and numerous awards, Shane Meadows and his creative team were justified in their decision. With the promise made that the story of Woody, Lol, Shaun and the rest of the gang would continue, Meadows brings us a shorter, more character driven, three episode offering to highlight what happened to Lol and Woody after the events in the summer of '86.
With Combo in prison, Shaun going onto better things at college, Milky working away to earn money for his daughter, the old gang had started to go their own separate ways. The summer of '86 had changed everything but after two and a half years, the Christmas of '88 would be one that Lol and Woody would never forget. What 'This is England' does so well is tell stories of real people, in real situations. The betrayal, fear and downright horror of what happened at the end of 'This is England '86' is something that would not have been easily forgotten or forgiven in real life. What Lol, Woody, Combo and Milky had to life with is not something that would have been sorted out over a pint in the local or after a life learning speech from someone with in the gang. This is real, life changing storylines with real consequences for the characters we have followed since 2006 and this is what makes 'This is England' so compelling.
The performances, as they have always been, are stellar. After winning a well-deserved BAFTA TV award for her performance in 'This is England '86', Vicky McClure returns to the role of Lol and takes the character down an even darker path. Her ability shows no bounds again, as Lol spirals into depression, fear and guilt as a her demons manifest themselves, driving her to the brink. Vicky McClure's portrayal of Lol is one of the most stunning on television as you cannot help but feel her pain and sorrow in this unbelievable showcase of acting. The same can be said of Joseph Gilgun as Woody. Always the joker, the man who puts everyone else before himself, Woody is a man struggling to control his anger as he lives with his parents and new girlfriend. Everyone thinks he has moved on but what happed in '86 has been eating away at him. Joseph Gilgun's performance is his best yet, as he is called upon to shape this three episode arc and it is when he has to face his character's own demons, where Gilgun excels.
The rest of the cast is good as ever. Thomas Turgoose's Shaun is growing into a college student who tempted to betray his first love Smell, played again by kooky Rosamund Hanson. Andrew Shim's Milky steps a like into the background for this story but when his presence is needed, he steps up to the plate. It is also good to see Stephan Graham return as Combo, even though he is becoming a big star on US television.
Shane Meadows' 'This is England' has become the best and most realistic drama on British television. Its powerful, realistic, improvisational style combined with some of the best young British actors working in television today, makes the programme one of the most compelling series to ever grace a TV screen.


Cast and Crew Commentaries
Deleted Scenes
Behind the Scenes Footage
---
The Usher Home | Hush, Hush... | The Big Story | The Usher Speaks
Stuck @ Home | Coming Soon | Links | Contact the Usher

TV SERIES