Starring:
Thomas Turgoose, Joseph Gilgun, Vicky McClure, Andrew Shim, Danielle Watson, Andrew Ellis, Rosamund Hanson, Jo Hartley, Perry Benson, Perry Fitzpatrick, Johnny Harris and Stephen Graham
Created by:
Shane Meadows and Jack Thorne
Out to buy on DVD 11/10/10
"Mum, can I go as Dogtanian?"
Three years later and in the summer of 1986, Shaun (Turgoose) about to sit his last CSE O Level and leave school, Lol (McClure) and Woody (Gilgun) are about to get married and move in together with Gadget (Ellis), Milky (Shim), Trev (Watson), Meggy (Benson) and Smell (Hanson) in attendance but on what was supposed to be the happiest day of their lives, not everything ran according to plan. With unemployment rising, Bobby Robson and the boys over in Mexico for the World Cup and two people about to return who will change Lol's life forever, this is England.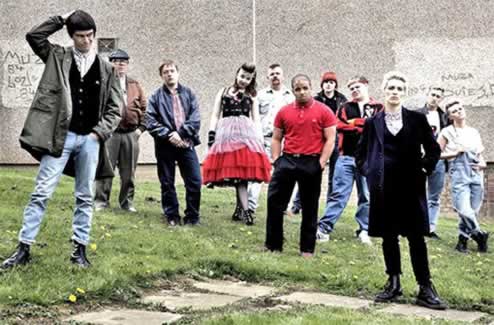 Back in 2006, writer/director Shane Meadows introduced you to a lonely, troubled boy who found his place in the world, as a group of skinheads became his new family. As events unfolded however and the return of the former leader Combo, the film ended on a powerful and sober note. The key thing however was that everyone who enjoyed and adored the film wanted was to spend more time with these characters. With 'This is England '86' we get to do exactly that but this time he transfer the story to the small screen.
Working with 'Scouting Book for Boys' writer Jack Thorne, Shane Meadows takes us back to that fictional, downtrodden Yorkshire town to catch up with what has been going on. Set three years on from the events of the film, 'This is England '86' picks up the story of those friends. Time has moved on and so has Shaun, who has never recovered from what happened with him and Combo, which has led him to shun Woody, Lol, Smell and the rest of the gang. He has become a bit of a loner, picked on by the scooter driving kids of the school and been pushed by this mother to finish his exams and get a job, even though there are millions unemployed. Time has also moved on for Woody, Lol and the gang. Still as close as ever, they prepare for Woody and Lol's long awaited marriage but as Woody reveals his plans for the day, Lol soon realises that this might just be a mistake. It is the return of her father however, that will change her life forever as she has to face her past and a future that can only end in one possible, tragic conclusion.
Over the course of four episodes, Shane Meadows and Jack Thorne have manage an astonishing feat and transferred everything that was good about the film and its characters to the same but not taken away any of the impact that the original film had in the first place. In fact the longer, television format allows a much more complicated and dramatic story to be told and the focus to shift from Shaun to Lol. It as also given the actors more time to spend with their characters, getting to know them inside and out and this is reflected in some of the most riveting and powerful performances seen on British television in a very, very long time.
What Shane Meadows, his creative team and his actor have achieved in 'This is England 86' is simply astonishing television that is funny, moving, daring and extremely powerful. There are scenes that will have you crying with laughter but there are scenes of complete revulsion dealing with issues such as rape that will be too strong for many people to handle. These scenes are not there for glorification or shock value however, they show the darker side of life, issues that people have to go through and face but they are handled and treated in such as way that will stay with you for a very long time.
With astonishing acting, compelling storylines and characters that you will come to really care for, 'This is England '86' is one of the best pieces of British television in a very long time. The cast is tremendous, the acting is jaw dropping and the script is first rate, cementing the fact that Shane Meadows is as good a TV maker as he is a filmmaker. Here's hoping this is the start of something and it is not the last we see of 'This is England'.


Behind-the-scenes footage
Cast interviews
Commentary from Shane Meadows
---
The Usher Home | Hush, Hush... | The Big Story | The Usher Speaks
Stuck @ Home | Coming Soon | Links | Contact the Usher

TV SERIES