"BILKO!"
New Recruits
During a poker game the other sergeants cheat and clean Bilko out of his bankroll so he has to look around for some more money. Just when it looks like he will miss out a new squad of rookies arrive for basic training. With a new source of cash, the platoon think he can get back into the game but Bilko's conscience will not let him.
The WAC
A job comes up for a sergeant that has a jeep allocated Bilko applies for it only to find that he is beaten by a Sgt. Joan Hogan.
The Horse
Bilko loses the platoon welfare money on a horse only to find out that it is suffering from a minor leg injury. With the last of the platoon's money he buys the horse and has to keep it on the post until it is fit to run. Then a visiting general comes on a surprise visit.
The Eating Contest
In an eating contest between the platoons Bilko puts his money on a new member of the platoon nicknamed 'The Stomach' only to find that he can only eat when he is depressed.
Bivouac
When manoeuvres come round again the Colonel is interested in which illness Bilko has in order to miss out on the joys of marching through the countryside. In order to make him go the colonel uses reverse psychology.
The Twitch
Colonel Hall tells Bilko to provide an audience for a lecture on music. He finds that nobody wants to come until they learn that the lecture will be given by a friend of the Colonel's wife and they can bet on the number of 'twitches' that she will give during the lecture.
The Investigation
A Congressional committee visit Fort Baxter to investigate waste and high living. But Bilko has other ideas; he wants a pay rise instead.
The Revolutionary War
Bilko's aunt sends him a diary showing him that his Great Uncle Joshua was on the staff of George Washington. So Bilko applies to become an officer. But as he reads the diary, he discovers that Joshua was a traitor. So Bilko keeps quiet and withdraws his application.
The Court Martial
When Zippo the ape is accidentally inducted into the army the only way to get the army off the hook is to get Bilko as defence council and court martial the ape before anybody finds out.
The Con Men
When Doberman gets a $500 windfall from an insurance policy, he loses it in a poker game with three con men. Bilko gets it back by conning the con men, but then Doberman loses it again by being conned into buying the hotel from another con man.
A Mess Sergeant Can't Win
Fed up with losing to Bilko all the time, Mess Sgt. Ritzik is leaving the Army. He has saved up $400 to open a snack bar. So Bilko devises a plan to repay all the money that he has won off Ritzik.
Doberman's Sister
Its family day at Fort Baxter and the entire platoon have invited their sister's. They all have dates except Doberman's so Bilko sets out to con Zimmerman into taking her out.
Bilko's Tax Trouble
Through an error Bilko is called before the tax people to explain his earnings.
The Big Scandal
Bilko tries to hypnotize Ritzik, but it's Doberman who falls under the influence and he tells the Colonel's wife that he loves her.
Hillbilly Whiz
When the platoons lose again in a baseball game Bilko is desperate to find new players. Then a recruit from the south Hank Lumpkin turns up and Bilko can hardly believe his luck, as Lumpkin is a baseball star in the making. Bilko then contrives to have a New York Yankees scout to 'accidentally' find Lumpkin so he can traded, but as a Southerner Lumpkin doesn't want to play for the Yankees.
Bilko The Art Lover
In New York, Bilko stays with an old buddy who is a prospective artist, but he falls out with his father, until the father realises how good his son is.
Bilko Joins the Navy
When word of a big crap game for sailors only gets around Bilko, Paparelli and Zimmerman join the navy to take part but somehow they all end up at sea and have problems getting back ashore.
Weekend Colonel
CCTV set up by the Colonel cleans up the gambling, so Bilko finds a double of the Colonel who then orders the removal of the cameras.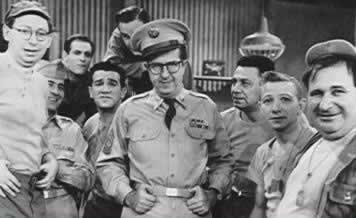 When it comes to naming the classic sit-coms of all time, there is one series that will make most peoples top five and that is 'The Phil Silvers Show'.
Better known as 'Sgt. Bilko', 'The Phil Silvers Show: You'll Never Get Rich' to give it its full time ran from 1955 - 59, won numerous awards and fans the world over. It was a different time for the US Army. The Second World War had been over for a decade, the Korean War had ended and the Cold War hadn't really began, so this was a time of peace and the Army had nothing to do. With Congress and the US people clambering for military cuts. 'The Phil Silver Show' didn't do much to change this however.
Sgt. Ernest Bilko and his Platoon from Fort Baxter, Kansas made joining the Army look like fun. While Col. Hall was the man in charge, Bilko ran the base with his get rich quick schemes and cons. Running dances, card games, bingo, lotteries and even dating services, Bilko saw the army as his chance to make money but after serving his country in the South Pacific during WWII he sees this as his recreation time. With his attitude came hilarity.
Along with Cpl. Rocco Barbella (Harvey Lembeck), Cpl. Henshaw (Allan Melvin), Pvt. Dino Paparelli (Billy Sands), Pvt. Duane Doberman (Maurice Gosfield) and the rest of the motor pool platoon, Sgt Bilko's schemes were a combination of genius and ineptitude, as they never pulled off that major scam or con. Everything from buying a horse, fixing an eating contest, finding a major league baseball player and even joining the Navy, Bilko will do anything to make some money and every time he fails. This quest for money might make you think that Bilko wouldn't be a nice character but you would be wrong.
Phil Silvers and series creator Nat Hiken created a character that is instantly loveable and one that you are just willing to succeed. Sgt. Ernest Bilko is a classic TV character and one that influenced many that followed. Without 'The Phil Silvers Show' we would have never had shows like 'McHale's Navy', 'Hogan's Heroes', 'M*A*S*H' and 'Top Cat', which were all variations on the Bilko theme. It is the Bilko character and Phil Silvers' performance as the sharp witted sergeant that makes this such a much loved show and his comedic brilliance that makes it so memorable.
Basically you can't get any more classic than 'The Phil Silvers'. It set the standard in the 50s that every other sit-com that followed struggled to match. With an excellent supporting cast and Phil Silvers himself pushing the show into the comedy hall of fame, this is a show that all fans of funny cannot afford to have never watched. Now everyone salute Sgt. Ernest G. Bilko!


PICTURE & SOUND
Presented in 4x3 full screen with a mono soundtrack, 'The Phil Silvers Show' has never looked or sounded so good.
BONUS FEATURES
Audio Commentary
Listen to commentary tracks for the episodes 'New Recruits' with Allan Melvin (Cpl. Henshaw), 'The Court Martial' with George Kennedy, 'Doberman's Sister' with Larry Storch and Mickey Freeman (Pvt. Zimmerman), 'Hillbilly Whiz' with Dick Van Dyke and 'Bilko joins the Navy; with Larry Storch and Mickey Freeman. Each of these tracks is very funny and offer an insight into the making of the show and the people involved.
Introductions by Allan Melvin
Cpl. Henshaw himself introduces every episode in the collection
Lost Audition Show
Entitled 'You'll Never Get Rich' this is the original unaired audition show from Nat Hiken's personal collection. Here we see the actors playing their roles for the first time and the producers working out the show. Fans will love this.
1956 Emmy Awards (4.48 mins)
Watch Phil Silvers collect awards for 'Best Comedian', 'Best Comedy Series' and 'Best Actor in a continuing performance'.
Phil Silvers and Jack Benny on the Dick Cavett Show (6.21 mins)
Watch the classic comedic actors on the show as Phil Silvers reminisces how the show came about, why it was cancelled and tails from the show.
Nick at Night/Sgt. Bilko Movie Promos with Steve Martin, Dan Aykroyd and Phil Hartman (3.04 mins)
The three actors from the big screen adaptation reminisce about the show and how they approached the movies.
Friars Club Stag Roast from Humphrey Bogart (5.16 mins) (Audio Only)
Listen to the intro by Phil Silvers as he talks about the great man
Original Network Opening (0.28 mins)
Watch the original opening to 'You'll never get rich' sponsored by Camel Cigarettes.
Original Commercials (1.51 mins)
Watch Col. Hall, Bilko and Rocco star in Camel cigarette adverts Gag Still: Photo Courtesy of Mickey Freeman (Pvt. Zimmerman) Allan Melvin introduces a comedy photograph taken on the set of the show
Tony Randall and Jack Klugman remember Bilko on TV Land (0.27 mins)
The Odd Couple remember the Phil Silvers Show
1957 Emmy Awards Best Writing - Variety or Situation Comedy (2.26 mins)
Series creator Nat Hiken accepts the Emmy for the Phil Silvers Show
Phil Silvers on Broadway (7.15 mins)
With an introduction by Allan Melvin, we get to see the live version of the show
1959 Pontiac Commercial (0.42 mins)
Watch Phil Silvers try and sell you the new Pontiac in 1959
OVERALL
The Sgt. Bilko: The Phil Silvers Show - 50th Anniversary Edition Box Set is a joy for fans of the classic comedy show. While it would have been better if the series had been released all together in seasons but fans will lap these episodes up.
DVD

---
The Usher Home | Hush, Hush... | The Big Story | The Usher Speaks
Stuck @ Home | Coming Soon | Links | Contact the Usher

TV SERIES