"Come on, Come on"
Voicemail
Troubled Tommy Gavin is having a difficult time adjusting to life at his new uneventful firehouse after the volatile split with his old crew. On top of this he is still looking for his missing wife who has kidnapped his three children and he has to come to terms with the fact that his dead cousin's wife is pregnant with his baby. His frustrations come to a head and he has a meltdown with a street vendor selling 9/11 memorabilia.
Harmony
In an effort to get more time off to search for his wife and kids, Tommy joins the new firehouse's Barbershop Quartet. Meanwhile back at the old station, Lou and Chief Reilly conspire to get Tommy back, but the rest of the crew has grown fond of his replacement.
Balls
Tommy's fate in the firehouse depends on vote by the crew. Tommy reunites with his dad. Franco and Laura's relationship grows.
Twat
Tommy asks his cousin for help in understanding the bizarre visions he's been having. The crew tries to help Laura understand the essence of male camaraderie.
Sensitivity
Tommy has a chance at finding his kids with help from his oldest daughter. Chief Jerry asks his son for help when his wife's condition worsens.
Reunion
Tommy seeks the truth about Sheila while trying to get his kids back; Lou does not like the person he has saved through a bone marrow donation; Franco's addiction puts those he loves at risk; Sean's new girlfriend habitually dates firemen.
Shame
Franco's addiction to painkillers has driven him to a support group to get help with his problem. A young boy clings to life after Tommy saves him from a fire. Jerry is introduced to his gay son's life partner.
Believe
Jerry forces the crew to attend a birthday party that his son is throwing for his boyfriend. Meanwhile, Tommy makes a move on Mariel after she tells him she might not be his half sister after all. Franco asks Laura to move in with him while Sheila tries to make Tommy jealous by showing off her new girlfriend.
Rebirth
Tommy starts taking Janet's antidepressants. When Sean meddles in Franco and Laura's troubled relationship he makes things worse. After a gay visitor, the crew wonders about Mike's sexuality.
Brains
When Tommy, Johnny, and Mickey confront Father Murphy it results in tragedy. Sheila needs Tommy's help with a domestic issue. Jerry decides it's time to get a nurse to care for Jeanie. Lou offers to help Candy out with her situation. And Laura discovers the truth behind Franco's poetry.
Bitch
Tommy lays off the antidepressants when he is kicked off the hockey team. Sheila asks Tommy to talk Damien out of being a fire-fighter. Meanwhile, when Franco sees Laura with another guy he gets jealous and Tommy's dad gets a surprise when he returns home from a three-day trip to Atlantic City.
Happy
Tommy's sister suddenly shows up in town when their dad is about to inherit a million dollars. Tommy and Janet decide to renew their wedding vows. Meanwhile, Mike is worried when he finds a lump.
Justice
Tommy copes with a tragedy. Jerry must decide what to do when his wife's condition worsens. Sean has a crisis of faith. Lou learns some shocking facts about Candy. And the crew responds to a multi-level building fire with people trapped inside.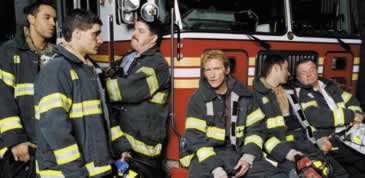 Tommy Gavin and the team of New York fire fighters are back and the great news is that the second season is even better than the first.
Writing partners Peter Tolan and Denis Leary keep up the momentum of first season and then push it to new heights. Picking up from the events of the season one finale, we discover what happened to Tommy when he discovered that his wife had left him and taken his children with her and the repercussions of the events on him and the rest of the Engine 62 New York fire fighters.
Now that the characters have been defined, the show can run with storylines instead of backstory. The second season of course focuses on Tommy and his family but the rest of the fire fighters also get a chance to shine. Jack McGee's Chief Jerry Reilly has to deal with the degeneration mental health of his wife and his distant relationship with his son. Daniel Sunjata's Franco Rivera has to cope with an addiction to drugs and getting to know his new daughter. John Scurti's Kenny Shea finally realises that his marriage is a scam and finds someone new. Steven Pasquale's Sean Garrity gets even more stupid as the season progresses. Mike Lombardi's Mike Silletti finds love with someone he would never have expected and one that the boys find very amusing. All of these stories add to the charm and structure of the show and make this cast a great ensemble.
It is Tommy's story that is the backbone of the series however and Dennis Leary is as superb as ever. Everything is going wrong for Tommy and the visions of his dead cousin Jimmy Keefe, played by James McCaffrey, troubled by his affair with his widow Sheila (Callie Thorne) and trying to find his wife Janet (Andrea Roth) and their kids. The events that unfold because of his shape the direction of the season and push it too new heights in portraying comedy and drama.
The second season of 'Rescue Me' is superb. Dennis Leary and the cast and crew make this show compulsive viewing and one of the best programmes on television. If you have never seen, get the first season and catch up and if you are a fan, add this superb season to your collection.


PICTURE & SOUND
Presented in Anamorphic Widescreen 16x9 with Dolby Digital 5.1, the series looks great, reflecting the fact that it is shot using high definition digital tape.
BONUS FEATURES
Real life on the Set of Rescue Me (8.32)
Accompanied by commentary producers Tom Sellitti and Jim Serpico, we go behind the scenes of season two of 'Rescue Me'. Here we see the high jinx on set with footage of the hockey games, paint ball and Dennis Leary's new toilet.
Behind the Scenes of 'Rescue Me'
Six behind the scenes featurettes covering the highlights of the second season. Hear from Denis Leary, writer/producer Peter Tolan, producers Tom Sellitti and Jim Serpico, Mike Lombardi, James McCaffrey, Jack McGee, Steven Pasquale, Daniel Sunjata and John Scurti as they take you behind the scenes and talk about their contributions to the show.
Sneak Peek at Season 3 (0.33)
A very short preview of the upcoming third season Deleted Scenes View thirty-five extended or deleted scenes from all the episodes. Unfortunately there is not commentary or introduction to reveal why they where removed.
Trailers
Watch previews of 'Rescue Me: Season One', 'The Da Vinci Code', 'Ultraviolet', 'The Hunt for Eagle One' and 'Dawson's Creek'
OVERALL
Fans of 'Rescue Me' will be very pleased with this DVD release. Only the lack of commentary tracks comes as a surprise but the featurettes and deleted scenes more than make up for this.
DVD

---
The Usher Home | Hush, Hush... | The Big Story | The Usher Speaks
Stuck @ Home | Coming Soon | Links | Contact the Usher

TV SERIES