The death of a fifteen-year-old girl in an apartment building owned by prominent businessman Richard Cross (Tucci) makes Dt. Polson (Baker) look into his connection to the case. Before the police have even spoken to him, Cross engages the services of renowned attorney Ted Hoffman (Benzali). What Hoffman and his firm don't realise is that their client isn't as forthcoming with the truth as they would like, as Dt. Polson arrives in his office to arrest Richard Cross, charging him with murder one. It is now up to Hoffman and his associates to look into the case and prove that their client isn't the man that the police are looking for.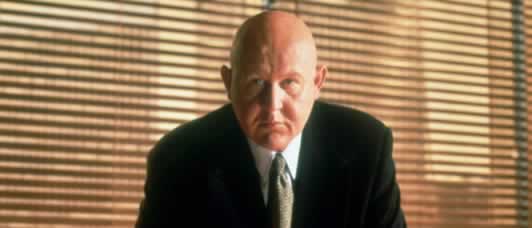 Once in a while a TV show comes along that is truly revolutionary and turns a genre on its head. Murder One was one of those shows.
Dramatically restructuring the way we viewed a courtroom drama, this programme concentrated on one murder and the repercussions of the resulting court case. Like a televisual novel, the show was split into twenty-three forty-five minute chapters, each advancing the story of that single case. While other legal shows did have multiple episode story arcs, Murder One's approach was very different but compulsive viewing. Series creator Steven Bochco (NYPD Blue, Hill Street Blues and L.A. Law) pored his entire award winning experience into creating a show that would grip you from the first chapter and hold you until its riveting conclusion. This unique approach was what made the show so good but it was also what led to its downfall.
American audiences, back in 1995 and in some cases now, do not watch every episode of a season. Networks like shows that viewers can dip in and out of, so if someone tells them that a show is good they can start watching halfway through and understand what is going on. With Murder One however, you had to have watched it from the beginning to get the most out of the continual plot revelations and twists, meaning it was near on impossible to just watch a single episode. (Fortunately times have changed and series long story arcs are becoming more common e.g. 24, Star Trek Enterprise (Season 3) etc)
What pulled you into Murder One was the compelling storyline. This is edge of your seat material as twists and revelations are thrown at you from every direction. Because of this the show almost becomes addictive, as you long to know what they are going to throw at you next and what repercussions the latest revelations are going to have. With episodic cliffhangers throughout the season, Murder One becomes compulsive viewing.
Bringing the compelling scripts to live is an excellent ensemble cast. Daniel Benzali leads from the front as top lawyer Ted Hoffman. Not your obvious as a leading man, Benzali is an actor that commands you attention every time he graces screen, those making you respect the character even more. This is the role that made and broke his career, as he couldn't cope with all the attention that he received from the show and therefore didn't return for the second season. For Mary McCormack, the role of Justine Appleton launched her career proving what a talented, character actress she is. The same can be said of J.C. MacKenzie, whose Arnold Spivak brings the comedic element into a tense show but he can also excel in the more dramatic parts of the script. Stanley Tucci has always been a first rate actor and Murder One shows what a real talent he actually is. As Richard Cross, he plays the sleazy tycoon perfectly as you instantly dislike him from the first episode. Jason Gedrick is an actor who deserves more recognition as he plays Hollywood bad boy Neil Avedon perfectly. Add to this the excellent performances of Barbara Bosson, Patricia Clarkson, Dylan Baker, Grace Phillips and the gorgeous Bobbie Phillips and you have one of the best ensemble casts for a TV series.
Murder One was one of the best and most innovative courtroom drama series to hit television. While the fashions might date the program slightly, the storylines are still very relevant and extremely riveting. This is a show that you just can't stop watching until its conclusion and it defines the words "must see television".


PICTURE & SOUND
Presented in full frame 4:3 with a Dolby Digital 2.0 stereo soundtrack, the transfer is very good. Even though the series was made in 1995 the picture quality of the transfer is very good. Murder One's visual style, utilising a lot of shadows, looks superb throughout. For a stereo track, the sound quality is also good. It really emphasises the dialogue, which you need in a character driven drama.
BONUS FEATURES
Chapter 8 commentary by star Jason Gedrick
Neil Avedon himself, Jason Gedrick reflects on Murder One and breathing life into the troublesome character. The actor spends a lot of his time talking about working with his fellow actors and the great amount of respect he has for Daniel Benzali. He also discusses what it was like to work with series creator Steven Bochco and he reveals the fact that once you have worked with him and he respects your work, you become part of the Bochco family of actors and crew he uses throughout his series. Gedrick also reveal some interesting information about the fun and practical jokes played on set, especially during the courtroom scenes.
Chapter 15 commentary by director Randall Zisk
Reflecting on his first of three episodes that he directed for Murder One, Randall Zisk provides an informative insight into the making of a television show. He reveals that each episode has a fifteen-day schedule of which seven days are for preparation including casting, locations, script and department meetings. The director also discusses what it was like working with the cast and his great respect for them, especially for Stanley Tucci. He also talks about the increased sexual tension in this episode, most noticeably between J.C. MacKenzie and Bobbie Phillips.
Making the Case: Season One (24.20 mins)
Director Randy Zisk, producer Marc Buckland and stars Daniel Benzali, Jason Gedrick, Mary McCormack, J.C. MacKenzie and Barbara Bosson reflect on the television phenomenon that was Murder One. They discuss the unique style and approach of the show and the creativeness that series producer/writer/creator Steven Bochco brought to the courtroom drama genre. Each of the characters and the actors that played them are discussed with the actors complementing the work of Stanley Tucci, Dylan Baker and Bobbie Phillips. The actors also remember how hard it was remembering all of the legal language used in the show.
Inside Look (6.33 mins)
Director/Producer John Cassar takes you behind the scenes of episodes 5 and 6 of season 3 of the hit show 24.
Trailers
Previews of Alien vs. Predator, The Clearing, The X-Files and 24: Season 3.
OVERALL
Fox has brought another televisual classic to DVD and done the series proud. Murder One: Case 1 is nicely packaged at a reasonable price for twenty-three episodes and a splash of extras. The bonus features themselves are slight but very good all the same. The featurette is informative and allows fans to see the actors now and see their feelings for the show. The two episode commentaries are also good, especially the one by director Randall Zisk, adding to the value of the package. Murder One is a great series and well worth catching for those of you who missed it first time around but for fans this is a must buy.
DVD

---
The Usher Home | Hush, Hush... | The Big Story | The Usher Speaks
Stuck @ Home | Coming Soon | Links | Contact the Usher

TV SERIES