Pilot
Joe (Weber) tries to prove that Allison's (Arquette) dreams are stress related by sending descriptions of them to law enforcement agencies. However, when one of her dreams matches a homicide in Texas, his attempt is thwarted.
Suspicions and Certainties
Allison questions her powers when her old boss asks for her help in selecting a jury that will reinstate the death penalty for a murderer/rapist. This causes Allison to suspect that she has helped put the wrong man on death row.
A Couple of Choices
Allison has a dream of a husband and wife committing a murder/suicide. D.A. Devalos (Sandoval) introduces her to a friend of his, Detective Lee Scanlon (Cubitt), who's sister and brother in-law's deaths were also ruled a murder/suicide, and sees a connection. After learning about Allison's methods of investigation, Scanlon decides he doesn't want her help.
Night of the Wolf
Allison tries convincing Devalos that she heard a witness misinforming a police sketch artist, making them look for the wrong man. Meanwhile, 6-year-old Bridgette's (Lark) new playmate indicates that another member of the family can see the dead. In
Sickness and Adultery
Allison seeks Catherine's help after learning that Joe has scheduled a biopsy exam. The psychic gives her a strange message that later comes back to haunt Allison. A case about the homicide of a police officer takes a shocking turn when Allison dreams where the murder weapon is located and is then called to the stand to testify how she obtained the information.
Coming Soon
Allison runs into the man who kidnapped her daughter in one of her dreams at the District Attorney's office. She learns that he is a "Good Samaritan" who witnessed a robbery and is fully cooperating. After learning that he has kidnapped multiple young women, Allison reaches a roadblock in her investigation that leads her to yet another unbelievable breakthrough in the case. Meanwhile, Joe tutors Ariel in math, which in turn brings Allison to another shocking discovery.
Jump Start
Allison investigates the supposed suicide of a girl who was dating D.A. Larry Watt's son Greg. When the girl's body is found in a ravine, new evidence is presented that implicates the defence attorney. Meanwhile, Joe is concerned about one of his colleagues after Allison has a premonition of the colleague having a heart attack.
Lucky After
Alison has a terrible dream of her soldier brother dying, she gets a surprise at her front door. Meanwhile, Allison and Devalos work on an arson case and Allison has trouble getting information from the ghost of a young girl who died in the fire.
Coded
Allison's daughter Ariel dreams that she is a young girl named Sarah being held captive by an ogre in a castle. While Joe agonizes over the possibility that both of his daughters have inherited their mother's psychic abilities, Allison tries to help Ariel and interpret the dream. However, Allison's advice provokes Ariel to run away from a field trip in order to follow up a clue.
The Other Side of the Tracks
Allison's recurring dream about two young boys racing a train is analyzed by Dr. Leonard Cardwell, but Allison soon learns that he's involved. Devalos investigates the case of a 14-year-old who confessed to murder.
I Married a Mind Reader
Allison gets sick and entertains herself by watching a '60s sitcom called "I Married a Mind Reader". The male star was convicted of killing his wife, the female star. Allison's dreams take her back to the '60s, which for her end up being a time of deceit, lies, and secrets.
A Priest, a Doctor and a Medium
Walk into an Execution Chamber The girlfriend of a convicted drug lord is killed on the night of his execution. The drug lord's ghost is seen at the crime scene, and Allison is brought in to investigate. Also, Allison discovers a dark secret about the mother of a boy that Ariel has a crush on.
Being Mrs. O'Leary's Cow
Evidence shows that a pilot is indeed guilty of his wife's murder. However, in Allison's dream, when the pilot is put in jail, there is a plane crash where hundreds of people are killed. Should Allison put forth the evidence to land this guilty man in jail, or let him go free in order to save hundreds of innocent lives?
In the Rough
When a case from ten years is re-opened, Allison finds herself in a chaotic situation. Things continue to get messier when Allison finds out that the convicted man is innocent, and that someone she knows and trusts may have been involved in his framing.
Penny for Your Thoughts
Allison encounters a psychopathic doctor who raped and murdered numerous teenage girls years ago. After learning that an evil soul has been possessing people, she sets forth to stop it before a new victim is found. Meanwhile, Ariel's math teacher accuses her of cheating and Joe steps up to her defence.
When Push Comes to Shove (1)
After somehow seeing Capt. Kenneth Push in a vision at a murder scene, Allison calls upon his assistance to find a serial killer. However, the only way Capt. Push can help is by literally putting his life on the line.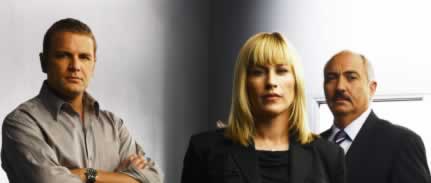 Television shows have been the home of high concepts since its invention and speaking with the dead is just another in a long line of plotlines exploited by executives but 'Medium' is something different.
Based on the life of a real medium called Allison DuBois, who also consults on the show, the main emphasis of the show is Allison's dreams or visions that help her solve cases for the Phoenix district attorney. While the cases are the core of the show, it is Allison's home life that makes the show very different.
Her husband Joe and daughters Ariel, Bridget and Marie give Allison a grounding in reality. We see how her gift not only contributes to her work but how it affects her family. This makes the show so much more watchable than it could have been with the family dynamic quickly becoming a firm favourite and what people want to watch.
Much of the plaudits for this have to go to series creator Glenn Gordon Caron. The man behind TV hits like 'Taxi' and 'Moonlighting' has taken the high concept of a medium working for a D.A. and added some humanity to the show. This makes you invest in the characters a lot more and draws you into the programme. The duel setting of the D.A. offices and Allison's home contrast really well and make the lead character believable, even if you are not open to the credibility of her gift.
The excellent concept and writing would be nothing without believable performances from the ensemble cast. Leading the line is Patricia Arquette as the medium herself Allison Dubois. She has always been an actress worth watching but in this role she gets the chance to show what she can really do. The mixture of mother, investigator and medium is a fascinating one and one that instantly draws you into the character. She is easy to connect with and never over the top, making the show more believable with the supernatural element. At her work she is joined Miguel Sandoval as D.A. Manuel Devalos and David Cubitt as Detective Lee Scanlon, who both give the show its law based element. It is her home life that provides the heart of the show however with Jake Weber, Sofia Vassilieva and Maria Lark as Joe, Ariel and Bridgette making the programme even more watchable. In fact it is the family life that is the highlight with Maria Lark's Bridgette been one of the most honest and funny child characters in years.
'Medium' is exceptional television that is mix of intelligent crime show, the supernatural and one of the most realistic portrayals of a family that has ever graced TV. With each episode getting better and better as the show progresses, this is one of the best first seasons for a show and a great set up for what should be a very long running one.


PICTURE & SOUND
Presented in Anamorphic Widescreen 16x9 with Dolby Digital 5.1, the series looks great.
BONUS FEATURES
None
OVERALL
The complete lack of extras for the Region 2 release of 'Medium' is almost criminal, especially when the US release is filled to the brim. The North American release has audio commentaries, featurettes, interviews with the cast and the real Allison Dubois and an extended version of the Pilot episode but the Region 2 version has none of this and you have to ask why? Fans of this excellent series should be seriously disappointed.
DVD

---
The Usher Home | Hush, Hush... | The Big Story | The Usher Speaks
Stuck @ Home | Coming Soon | Links | Contact the Usher

TV SERIES