Public Relations
Don deals with a trade-paper interview but doesn't want to talk about himself. A manufacturer of a "wholesome" two-piece bathing suit wants to hire the firm but doesn't want anything too risque. Pete and Peggy try to secure more money for the firm and when their plan goes awry, Don has to pick up the pieces.
Christmas Comes But Once A Year
The agency's Christmas party is nearly spoiled by the late arrival of a surprise and not-so-welcome visitor; Sally reconnects with Glen Bishop, while Freddy Rumsen resurfaces at the new agency; Don makes a mistake with his secretary.
The Good News
Lane and Joan get into a disagreement at the agency and a mix-up with flowers has a hand in Lane's wife staying in London indefinitely. Don leaves for Acapulco with a stopover in Los Angeles. While in LA, Don visits Anna Draper. Once back in New York, Don and Lane get to know each other better on New Year's Eve.
The Rejected
Pete must break bad news to his father-in-law but receives wonderful news about him and Trudy. Don gets into a confrontation with Allison after a focus group. Peggy meets an eccentric girl named Joyce in the building.
The Chrysanthemum and the Sword
Don and Pete try to land a new client but Roger's attitude about the potential client may ruin their chances of showing up their competition. Also, Sally acts out and Betty wonders if therapy is the solution.
Waldorf Stories
Peggy and the new art director do not see eye-to-eye and Peggy goes to interesting extremes to get his attention. A potential new employee reminds Don and Roger of when they first met. Pete is unhappy that Ken may be joining their firm. Also, the agency is up for a CLIO award.
The Suitcase
A deadline on the Samsonite account disrupts Don and Peggy's plans on the night of the Ali-Liston fight.
The Summer Man
Joan must deal with questionable activities at the office and Peggy's reaction to them makes Joan angry. Also, Betty and Henry run into Don while he is on a date.
Hands and Knees
After landing a government contract, Don panics when two G-men arrive at Betty's house; Pete faces a moral dilemma; Lane introduces his visiting father to his black girlfriend; Roger juggles Joan's latest abortion with bad news from Lucky Strike.
Chinese Wall
All employees of Sterling Cooper Draper Pryce are called in for a meeting and speculation and gossip starts to fly around the office.
Blowing Smoke
The agency scrambles to lure new clients and Don makes a risky move in the hopes that it will help them all. Later, Don runs into an old friend, Midge. Also, Sally comes to a realization in therapy.
Tomorrowland
Peggy and Ken land a new client for the firm. Joan gets promoted and shares a secret with her husband. Don takes the kids with him to California and faces a life-altering decision.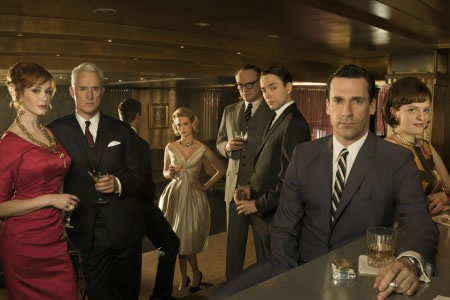 Critically acclaimed and drowning in awards, the show about advertising in the 1960s has become one of the most lauded programmes of the current TV era but can 'Mad Men' keep up its momentum for a fourth season?
The story of Donald Draper and his advertising firm Sterling Cooper has grabbed audiences from the off and never let go. Set in the vividly recreated 1960s, a time of change, prosperity and hope the show takes us behind the scenes of an emerging industry that would envelop the world, advertising. This was the time that changed everything. With popular music, movies and even politics radically changing, the consumer or customer was an ever-changing entity. Greater freedoms for women, the civil rights movements and more and more people with disposable income to spend on new and exciting emerging technologies, advertising became a powerful weapon in the arsenal of any people and if you wanted a successful and creative advert, you went to Don Draper.
Over the course of the first three seasons, Don Draper, played wonderfully by actor Jon Hamm, has slowly revealed himself to the people around him and the audience. A man with a mysterious background, trouble relating to and trusting people and riddled with the fear of losing everything, Don Draper is a man that everyone in New York and the advertising business wants to meet. Women adore him and men want to be him but underneath the family man and advertising genius persona is something much more complicated and that is what season four finally reveals.
The fourth season of this astonishingly well written show is the evolution of Donald Draper. Now divorced and starting up his own advertising business, Sterling Copper Draper Pryce, for the first time in his first he has to be accountable for something. After coasting along in his marriage and job, the pressure is on Don to deliver for the company but also and for the first time, he is now alone with his own thoughts and they are not very good company. This approach to the fourth season changes the dynamic of the show and, most importantly, the character, setting him on a road to possible redemption.
The show would be nothing without the supporting cast because 'Mad Men' is much more than just the Don Draper show. Peggy Olson's rise up the advertising ranks continues as actress Elisabeth Moss vividly brings to life a character that defined the progressive tone of the show with Peggy standing for the evolution of women in the workplace. Pete Campbell continues to struggle with his insecurities and Vincent Kartheiser excellent makes him an unlikeable character that you cannot help but connect with. Christina Hendrick's Joan continues to be the curvaceous, sexy office manager for Sterling Copper Draper Pryce. Continuing to change people's and TV executives prospective on not having to be skinny to be sexy, Hendrick's character is finally getting the chance to grow from the bitchy head of the secretarial pool she was in the first two seasons. January Jones as for the former Mrs. Draper, Betty takes a step back from the limelight in this season, as her marriage to Henry Francis is there only to annoy Don and create a barrier between him and his children. John Slattery's Roger Sterling continues to steal every scene, as the philandering senior partner of the firm who loves his women as much as his drink. With Jared Harris as new partner Lane Pryce, Aaron Staton as Pete's rival Ken Cosgrove, Rich Sommer as TV man Harry Crane and Robert Morse as the eccentric Bert Cooper, you have one of the best casts on Television.
Brilliantly played, fantastically written and vividly realised 'Mad Man' is classic television in the making. The fourth season just continues the excellence of the previous three but provides a new creative spark to a show that was already firing on all cylinders. The show it so good it barely needs to advertise itself, making it a must watch.

---
The Usher Home | Hush, Hush... | The Big Story | The Usher Speaks
Stuck @ Home | Coming Soon | Links | Contact the Usher

TV SERIES