"Save the Cheerleader, save the world"
Volume One: Genesis
In His Own Image
Upon learning of his father's death, genetics Professor Mohinder Suresh begins to look into his research for a clue to why he was killed. When he follows his father's trail to New York City, however, Mohinder learns that someone else is on the trail of the same research. Someone who may kill to protect the secrets of the next step in human evolution.
Don't Look Back
Los Angeles Police Officer Matt Parkman is working crowd control at a murder scene when he alone begins to hear the muffled cries of a little girl somewhere in the house. Claire's heroism brings her unwanted attention. Peter comes closer to learning the truth about his and Nathan's powers. Hiro finds a comic book, which leads him to Isaac.
One Giant Leap
Claire's romantic interlude with the football quarterback takes a tragic turn. Hiro convinces his friend, Ando, that it is their destiny to travel to America to save the world. Meanwhile, Nathan uses Peter's accident for his own political gain. Officer Matt Parkman, Mohinder Suresh, and the FBI are all on the trail of the mysterious Sylar.
Collision
After her night with Brody, Claire wakes up in the last place she would have imagined. Matt meets a couple of men who seem to know too much about him. Mohinder Suresh finds one of the heroes. Hiro's plan backfires in Las Vegas. Linderman's assistant makes more trouble for Niki just as Nathan arrives in Las Vegas to talk to the crooked casino owner about a campaign contribution. Isaac paints a bleak future for Claire. Peter receives a cryptic message from a very unexpected source.
Hiros
Matt uses his abilities to help his marriage. Niki, distraught over another blackout, arrives home to learn that her husband, D.L., has escaped from prison. Claire tells her father about some of the things she's been through lately. Down and out in Vegas, Hiro finally connects with another hero. Peter must figure out what to do with the mysterious message.
Better Halves
Hiro and Ando plan to continue on their journey to New York, but they are given a tempting offer by a high-roller while still in Las Vegas. Mr. Bennet, the man in the horn-rimmed glasses, arranges a meeting for his daughter, Claire, with her biological parents. Claire hopes that this meeting can shed some light on her abilities. Hiro calls Isaac's again, but Peter answers and is able to relay the message from the future. Mohinder returns to India to bury his father, saying goodbye to Eden. Niki receives a surprise visitor at her home.
Nothing to Hide
Niki opens up to a friend when her son becomes the subject of a crisis. Hiro overcomes his doubts about his heroism. Nathan and his wife come up with a strategy to win the election and Peter provides some unexpected assistance. Claire finds out what happened to her missing videotape. Matt and Audrey continue their investigation of the serial killer Sylar.
Seven Minutes to Midnight
While mourning for his father in India, Suresh must determine how to proceed after experiencing strange dreams of the past. Niki begins to understand herself. As Hiro and Ando continue their trek to New York, they meet up with an interesting person while stopping at a diner. Matt and Audrey follow a lead regarding the mysterious Sylar, but it leads to something unexpected. Claire focuses on getting ready for homecoming with the hopes of returning to a normal life. Meanwhile her father is occupied with another hero, and urgently requests his help.
Homecoming
Events in this episode take place on the day of Claire's Homecoming game. Claire's father is growing desperate to stop the villain who is coming after Claire. Nathan gets the painting from Linderman, and is horrified by what it depicts. Mohinder's dreams hold secrets about his father. Ando waits for Hiro who still has not returned from the past. Peter must try to save the cheerleader and also himself.
Six Months Ago
This episode shows the heroes six months ago. Chandra Suresh, Mohinder's father, arrives in New York looking for special people. He meets up with an individual that embraces the chance to be unique. Peter graduates from nursing school. Nathan plans to prosecute a case that could cause complications for the Petrellis. Niki receives a visit from her father which brings out the worst in her. Hiro tries to alter the future for someone important to him. Claire discovers her abilities right after joining the cheerleading squad, and her father meets up with someone special.
Fallout
Peter is in police custody after being mistakenly arrested in Odessa, forcing Nathan to take time out of his Congressional campaign. Claire deals with the implications of telling her father the truth. Matt and Audrey pursue a new lead in the hunt for Sylar unaware that Mr. Bennet has captured the killer. Hiro and Ando arrive in Odessa, too late to "save the cheerleader."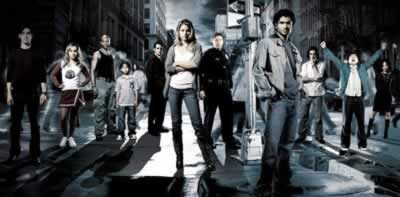 Once in a while a TV show comes along that becomes a worldwide phenomenon and 'Heroes' is one of those shows.
A TV show to becoming a global hit is a tall order as not everything travels to different parts of the world, especially when you are dealing with American shows. There have been some that have caught the imagination of audiences around world however and all of these have had a science fiction or fantasy element to them. 'The X-Files', 'Star Trek' and more recently 'Lost' were all or have become part of popular culture and the most talked about shows. Tim Kring's 'Heroes' has quickly becoming one of those shows after just one season.
The success of comic book movies like 'Batman Begins', 'Spider-Man', 'Superman Returns' and most importantly the 'X-Men' franchise has made superheroes in vogue again, so a TV show about ordinary people discovering they have special abilities suddenly became very viable. Tim Kring took an approach that even the most successful of the comic book adaptations didn't however, he made a show that followed the conventions of the comic book genre to the letter. From the storylines and the set up to the show to the publicity material and Internet content, the show did everything right from the off to appeal to comic book fans and build a core audience.
The key element of the show and the main reason for its success is the instant connectivity you have with the characters. This is a show with a large ensemble, a collection of potential heroes, each with different powers and problems. You have Claire, the cheerleader who instantly heals herself every time she is injured. Niki who has a side to her is truly terrifying. Nathan Petrelli, running for election in New York with an ability that will really make him fly. His brother Peter, who believes he can take to the skies and can see the future. Officer Matt Parkman can read people's thoughts and Hiro Nakamura has the ability to stop time and even teleport himself anyway around the world and through time itself. Everyone will find at least one of these characters to connect with, as they are all going to be connected in one way or the other throughout the season, leading to a climatic season finale to end the first volume, entitled 'Genesis'.
The continuing story and the introduction of both good and evil characters make the show compulsive viewing from the off. As we see each character grow into their abilities with differing levels of success and the evil characters craving the powers that these individuals have for their own personal growth or gain. All of them are heading towards one inevitable event however, a bomb is going to explode and destroy New York.
The first half of the first season of 'Heroes' is exceptionally good, building to something that is truly fantastic and completely riveting. With excellent performances from the ensemble cast and a continuing storyline that will have you clambering to watch the next episode as soon as the one you are watching finishes and that is very rare in a show, making 'Heroes' truly super.


PICTURE & SOUND
Presented in Anamorphic Widescreen 16x9 with Dolby Digital 5.1, the series looks great.
BONUS FEATURES
Deleted Scenes
View multiple deleted scenes from all of the first eleven episodes of the first half of the first season of 'Heroes'.
Unaired Pilot: The Tim Kring Cut
With optional commentary from series creator and executive producer Tim Kring, watch the original pilot shown at the San Diego Comicon before the season started. Here we much of what happened in 'In his own images' but with added material that was later removed from the first show of the season. This mostly revolves around the introduction of Officer Matt Parkman and a terrorist storyline that was never continued in the series.
Making of (9.58 mins)
Creator/executive producer Tim Kring, co-executive producer Jeph Loeb and stars Milo Ventimiglia, Hayden Pinsetters, Sendhil Ramamurthy, Masi Oka, Adrian Pasdar, Ali Larter, Greg Grunberg and Leonard Roberts talk about the creation of 'Heroes'. The short featurette talks about the approach of the show and what it represents, the characters, casting and the success of the show.
Special Effects (8.43 mins)
Visual effects supervisor Mark Kolpack and star Masi Oka talk about the visual effects in the first season, highlighting when Hiro stops time in the Tokyo market to save the schoolgirl.
OVERALL
The DVD treatment of the first half of the first season of 'Heroes' is ok but because the season is split in two, you don't get the whole package. The featurettes are fine and the inclusion of unaired pilot will really please fans but the lack of commentaries will be frustrating. This is still a decent package for fans of the show, it is just a shame that they had to release the season in two parts.
DVD

---
The Usher Home | Hush, Hush... | The Big Story | The Usher Speaks
Stuck @ Home | Coming Soon | Links | Contact the Usher

TV SERIES