"It's just a game"
Trapped in a virtual world, Lt. Thomas Hobbes (Bairstow) fights to stay alive and complete his mission, to bring down General Omar Santiago (O'Quinn).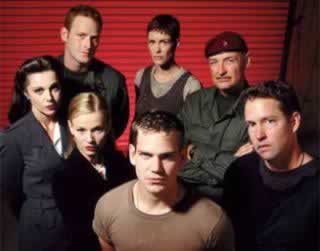 Pilot
After seeing the horrors of war in Sarajevo, Lt. Thomas F. Hobbes is ready to settle down with his fiancée, Sophie. However the military has on last assignment for him, to test out a Harsh Realm, a virtual reality construct created by the military for combat training.
However once inside Harsh Realm, Hobbes soon finds himself fighting for his life, struggling to understand what is real and what is not. He forms an alliance with another soldier, Mike Pinocchio, who is uninterested in helping this new recruit. But a mysterious woman named Florence believes that Hobbes to be Harsh Realm's saviour and will deliver the virtual characters from the oppressive reins of Omar Santiago, the military dictator who rules over Harsh Realm.
Hobbes realises that the only way to escape Harsh Realm is to beat the highest scoring player, Santiago, who is unwilling to give up his kingdom. Hobbes mission now is only to escape Harsh Realm by any means necessary to return home to his fiancée.
Leviathan
As Hobbes comes to grips with the reality of his situation, Mike Pinocchio is lured into a trap by a mercenary bounty hunter. Aided by the mute Florence, Hobbes goes in search of Pinocchio however gets himself captured in the process. The bounty hunter, behind the back of his female partner, cuts a deal with Santiago. In exchange for money, the bounty hunter wants access to the mythical portal that allows individual's access to both Harsh Realm and the real world. The Female bounty hunter senses something is going on behind her back and therefore helps Hobbes and Pinocchio escape.
Meanwhile, in the real world, Hobbes's fiancée doubts the circumstances surrounding his death. A woman named Inga Fossa hints to the fact that he is still alive and knows where he is and tells her that men like Hobbes have been reported to of been killed on missions but are still alive.
Inga Fossa
Sophie continues to look into Hobbes' death by following Inga Fossa into a run down military installation where Inga Fossa uses a portal to move back to Harsh Realm. Inga Fossa enters however Sophie is locked out. Fossa materialises in Santiago City where she informs Santiago of her plans of conquest.
In Harsh Realm, Hobbes, Pinocchio and Florence attempt to gain forged ID chips so they can enter Santiago city and gain access to the portal. They find the man they need for the job, just as Walters and a team of commandoes raid the building and capture Florence. The rest manage to escape through a glitch that leads them directly Santiago's barracks.
Kein Ausgang
Whilst driving through the countryside in search of a soldier who may hold the key to defeating Santiago, Hobbes and Pinocchio unexpectedly travel through a tear in Harsh Realm and enter what seems to be an alternate dimension. They immediately come under fire from World War II soldiers and eventually learn they are trapped in an earlier, and thought deleted, version of the Harsh Realm simulation.
One of the American soldiers asks for help from Hobbes and Pinocchio as he has been trapped in this version of the game and has been playing it over and over again for years. As the Nazis capture Hobbes and Pinocchio fights for the allies, they soon come to realize that if they do not find a way out of this game they could be doomed to repeat it over and over like the American soldier.
Reunion
Captured and pressed into a work camp in Harsh Realm, Hobbs and Pinocchio meet a VC of Hobbs' dying mother and try to rescue her and escape without getting rendered by the sadistic warden and his zombie trackers. In the real world, Sophie comforts Hobbs' real mom in her last days.
Three Percenters
On a mission to recover supplies from a lost squad of Santiago's soldiers - and with Waters and the Republican Guard hot on their heels - Hobbes encounters the three percenters, characters of Harsh Realm that were not meant to be created. The game designers of Harsh Realm had a three percent error rate which created dysfunctional, angry characters. Hobbes, Pinocchio and Florence soon find themselves captives of the three percenters posing as a group of pacifists.
Manus Domini
Florence takes off to warn her people - The Sisters, a religious order of healers - that Santiago's Republican Guard is approaching. Hobbs and Pinocchio follow, fall victim to a minefield and meet The Sisters. Surviving their ordeal requires faith, even in Harsh Realm.
Cincinnati
An insurgent American Indian Movement seeks to defeat and capture Santiago in Cincinnati. Santiago hunts their leader in retaliation, while Inga continues to manipulate Waters and Santiago. Hobbs, Pinocchio and Florence are also hunting Santiago and get caught in the middle of the two factions.
Camera Obscura
In Harsh Realm's version of a post-apocalyptic New York City, warring families hire Hobbs and Pinocchio as mercenaries. Their destinies appear to be controlled by a mad priest, a vault of gold, star-crossed lovers, acid rain and access to the Harsh Realm data stream.

With the exception of The X-Files, writer/producer/director Chris Carter hasn't had much luck when it comes to producing another successful TV series. Harsh Realm didn't buck that tread.
Very loosely based on a comic book by James D. Hudnall and Andrew Paquette, Carter's new Sci-Fi series takes place in two parallel worlds, one real the other virtual. The US army has designed a complete facsimile of Earth within a software programme, from every building and landscape to every human and animal, and are using it for military training exercises for extreme hostile situations. Everything was going fine until a retired General called Omar Santiago took over game and formed his own dictatorship. Ever since then the Army has been sending in troops to take out General but each one has failed. Thomas Hobbs is the latest recruit but he is different, he could be the one, the one who is predicted to and save the people of Harsh Realm.
Replace the Army with Machines and you have the same basic premise as The Matrix movies. This was the series major problem and its reason for cancellation by the Fox Network. The show debuted in 1999 as the world was still gripped by Matrix fever and Harsh Realm could have been so easily seen as a way of cashing in on that movie's monstrous success. So after only broadcasting three episodes, Fox pulled the plug but if they would have been a little more patient they could have had a brilliant series on their hands.
Harsh Realm, as with all of Chris Carter's shows, had very high production values and a good sense for storytelling. While the similarities between the series and The Matrix are very apparent, the programme was starting to make its own identity away from the blockbuster. If you watch episodes like Kein Ausgang, Manus Domini and Cincinnati (all of which where never aired during the series original run) you will find that the show was just starting to create its own niche. By the end of the nine-episode run, you start to realise the infinite possibilities for the programme and how the cast had already got to grips with their roles, a fact that is very rare for an emerging series.
Scott Bairstow and D.B. Sweeney made an excellent on screen partnership. Bairstow's clean cut, optimistic Thomas Hobbes was the complete opposite of Sweeney's pessimistic rebel, who had had the good beaten out of him. The two conflicting soldiers produced a good chemistry that drove the show along and made you care about the characters from a very early stage. They also had good support from reoccurring characters played by Rachel Hayward, Samantha Mathis, Max Martini and Sarah Jane Redmond, whose characters where defined, even at this very early stage. When you throw an egotistical, megalomaniac as the pair's nemesis, in the shape of General Omar Santiago, played brilliantly as ever by Carter stalwart Terry O'Quinn, and you have the making of a series that had many places to go.
Harsh Realm was a show with a lot of potential. Chris Carter and his creative team should have been given at least a season to explore this fascinating world they had created but the power-that-be unfortunately never gave them that chance. The Matrix comparisons are there for all to see but you could see that the series was moving away from these trapping as starting to makes its own way before the axe fell.
In the harsh reality of TV scheduling, you have to be on top of your game, regrettably Harsh Realm saw the Game Over sign far too early.


PICTURE & SOUND
Presented in full frame 4:3 with a Dolby Digital 2.0 stereo soundtrack, the transfer is very good. The picture quality is of a high standard throughout, as the contrasting worlds of Harsh Realm and our own reality show both light and dark. The sound is good for a stereo track, with a strong emphasis on dialogue and decent effects during the action sequences.
BONUS FEATURES
Pilot Commentary by Chris Carter
The series creator and executive producer provides an informative review about bring Harsh Realm to the small screen. He talks about filming the series in Vancouver and the extensive amount of work that went into producing the sets for the pilot. He reveals how he totally changed series from the comic book it was based upon and how Thomas Hobbs was named after the famous philosopher. He also discusses casting, the influences behind the show and the reasons why he thinks it was cancelled by the network.
Pilot Commentary by Dan Sackheim
The director/executive producer of the pilot talks about the look and feel of the first episode of Harsh Realm. He reveals the major differences between the comic and Chris Carter's adaptation with the original having nothing to do with the military. He also discusses the conscious decision to create a real difference between Harsh Realm and the real world that would emphasise the point that they are parallel universes. He then talks about casting and the similarities between the series and The Matrix.
Inside Harsh Realm (25.50 mins)
Series creator Chris Carter, executive producer Daniel Sackheim, writer/producer Frank Spotniz, composer Mark Snow, designer Mark Freeborn and stars Scott Bairstow, Terry O'Quinn, Sarah Jane Redmond, Samantha Mathis, Max Martini, Rachel Hayward and D.B. Sweeney talk about bringing Harsh Realm to the small screen. They discuss the difference between the comic book and the series, emphasising the point that this was a show with a very open canvas and no rules. They also reveal why they think the show was cancelled.
Creating the Logo and Title Sequence (8.46 mins)
Designer Justin Carrol and art designer Ramsey McDaniel talk about their work on previous Chris Carter shows (The X-Files and Millennium) and how they went about designing the logo and title sequence for his new show. They both take you through the different design concepts they came up with before finally showcasing the finished product.
FBC 'Pilot' TV Spots (1.30 mins)
Entitled "World", "Moment" and "Headtrip", these are the three TV spots used to promote the programme on the Fox Network
FX TV Spots (0.42 mins)
Entitled "FX Premiere" and "Review Spot" these two TV spots promoted the complete run of all nine episodes on the FX Channel.
OVERALL

Even though this was a cancelled series with only nine episodes, Fox have done a great good with the DVD package. The two featurettes are very informative and the commentary tracks only add to the value. While the series does end very prematurely, just as you start getting into the series and the characters, there is still a lot here to enjoy for any fan of Chris Carter's work.
DVD

---
The Usher Home | Hush, Hush... | The Big Story | The Usher Speaks
Stuck @ Home | Coming Soon | Links | Contact the Usher

TV SERIES