"I Love You..."
As a power cut befalls Quahog, Peter Griffin (MacFarlane) decides to regale his family with another story of a rebellion in hiding, a princess and a rogue pilot falling in love, a bounty hunter out closing in on his target, a forgotten master with a new apprentice and a galactic empire out for revenge. This is the story of The Empire Strikes Back.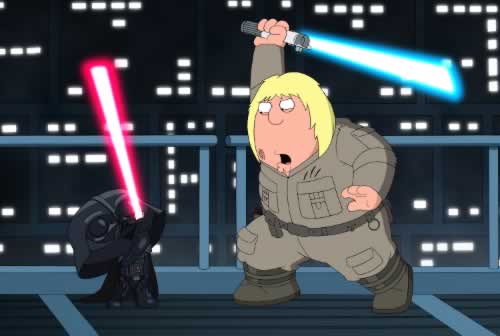 After the critical, commercial and fan adoration of their adaptation of 'Star Wars', Seth MacFarlane and the Family Guy team return for the next chapter in the Saga, 'Something, Something, Something Darkside'.
When 'Blue Harvest' was released to the world both Star Wars and Family Guy fans rejoiced as their favourite characters travelled to that Galaxy far, far away. With Peter as Han, Lois as Leia, Brian as Chewbacca, Chris as Luke, Cleveland as R2 D2, Quagmire as C3-PO and Stewie as Darth Vader two sets of classic characters combined to produce a parody and a homage to the greatest science fiction trilogy of all time.
Of course this is filled with Family Guy humour and while the jury has been out on many of the last two seasons episodes, this especially extended show captures all that is good about the humour of the programme. Paying homage to a genre or a franchise is always a difficult task, just watch the failures of Scary Movie franchise to see how badly it can go wrong but when you add in the fact that you have to stick to the tone of an already established comedy show and then you have a mammoth task. The great news is that there are some seriously funny, laugh-out-loud moments in this special and some that could be considered classic. As this is the Blu-Ray release the Family Guy team are not hindered by the rules of television, allowing on of the funniest parody lines ever. Just listen Peter/Han's retort to Lois/Leia declaration of love during the classic Carbonite freezing scene is brilliantly funny.
As they did so successfully in 'Blue Harvest', the team have brilliantly recreated most of the key scenes in the fifth episode in the classic franchise. The AT-AT attack on Hoth, the Millennium Falcon in the asteroid field, the approach to Cloud City on Bespin, training on Dagobah and the Star Destroyer escape have been vividly recreated in the Family Guy animation style with the love and attention to detail you would expect from Seth MacFarlane's team.
'Something, Something, Something Darkside' is Family Guy at it's very best. It is also parody at its very best also but it is the amalgamation of the Star Wars and Family Guy that makes this series so success and such a joy to watch. The Force is very strong with this one.


PICTURE & SOUND
The Blu-Ray disc presents the movie in High Definition full screen 4:3 up to 1080p, with Dolby TrueHD 5.1 surround sound. The package is also part of Fox's 'Triple Play', which includes the Blu-Ray, DVD, and Digital versions of the release.
BONUS FEATURES
Commentary by executive producers Seth MacFarlane, Mark Hentemann and David Goodman, writer Kirker Butler, director Dominic Polcino and actor Seth Green
Seth MacFarlane and his creative team come together to have some real fun with this commentary track. Constantly cracking wise and taking the mickey out of Seth Green and Robot Chicken, this is a must listen for all fans of the show.
Family Guy Fact Ups
Watch 'Something, Something, Something Darkside' with factoids and trivia about Star Wars and Family Guy popping up on screen while you enjoy the show.
The Darkside of Poster Art (9.18 mins/HD)
Artist Joe Vaux talk about producing the poster art for 'Something, Something, Something Darkside'.
Animatic Scene-to-Scene with Commentary by director Dominic Polcino (6.36 mins/HD)
Watch animated storyboards to completely scene comparisons on some of the key scenes.
Family Guy – Something, Something, Something Darkside table read – Featuring Acts 1 & 2 (49.27 mins/HD)
Watch the table read through and marvel at Seth MacFarlane changing from Peter to Stewie to Brian and then to Quagmire.
Sneak Peek of 'Family Guy Episode VI: We have a Bad Feeling About This' Table Read (2.26 mins/HD)
Watch a special preview of the next part in the Family Guy Star Wars Saga, as Han awakes from his carbonite habitation.
OVERALL
With the episode only been fifty minutes long the extras needed to add value to the price of the disc but unfortunately they fall a little short compared to 'Blue Harvest'. While the commentary is good, the bonus features are a little lackluster with only the table read adding any real value. Fans might be a little disappointed also with the lack of a real trailer for the next Family Guy Star Wars epic.
BLU-RAY

---
The Usher Home | Hush, Hush... | The Big Story | The Usher Speaks
Stuck @ Home | Coming Soon | Links | Contact the Usher

TV SERIES