"Use the Force"
As a power cut befalls Quahog, Peter Griffin (MacFarlane) decides to regale his family with a story of a princess in need of rescue, a hero in waiting, a rouge pilot and his loyal companion, two robots on a quest, a galactic empire on verge of total dominance and a forgotten power that is about to re-emerge. That story is Star Wars.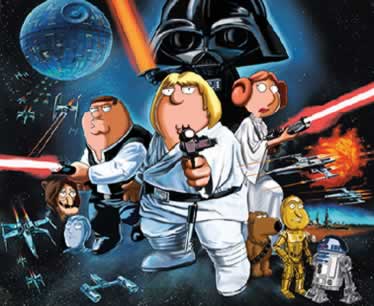 There have been many spoofs and nods to the greatest science fiction series in the history of cinema but can 'Family Guy' be at one with the Force?
When it was announced that 'Family Guy' would be producing their own version of the 'Star Wars Episode IV: A New Hope' fans of the series were salivating at the prospect of their heroes going to that galaxy far, far away but they could never have expected a homage that would be as good as this.
Series creator Seth MacFarlane and his creative time have not only spoofed the movie but lovingly recreated most of the key sequences of first movie in the beloved 'Original Trilogy'. With shot for shot recreations of all of the key locations and visual effects, this is much more than your usual homage but that doesn't mean to say that it has lost any of that trademark 'Family Guy' humour.
With all your favourite character taking up the major roles in the movie, with the exception of Meg who is reduced to an hilarious cameo, Peter, Lois, Stewie, Brian, Chris, Cleveland, Joe, Quagmire, Mayor Adam West and even Herbert. Each one have a pivotal role from the Star Wars universe and you will laugh hysterically when they are revealed.
With the promise of more homage's to the rest of the 'Original Trilogy', this is a classic for the 'Family Guy' series and a must watch for all fans of everything 'Star Wars'. Brilliantly funny but with great respect to the source material, this is how a 'Star Wars' homage should be done and the Force is very much with it.


PICTURE & SOUND
Presented in Anamorphic Widescreen 4x3 with Dolby Digital 5.1, the episode looks great.
BONUS FEATURES
Commentary by Seth MacFarlane, Patrick Clark, Mike Elias, David Goodman, Joseph Lee, Dominic Policino, Danny Smith, Alec Sulkin and Kara Vallow
The Series creator and his creative team talk about producing their dream episode of 'Family Guy'. With extreme enthusiasm and a lot of fun the group reveal why they made the episode, how they got permission from LucasFilm, deciding on what character would be which Star Wars character and how they recreated the classic scenes from the movie. This is a fun commentary that fans of the show will enjoy.
A Conversation with George
Series creator Seth MacFarlane interviews the man behind the 'Star Wars' franchise, George Lucas. A life long fan of the Star Wars universe, Seth talks to the filmmaker and asks him why they allowed him to make the homage, what he is working on at the moment and to clarify some of the 'Star Wars' myths that have emerged over the years.
Once in a Life Time: The Making of Harvest (19.09 mins)
Executive producer David A. Goodman and Chris Sheridan, director Zac Manrief, music editor Patrick Clark, writer/supervising producer Alec Sulkin, 'Blue Harvest' director Dominic Policino, assistant director Joseph Lee and producer Kara Vallow talk about what it means to them creating the 'Family Guy' take on 'Star Wars Episode IV: A New Hope'. A labour of love, the creative team talk about the passion behind the show and how much they revelled working on this episode.
Animatic Version (40.52 mins)
Watch the original animated storyboard version of the episode, with some alternative takes on some of the scenes and just as many laughs as the full, completed version.
Family Guy Star Wars Clip Show (9.40 mins)
Watch a collection of all the parts of the show that has a 'Star Wars' reference.
Something, Something Darkside Teaser (0.22 mins)
Watch the very short teaser for the 'Family Guy' version of 'The Empire Strikes Back'
Introduction to Family Guy (5.45 mins)
Watch profiles of Peter, Lois, Brian, Meg, Chris and Stewie Griffin with some of their funniest moments
Bonus Family Guy Episode: North by North Quahog (22.00 mins)
Watch the first episode of 'Family Guy' after its return from cancellation. Peter and Lois decide to go on a second honeymoon. But when Peter crashes the car, he decides to pose as Mel Gibson to stay in his fancy hotel suite, where they find a copy of a "The Passion of the Christ" sequel. They attempt to destroy the film and end up being chased by two priests who went to retrieve the film.
OVERALL
While it may only be one episode and it will probably be included as part of the season seven DVD release, 'Blue Harvest' is still a must for any 'Family Guy' fans collection. The Special Edition version is the one you should buy because as well as including the DVD you also receive 3D Glasses & 2 Minute 3D Fight Clip, Family Guy 'Blue Harvest' T-Shirt, Set Of Trading Cards and 12-Page Booklet With Script Excerpts, Production Notes, Letter From Seth, Photos & Drawings. The bonus features are good and the inclusion of a bonus episode is welcome but most die-hard fans will already have it. This aside this should still be part of any Family Guy fans DVD collection.
DVD

---
The Usher Home | Hush, Hush... | The Big Story | The Usher Speaks
Stuck @ Home | Coming Soon | Links | Contact the Usher

TV SERIES