"But then I've seen everything"
Patrick Stewart
Episode 1: Ben Stiller
Andy Millman (Gervais) takes a part as an extra on a movie about the Balkans conflict that Ben Stiller is directing. As Andy attempts to win himself a speaking role by befriending Goran, the Croatian man whose story is being told, he is drawn into the friction between Stiller and Goran and must eventually choose between defending his new friend at the expense of his career or putting possible success ahead of his conscience.
Episode 2: Ross Kemp
Ross Kemp is keen to convince Andy that his hardman image on TV, is also true in reality. Andy isn't convinced, especially when Ross is confronted by Vinnie Jones.
Episode 3: Kate Winslet
Kate Winslet hopes her role as a nun in a Nazi film drama, will guarantee her an Oscar. However, her meeting with Andy leads in into a very embarrassing situation. That's not the only embarrassing situation Andy finds himself in, a 'date' with a fellow extra doesn't quite turn out as expected.
Episode 4: Les Dennis
Due to Christopher Biggins being (surprisingly) unavailable, Andy gets a break when he lands the part of the Genie in Aladdin alongside, Les Dennis.
Episode 5: Samuel L. Jackson
Andy is trying to avoid a fellow extra who is very dull. When the extra helps to get Andy a line of dialogue, Andy tells him he owes him one. The extra suggests that he should go out for a meal with him to return the favour. In the meantime, Maggie is going out of her way to show she isn't racist, whilst on a date with a black actor.
Episode 6: Patrick Stewart
Andy gives Patrick Stewart a script for a comedy he has written. Stewart is able to "make it so" and the BBC becomes interested, asking Andy to work on a pilot. However, problems set in when Andy meets the script editor; an outrageously camp man. The BBC comedy chief is gay too. Then there's Maggie...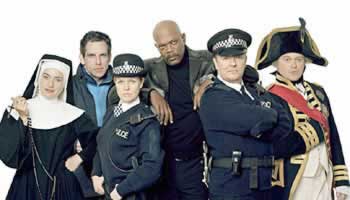 Collaborators Ricky Gervais and Stephen Merchant had a monster hit with 'The Office' but after that show ended the pair was faced the daunting prospect of following up that series. Like any director, film star or musician who strikes it big at the first attempt, they are inevitably judged on their second film or album, for Gervais and Merchant this would be the same. The good news is that 'Extras' proves that they are not just a one hit wonder.
With all the critical acclaim that the pair gathered for 'The Office', this made them well known not just here in the UK but in that all-important American market and this meant Hollywood took notice. When they announced that the new series would be about movie/TV extras, Gervais and Merchant now know that they had the clout to ask some of Hollywood's major players to be involved and they did. Major stars Patrick Stewart, Kate Winslet, Samuel L. Jackson and Ben Stiller joined homegrown actors Ross Kemp and Les Dennis to produce another classic series.
The stars however play only supporting roles to the two main players, the extras themselves Andy Millman and Maggie Jacobs. Played by Ricky Gervais and Ashley Jensen, these two are actors who are longing for just a line, a speaking role that might just get them noticed. Treated as the lowest on the acting ladder, the extras are thespians in waiting but some have been waiting a lot longer than others. Andy and Maggie are prime examples but they still hope that stardom is around the corner.
Just like the Office, this is cringe comedy as both Andy and especially Maggie continue to put their feet clearly in their mouths. You end up laughing when you really shouldn't be, as the 'Extras' don't shy away from any discussion whether it be sexist, racist or down right crude but it is when they get overheard or they say something they shouldn't when you laugh and can't help doing so. You cringe as everything goes wrong but these are just normal people who you can't help but like, even if you don't agree with some of the things they are saying or doing. This comes from both the skill of the writing and the expertise of the two principles involved.
'Extras' is intelligently written, superbly acted and contagiously funny proving that Gervais and Merchant are not one-hit wonders. The big stars are amazing sports, allowing the scripts to really make fun of Hollywood personas but it is the extras themselves who are the stars. This is another classic in the making if the first season is anything to go by.


PICTURE AND SOUND
Presented in 1.85:1 Anamorphic Widescreen with a Dolby Digital 5.1 surround soundtrack the transfer is very good.
BONUS FEATURES
Outtakes (19.30 mins)
Usually outtakes are just a collection of the actors involved getting their lines wrong but this collection for 'Extras' are hilarious. Each one is basically Ricky Gervais cracking up or uncontrollably laughing when he works with Ross Kemp, Kate Winslet, Ben Stiller, Les Dennis, Samuel L. Jackson and Patrick Stewart. This is so funny and makes you wonder how they actually got the series made.
Deleted Scenes
Entitled 'Episode 1: Department Store', 'Episode 2: Gypsy Joke', 'Episode 3: Hymn', 'Episode 4; Agent', 'Episode 5: Waiter', 'Episode 5: Hiding from Dullard' and 'Episode 6: Agent plugs Barry', these deleted scenes are very funny but with a commentary or introduction we don't know why they were removed.
Finding Leo (9.50 mins)
After Jude Law pulls out of the show Ricky Gervais and Stephen Merchant have to try and replace him. This video diary charts their sidesplitting efforts to try and get in touch with Leonardo DiCaprio to see if he will come on the show.
Taping Nigel (7.58 mins)
A video diary that shows Ricky Gervais's bullying of the series editor Nigel. This includes some interesting drawings of him, making him do things that he really shouldn't and transforming him into a gimp. Stephen Merchant voices his concerns but this is still funny stuff.
The Difficult Second Album (21.08 mins)
Ricky Gervais and Stephen Merchant talk about following up the extremely popular and award winning series 'The Office'. The pair talks about the premise for the show, revealing how they came up with the idea and the makeup of the characters. They also talk about getting the celebrities involves and how they used their new found clout to bring in the names. With behind the scenes video diary footage, we see how the show is made and the laughs that the cast and crew seem to be having.
OVERALL
The first series DVD release of 'Extras' is very good. The bonus features are extremely funny with Ricky Gervais hilarious throughout. The major downside is the lack of commentary tracks on the episode as this is a show that really could have benefited from tracks. For fans of the series however, this is still a good package but it just needed a little extra.
DVD

---
The Usher Home | Hush, Hush... | The Big Story | The Usher Speaks
Stuck @ Home | Coming Soon | Links | Contact the Usher

TV SERIES