"Are you going to Trumpton ? Camberwick Green ? Chigley ? Can we come with you ?"
Lord Belborough's Secret
Dr. Mopp calls at the Chigley Pottery to buy a vase for his sister Millicent, and gets a demonstration of how a potter uses his wheel. Lord Belborough arrives in Bessie to collect a crate of pottery, and they go with him to Treddles wharf, where he picks up a mysterious crate.
Bessie to the Rescue
Farmer Bell makes his regular delivery of produce to the Chigley biscuit factory, and gets a tour of the factory from Mr Cresswell. They notice that a box of biscuits meant for delivery has been overlooked. As Trumpton is very congested at this time of day it is too late to take it by road to Wintelbury station, in time for the 5.23 train to London. Farmer Bell comes to the rescue by taking the box to the pottery where it is picked up by Lord Belborough in Bessie and taken to Treddles Wharf.
The Balloon
The Mayor goes to see his friend Lord Belborough to return a book. The Mayor asks if he has any ideas of how to raise money for the old peoples' holiday fund, but neither of them come up with anything. Lord Belborough takes a crate of pottery to Treddles wharf and takes Winnie along for a ride. Sadly Winnie's balloon bursts on Bessie's stack, which gives them an idea of how to raise money - a balloon ride.
The Fountain
PC McGarry calls at the pottery to invite Mr Farthing to tea. Mr Farthing is sculpting in his garden but explains that there is not much demand for stone sculptures these days. PC McGarry then calls in at the Biscuit Factory where he tells Mr Cresswell that he has a clean and modern looking factory, but also points out that a fountain would look nice.
The Garden Wall
Mr Crockett delivers a lawnmower to Winkstead Hall, having just rebuilt the engine, and "sharpened her up". Lord Belborough starts the mower, which was still in gear, and it runs off and demolishes the garden wall and door. Lord Belborough phones Mr Clutterbuck the builder and asks him if he can rebuild the wall before the weekend, but Mr Clutterbuck is still awaiting delivery of a load of bricks, which are stuck at Treddles Wharf.
Binnie and Bessie
Roger Varley arrives at Winkstead Hall to help clean Bessie the steam engine and Binnie the pumping engine. Roger is cleaning Binnie when Brackett the butler comes in and says the water level in Winkstead Hall is very low. But the only way to pump the water is to burn the coal to get the pumping engine going, but there is no coal left.
Lord Belborough's Lucky Day
Thomas Tripp is delivering milk to Winkstead Hall, and while talking to Brackett they discover that because Lord Belborough's birthday is in February then today is his lucky day. The Broken Bridge Mr Carraway is delivering three boxes of plaice to the Chigley biscuit factory restaurant when PC McGarry turns up and tells them that the Chigley Bridge is unsafe and closed to all traffic. This is bad news for Mr Cresswell as he has a delivery of biscuits to go out.
Clay for Mr Farthing
Mr Wantage and Fred finish their work in Trumpton and go off to the Chigley pottery to mend Harry Farthing's phone. There, they find that the trouble is due to clay in the receiver holder. Harry gives them a demonstration of how he makes a bowl. The PO engineers mention that a lot of clay was dug out when the new telephone exchange was built, and they give Harry a lift to the exchange in their van. They tell Harry he can have it all, but how can they transport it back to the pottery?
Trouble with the Crane
At Treddle's Wharf, Mr Rumpling is supposed to unload a crate from his boat for Lord Belborough, and pick up a crate of scrap metal from Farmer Bell. While lifting a crate the crane fails and drops what they think is Lord Belborough's crate of valuable antique books into the canal. The solider boys are called and Private Armitage (the best swimmer) dives into the canal to rescue the crate.
Apples Galore
When the Winkstead orchard has a bumper crop of apples, Windy Miller suggests they turn them into apple juice using his cider press. The fire brigade pick the apples and Jonathan Bell loads them onto Bessie with the aid of his forklift loader. Then Lord Belborough takes them to Windy's barn (just below the mill) and with the help of the biscuit factory workers they are pressed and barrelled in time to be taken to the six o'-clock dance.
Willie Munn
Mr. Clamp takes some stock to the Chigley biscuit factory for the staff canteen. While there, he asks Mr Cresswell (the biscuit factory owner) how his nephew Willie Munn is doing. Mr Cresswell takes Mr Clamp to see Willie who works on the biscuit stamper.
A Present for Lord Belborough
Mr Antonio is delivering ice cream to the Winkstead Hall tearoom. He meets Mr Bilton the gardener, who says he has some wallflowers to give him. Mr Bilton is suffering from 'the rheumatics' so Mr Antonio helps out by doing a bit of lawn mowing. On his way out Mr Antonio meets Lord Belborough who tells him he would like to give Bilton a motor-barrow but can't afford it what with the cost of the recent reroofing...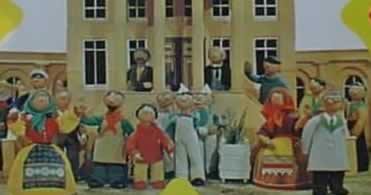 The country of Trumptonshire is a big place and after hearing stories from Trumpton and Camberwick Green we journey to Chigley.
Gordon Murray's beloved stop-motion animation concludes in his third Trumptonshire series 'Chigley'. The difference between this and the two previous incarnations is that while this introduces some new characters we also have some of your favourites returning.
Here we meet train loving Lord Belborough and his butler Brackett. The man who lives at Winkstead Hall and just loves to drive his beloved steam train Bessie and uses her to save the day on more than one occasion. He also overseas the 6 o'clock dance which sees everyone from around Trumptonshire comes to listen to the Dutch organ. We also meet Mr Cresswell, the owner of the biscuit factory and Trumptonshire's biggest employer by far. Mr Farthing owns Chigley pottery, Mr Swallow operates the crane at Treddles Wharf and Mr Rumpling is the barge owner, carrying crates to Treddles wharf.
We also have return visits from favourite such as Windy Miller, Chippy Minton, the Trumpton Fire Brigade, The Mayor, the soldiers from Pippin Fort, PC McGarry and Farmer Bell that will delight fans of the previous series.
Harking back to a more innocent time, Gordon Murray's beloved series might look dated compared to the computer generated or Japanese animated cartoons and people dressed in huge, strange animal costumes that grace children's TV these days but when it comes to showing scenes of community, friendship and how to treat people, nothing has come close for younger viewer.
'Chigley' completes your trip to Trumptonshire and it is just as magical as Camberwick Green and Trumpton. It might not be as technically gifted as many of the modern children's programmes today but this is a programme that just doesn't date and can still be a family favourite all these years later.


PICTURE AND SOUND
Presented in 4x3 Full Screen with a Dolby 1.0 soundtrack the transfer is good, especially when you bear in mind that the show was made in 1969.
BONUS FEATURES
Restoring Trumptonshire (6.18 mins)
Head of telecine Gerry Gedge, sound restorer Danni Levi and restoration operator Simon Duke example the processes 'The Machine Room' utilises to restore the forty year old footage to its most colourful and song filled best.
Trailer Gallery
Previews of 'Trap Door', 'Trumptonshire', 'Lavender Castle', 'Postman Pat and the Great Dinosaur Hunt' and 'Little Red Tractor - Glorious Mud'
OVERALL
With a short featurette and some trailers, the extras for Chigley are not that great. An in depth look at the impact of the series and its creator Gordon Murray would have been welcomed. Fans will be disappointed.
DVD

---
The Usher Home | Hush, Hush... | The Big Story | The Usher Speaks
Stuck @ Home | Coming Soon | Links | Contact the Usher

TV SERIES