'Hello Windy'
Peter The Postman
Peter The Postman has an eventful day as his deliveries cause a mixture of joy and chaos.
Windy Miller
Windy Miller falls asleep. When he awakens, the sails of his windmill have stopped turning and he needs assistance to get them going again.
Mr Crockett The Garage Man
Mr Crockett attends to Mickey Murphy's delivery van that has broken down. Later, after visiting Mr Crockett's garage for a fill-up, Jonathan Bell the farmer challenges Windy Miller to a race.
Doctor Mopp
Doctor Mopp visits patients all around the village, carries out a routine medical examination at Pippin Fort and even attends to a cow with a nasty cough. It's all in a day's work!
Jonathan Bell The Farmer
Farmer Bell is worried when his regular customers don't want his eggs anymore. A rival supplier has taken his business - but who is it?
Captain Snort
Captain Snort sends his troops to help out the villagers with little tasks, but one of the soldiers goes missing.
Paddy Murphy
Paddy Murphy works at the dairy, collecting supplies and making deliveries. But an accident causes the loss of a day's milk - who can he turn to for help?
Roger Varley The Sweep
When Roger Varley tries to clean up after sweeping the chimney at the bakery, he discovers that the water supply has been cut off. Fortunately, Windy Miller knows what to do - touch a sweep's collar for luck!
PC McGarry
PC McGarry is trying to track down anyone fishing illegally when a call for help arrives - a swarm of bees has descended upon the bakery! PC McGarry and the soldiers from Pippin Fort can't help, but they know a man who can.
Mr Dagenham The Salesman
Mr Dagenham visits one of his satisfied customers, Jonathan Bell the farmer, then goes to Pippin Fort to attempt to sell a helicopter. He doesn't sell it, but it comes in useful when Windy Miller needs to repair his mill.
Mr. Carraway the Fishmonger
Mr Carraway makes his deliveries to the mill and to Pippin Fort, telling stories of the sea to his customers.
Mickey Murphy The Baker
Mr Murphy the baker burns his hands and can't bake his usual orders, so Private Lumley is sent in from Pippin Fort to help. Unfortunately Lumley isn't the brightest of the soldiers and chaos ensues.
Mrs Honeyman and her Baby
Village gossip Mrs Honeyman jumps to the wrong conclusion when she sees workmen arrive in Camberwick Green, and organises a protest against the green being dug up.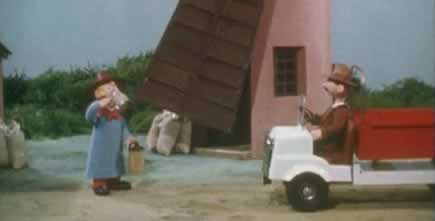 Anyone who was a child in the late 60s and 70s will remember that when the music box plays, you are about to meet someone new from 'Camberwick Green'.
Forming part of the Trumptonshire family of classic children's programmes, 'Camberwick Green' was probably the one of the three shows, including 'Trumpton' and 'Chigley' that people most remember. Series creator Gordon Murray captured an idyllic vision of English village life and made its inhabitants some of the most loved characters on children's television.
From PC McGarry to Mrs Honeyman, each episode highlighted a Camberwick Green resident as they emerged from the music box at the beginning of each show. From then on we had a pleasant story about each one of the characters, which taught youngest a little lesson about life and doing something right.
Probably the most loved character of the show and even in British children television history is Windy Miller. Living in his windmill just outside Camberwick Green, Windy became an instant cult classic figure that is still as recognisable today as he ever was. Everyone remembers the sound of his windmill and the way he could time walking into the mill between the sails of the mill.
As children's television becomes filled with cartoons and people dressed up in costumes, 'Camberwick Green' takes you back to an age where everything was innocent and wholesome. If you have young children or you just want to be nostalgic, take a trip back to a village that will always welcome you.


PICTURE AND SOUND
Presented in 4x3 Full Screen with a Dolby 1.0 soundtrack the transfer is good, especially when you bear in mind that the show was made in 1966.
BONUS FEATURES
Art Gallery
View images from 'Trumpton', 'Camberwick Green' and 'Chigley' and a map of 'Trumptonshire'
Trailer Gallery
Previews of 'Trap Door', 'Trumptonshire', 'Lavender Castle', 'Postman Pat and the Great Dinosaur Hunt' and 'Little Red Tractor - Glorious Mud'
OVERALL
The DVD extras for the release of a children's classic are extremely disappointing. Commentaries should have been a must and the lack of a true making of… is almost criminal. While watching all digitally remastered episodes might be enough for some, fans of the show will be disappointed by the lack of extras.
DVD

---
The Usher Home | Hush, Hush... | The Big Story | The Usher Speaks
Stuck @ Home | Coming Soon | Links | Contact the Usher

TV SERIES