Terminator 2: Judgement Day - Ultimate Edition
Starring: Arnold Schwarzenegger, Linda Hamilton, Eddie Furlong and Robert Patrick
Writer/Director: James Cameron
Running Time: 157 mins
Available to buy on DVD 29th October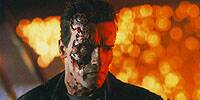 2029 and SkyNet is loosing the war. After killing over 3 billion people on August 29th 1997, small resistance cells of humans had taken the war to the machines. Their leader, John Connor had them on the brink of defeat. In one last attempt to gain the advantage, SkyNet sends another Terminator back through time but it has a new target, John Connor himself as a long boy. The Resistance has only one option, to send another one warrior back through time to protect young John at all costs.
In 1984, a low budget movie with a little known cast, an ex-bodybuilder as the villain and a relatively unheard of writer/director, turned science fiction on its head. The Terminator, a bleak attack on man's growing reliance on computers, hit cinema screens and became a legend. It had everything that the public wanted at the time, excessive violence, car chases, sex, time travel and a killer that would not stop until its target was dead. The movie was a huge success making Arnold Schwarzenegger a star and setting James Cameron on a path that would lead him to the Oscars.
In 1991, with the success of big budget blockbusters Aliens and The Abyss, Cameron returned to the Terminator Universe. Again, as he did with Aliens, Cameron created a rarity, a sequel that surpassed the original in every way possible. With more spectacular stunts and effects and a story that continued eleven years on from the fist movie, the film broke box office records and again set new standards in science fiction.
In 2001, amid talk of a possible third movie in 2002/3 and in the tenth anniversary year of the sequel's release, a special ultimate edition of the film hits DVD. Packaged with over six hours of extra content and a new special editon cut of the movie, this release has everything you would ever want to know about the production of Terminator 2. High lights include a newly recorded making of Featurette and features that cover every aspect of how the movie was made. Also included is a documentary on how The Terminator 2: Battle Across Time ride at Universal Studios was made, which is fascinating viewing.
The movie itself is still good entertainment, even though the special effects have now been surpassed on every level. Yes the time frame is now all wrong as we didn't all die on 29th August 1997, causing time paradoxes that will make your brain explode, but it's a movie and you shouldn't read too much into it. The DVD is beautifully packaged with some great extras that make it well worth buying and a must for any Sci-Fi aficionado.

'The Making Of T2' Featurette, 'T2: More Than Meets The Eye' Featurette & 'The Making of T2 3-D: Breaking The Scene Barrier' (An In-Depth Look Into The Making Of The MCA/Universal Theme Park Attraction) 'Terminator 2: Battle Across Time' (With State-Of-The-Art Technology And A Seamless Blend Of Film And Live Performances)
Additional Features Which Cover Every Aspect Of The 'Terminator 2: Judgement Day' Filmmaking Process, From Make-Up To Visual Effects
Cast & Crew Information
Entire Screenplay & Over 700 Storyboards
Teaser Trailers & Trailers
Audio Commentary
DVD-ROM Features
Never Seen Before Footage And Additions To Story

---
The Usher Home | Hush, Hush... | The Big Story | The Usher Speaks
Stuck @ Home | Coming Soon | Links | Contact the Usher
The Usher Classics