"Double down"
Mike (Favreau) just couldn't get over the fact that his girlfriend was never going to call him. After leaving her behind in New York to pursue his comedy career in Los Angeles, Mike had spent the last six months heartbroken. His friend Trent (Vaughn) couldn't bare to see him in this state any longer and just had to get him back in the game. This idea for doing this was a trip to Vegas.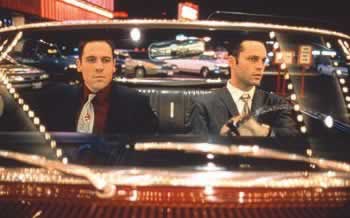 If ever there was a movie that could be associated with the words 'cult hit', 'Swingers' is that movie.
We have all seen films that show you what it is like when people are recovering from a relationship break up but these are usually fluffy, romantic comedies aimed at the female demographic. 'Swingers' is a whole different ballgame however as this is a movie that shows you what guys go through when dealing with the same thing. Jon Favreau's script brilliantly captures the vulnerability of the heartbroken man and how his friends try and drag him out of it. There is no public crying, no heart felt looks or sleepovers where the discussion is about how much they hate the opposite sex, this is an all male domain where men discuss their problems in bars, on the golf course or at parties as their friends try and pull them out of the doldrums with booze, sport and girls.
The movie is all about the dialogue and Favreau writes this brilliantly. 'Swingers' has its own vocabulary that has become part of not just the lounge scene but normal social interaction. Referring to your friend as been 'money', calling women 'beautiful babes' and saying 'this place is dead anyway' even when the party, bar or club is filled to the brim. It is the exchanges between the friends that are examples of how dialogue should be written. You revel in the words as Trent and Sue try and coach Mike in how he should act around women. You cringe as Mike ignores his friend's advice and calls a girl on the same night as he got her number and you see that men can have emotions to as Mike opens up to Rob about how he feels about the break up.
The dialogue would be nothing without the actors delivering it. This is the film that made Vince Vaughn and Jon Favreau stars. The pair's off screen friendship really comes to bare as Mike and Trent bounce off each other so naturally you'd just think that director Doug Liman had just followed to the two of them around while they talked. The same can be said for the rest of the cast. It really does help that the group were friends, especially when you take into account the $250,000 budget because this level of natural interaction wouldn't come as easily with strangers so quickly. The 'beautiful babies' also add to the atmosphere in the film. Brooke Langton is gorgeous as the girl who gives Mike her number. Deena Martin and Katherine Kendall are great as the Las Vegas conquests but it is Heather Graham that makes the biggest impact, even though she is only in the film for about ten minutes.
'Swingers' is the definition of a cult movie. Low budget, excellent dialogue, great characters and a story that appeals to whoever is watching it, this is one of those movies that every film fan should have in their collection. The film is also timelessly cool as it reintroduces you to the swing scene, where great music combines with an attitude that you cannot help but be drawn into. This movie is so money that it doesn't even know it.


PICTURE & SOUND
Presented in Anamorphic Widescreen 1.85:1 with Dolby Digital 5.1 surround sound, transfer is good when you bare in mind the budget restrictions of the film.
BONUS FEATURES
Disc 1
Actors Commentary with Jon Favreau and Vince Vaughn
This is how a commentary track should be, two friends coming together to talk about a film that they adore. Constantly taking the mickey out each, Favreau and Vaughn tell stories from making of the movie, revealing interesting facts about the locations, cast and the guerrilla style shooting of the film. This is a very funny and enjoyable track that fans of the film will revel in.
Filmmakers Commentary with director Doug Liman and editor Stephen Mirrione
This is an informative and fun commentary from two people who have a real affinity with the film. The pair talks about the budget limitations of the piece, revealing the differing shooting styles they had to utilise to get the film made on its minuscule budget. Liman chats extensively about been the director of photography on the movie, as well as his directorial duties. They also reveal that the movie is really three short films tied together to make a feature. This good commentary from two men who really learnt from this experience early in their careers.
Disc 2
Making it in Hollywood (1hr 01.09 mins)
Split into four sections entitled 'Art Imitates Life: Writing the Story', 'Life Creates Art: Getting Swingers Made', 'Art Creates Life: Life after Art' and 'Life Imitates Art: Swingers Culture' these featurettes cover every aspect of the making of the film, the effect it had on the filmmakers and actors involves and the effect it had on culture after its release at the box office. Director Doug Liman, producer Nicole LaLoggia, editor Stephen Mirrione, producer Victor Simkins and stars John Favreau, Vince Vaughn, Ron Livingston and Brooke Langton are joined by Derby owner Tony Gower, the owner of the Dresden Carl Fararl and performers Marty and Elayne, to discuss how 'Swingers' changed their lives and careers. The featurettes cover how the story came about with Favreau revealing how he based it on real life experiences, getting the movie made, the budget, rejection at Sundance, the festival circuit and how it launched the career of many of its participants. While there might not be as much behind the scenes footage as some fans may have liked (remember this is a low budget movie), the frank and opens interviews with the cast and crew make this fascinating watching for all you 'Swingers' fans.
The Cutting Room Floor (13.29 mins)
Entitled 'Speakeasy kind of thing', 'The hockey game', 'The Kiss', 'Vegas girl's trailer' and 'Drunken diners', these five deleted scenes suffer from not having a commentary track or introduction but they do reveal how lucky John Favreau was.
'Swingblade' Short Film (3.26 mins)
A parody of 'Swingers' and Billy Bob Thornton's award winning film 'Sling Blade' sees Karl Childers enter the world of the Swingers and become the Money.
Swingers Mania Gallery
View concept art, storyboards and cast and crew filmographies from 'Swingers'
Trailer (2.21 mins)
Watch the original trailer for 'Swingers'
OVERALL
For 'Swingers' fans this DVD package is the money. With two very good commentary tracks and a comprehensive documentary about the movie, fans should rejoice in their favourite movie getting the DVD treatment it deserves, making it a must buy.
DVD

---
The Usher Home | Hush, Hush... | The Big Story | The Usher Speaks
Stuck @ Home | Coming Soon | Links | Contact the Usher

CLASSICS