"You're in the army now"
After losing his car, his job, his apartment and his girlfriend on the same day, John Winger (Murray) decides he needs a new direction in life. After a little persuading, John is talks his best friend Russell Ziskey (Ramis) into joining the Army with him, telling him it will be a great way to meet women. When they arrive at boot camp however, they find out that it isn't going to be the easy time they imaged but that isn't going to stop John and Russell from having a good time.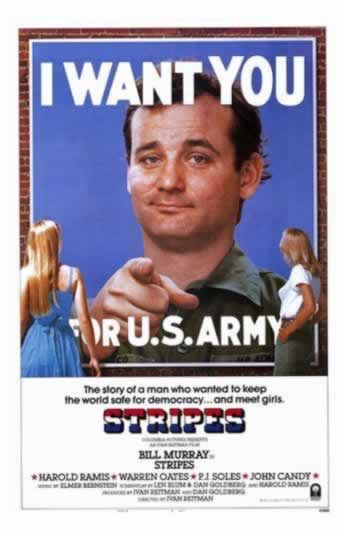 After the end of the Vietnam war and as the world plunged into the Cold War, the Army suddenly became funny again, well it did in 'Stripes' anyway.
When it came to comedy in the late 70s, early 80s, it was a core selection of comedians that were setting the standard for the era. Made up of ex 'Saturday Night Live' members and their friends, you had some big comedy hitters like Chevy Chase, Steve Martin, John Belushi, Dan Aykroyd and Eddie Murphy but chief amongst these was Bill Murray. The man could make you laugh with just a look, as he created wild and crazy rebellious character that everyman wanted to be and every woman wanted to be with. John Winger was one of these characters.
A slacker in the extreme, Winger realises that he has to sort his life out and find some direction. The Army could be the solution but when he gets there he falls back into his own routines. Conflict erupts between him and drill instructor Sgt. Hulka (played excellently by Warren Coates), as Winger tries to become the joker in the pack and the platoon soon become labelled the worst on the base. This is the kind of role that Murray really made his own back then. The rebellious risk taker soon became a firm favourite with fans and Murray became a huge box office draw.
Joining him on his military escapade are two talented comedic stars of the time, Harold Ramis and the late, great John Candy. As well as co-writing Stripes, Ramis is also a good comedic actor who has the slightly more intelligent guy down to a tee. As Russell Ziskey he plays the charming influence to Murray's John Winger but still manages to be an intelligent, lazy slacker just like his friend. John Candy plays Ox, who joins the Army to lose come weight. This is a role that Candy really made his own for his tragically cut short career. Always making fun of himself but a loveable character, Candy was a very talented comedic actor. When you add in good performances from P.J. Soles, Sean Young, John Larroquette and a young Judge Reinhold, you have potential for comedic exploits a plenty.
'Stripes' fitted in with the new wave of comedy that hit the cinemas in the late 70s and 80s with its outrageous look at one of American great institutions, the Army. With its tongue planted firmly in its cheek and only been slightly dated because of the time setting (the Cold War has ended of course), 'Stripes' is still a good comedy, especially for Bill Murray fans.


PICTURE & SOUND
Presented in Widescreen 2.35:1 Anamorphic with a Dolby Digital 5.1 soundtrack, the transfer is ok but slightly grainy in parts.
BONUS FEATURES
Commentary with director Ivan Reitman and writer/producer Dan Goldberg
The director and the co-writer come together to reminisce about 'Stripes'. The pair talks about the influences behind the movie, revealing the original idea for the film and how it evolved into the finished film. Making the film a Bill Murray and Harold Ramis, how the pair came on board and the rest of the cast are also discussed with many of them making their big screen debuts. The fact that the Department of Defence actually supported the film is also revealed. This is a very chatty and fun commentary from Ivan Reitman and Dan Goldberg that keeps you engaged throughout.
Stars and Stripes: Part I & II (55.42 mins)
Director Ivan Reitman, co-writer/producer Daniel Goldberg and stars Bill Murray, Harold Ramis, Judge Reinhold, John Larroquette, John Diehl, Sean Young and P.J. Soles come together to talk about 'Stripes'. Split into two parts, the extended featurette looks into the evolution of the movie from a 'Cheech and Chong' vehicle about stoners in the Army into a new wave comedy starring Bill Murray and Harold Ramis. The characters of Winger, Russell, Sgt. Hulka, Elmo, Capt. Stillman, Ox, Cruiser, Stella and Louise are all discuss with special references to working with John Candy and Warren Oates. The featurette also looks into the improvisation of the film by the cast, especially Bill Murray and looks at keep sequences within the movie.
Trailers
Previews of 'Groundhog Day', 'Ghostbusters', 'Hitch', 'xXx: The Next Level' and 'The Mask of Zorro'
OVERALL
With a good commentary and reflective featurette, this is a great DVD package for fans of 'Stripes'. The picture quality is a little poor in parts but the sound is great and it is the best version of the movie you will ever see. This is a great way to rediscover how good Bill Murray actually is.
DVD

---
The Usher Home | Hush, Hush... | The Big Story | The Usher Speaks
Stuck @ Home | Coming Soon | Links | Contact the Usher

CLASSICS