STAR WARS - EPISODE 1: THE PHANTOM MENACE
Starring: Liam Neeson, Ewan McGregor, Natalie Portman and Jake Lloyd
Writer/Director: George Lucas
Running Time: 134 mins
Available to buy on DVD October 15th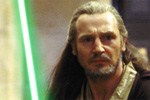 A long time ago, in a Galaxy far, far away… The Trade Federation has set up a blockade of the planet of Naboo. Queen Amidala (Portman) sees this as an unjust action and asks for help from the galactic senate. Its leader Chancellor Velorum sends two Jedi, Qui Gon Jinn (Neeson) and his young apprentice Obi Wan Kenobi (McGregor) to negotiate on the senate's behalf. On arriving, the two discover that the Trade Federation is not just planning a blockade but an invasion of the planet as well. Realising that something more sinister is going on, the Jedi have no choice but to head for the planet and try to protect the Queen.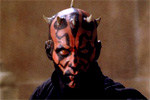 Ever since the introduction of DVD, fans have been asking, "When is Star Wars coming out?" Rumour after rumour followed, with even George Lucas saying that there wouldn't be a DVD release until the prequel trilogy was finished in 2005, but under pressure from the fans and due to the popularity of the new medium, Star Wars is finally here. The only problem is that it is not the original trilogy that we all hoped for but the first of the new sequels, The Phantom Menace.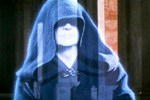 The film itself is good fun, but not what the fans expected. More melodramatic and far less fun than the first three, this movie, as Episode IV did, introduces you to the new characters that you will grow to love or hate in some cases. It does have some truly exceptional sequences that really add to the franchise. The Pod race is extraordinary and the final lightsaber battle between Qui Gon, Obi Wan and Darth Maul is everything a Star Wars fan could ever want but it is the underlying story that really stands out for me. The way Senator Palpatine/Darth Sidious manipulates his way into a position of supreme power is what give the story its true edge. He is the Phantom Menace of the title.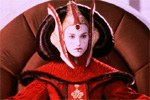 The DVD is feature packed with over six hours worth of extras over two discs. The new THX mastered definitive cut of the movie with over seven minutes of extra footage is on the first disc (Extended Pod Race section and more shots of Coruscant) as well as audio commentary from George Lucas, producer Rick McCallum and other members of the production team. The second disc is filled to the brim with documentaries covering all aspects of the movie, Photo galleries, trailers and the Duel of the Fates music video. The highlight however is the deleted scenes. Lucas had the special effects finished on all seven and he includes commentary on why they were removed and a documentary on putting together o the final cut.
This is a remarkable package. Even if you hated Jar Jar and didn't think the movie lived up to the hype, this is a DVD that no collector should be without.

Audio commentary by George Lucas (Writer/Director), Rick McCallum (Producer), Ben Burtt (Co-Editor and Sound Designer), Scott Squires & John Knoll & Dennis Muren (Visual Effects Supervisors) & Rob Coleman (Animation Supervisor)
7 Never-Before-Seen Deleted Scenes with full visual effects completed solely for this DVD release
'The Beginning' - Documentary offering unprecedented access inside Lucasfilm and ILM during the making of the film (1 hour)
Multi-angle storyboard to animatic to finished film feature
5 'Behind-The-Scenes' Featurettes - Storyline, Design, Costumes, Visual Effects & Fight Scenes
Music Video - 'Duel Of The Fates' (John Williams)
'Lynne's Diaries' - the 12 part web documentaries
3 Image Galleries - Theatrical Posters, Print Campaign, Never-Before-Seen Production Photos
Original Theatrical Teaser and Launch Trailers & 7 TV Spots - including the legendary 'Tone Poems'

---
The Usher Home | Hush, Hush... | The Big Story | The Usher Speaks
Stuck @ Home | Coming Soon | Links | Contact the Usher
The Usher Classics