"...But I'm going to torture you anyway"
Mr. Blonde
Six perfect strangers, each even a phoney name, are brought together to pull off the perfect diamond heist but when things don't go to plan as they are ambushed by the police. Returning to the rendezvous point, the surviving members try and figure out what went wrong. Mr Pink (Buscemi) is sure an undercover cop has infiltrated the crew and Mr Blonde (Madsen) is going to torture a cop he captured until he reveals who the rat is.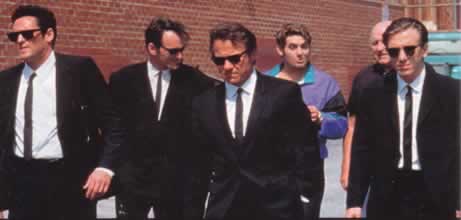 Once in a while a film comes along that has a ripple effect on the world of cinema, changing the way we view a genre forever. Reservoir Dogs was one of those movies.
At a time when American independent cinema was fighting a losing battle against the Hollywood machine, Reservoir Dogs ignited the fuse and then blew everything else away. Quentin Tarantino's masterpiece reinvented the crime genre for the 1990s and went onto influence a slue of wannabe imitations. His riveting dialogue, blistering realistic action and his ability to coax the best out of his actors instantly propelled him to the echelons of moviemaking greatness and this was only Tarantino's debut feature film.
Throwing away normal cinematic conventions such as a chronological timeline by revealing plotlines and subsequent connotations as he saw fit, the viewer was exposed to a realistic world where characters talked about other things than just the plot and the job at hand, making you feel more like a witness or voyeur to what was unfolding around you. By jumping around in time, Tarantino reveals only what he wants you to know, making it feel like someone is recounting a story and getting ahead of themselves by telling you about major points before you have any kind of backstory. This technique just drew you into the film.
As Tarantino re-invented the crime genre for the 90s with his writing and shooting style, he also showed that he was an actor's director. Reservoir Dogs has a fantastic ensemble that consists of some of the best character actors of their generation. Harvey Keitel was an already established actor with a fantastic reputation of working with directors that would go on to be considered greats. As he did with Martin Scorsese in Mean Streets and Ridley Scott in The Duellists, he got to work with a director that was setting out on the road to an amazing career and he delivered a performance to match that talent. As Mr White, Keitel makes truly evil man into a sympathetic character as he goes out on a limb to support what he thinks is right, only to discover that everything he believed in is a lie. This is Keitel as his very best in a role that he will be long remembered for.
For character actors Tim Roth, Steve Buscemi, Chris Penn and Michael Madsen, Reservoir Dogs was a breakout film for all of them. Tim Roth excelled as Mr Orange as he conveyed the agony that the character was going through as well as nailing a completely believable American accent. This is the role that got Roth noticed in the US. Steve Buscemi's portrayal of Mr Pink is another highlight. He has cornered the market when it comes to irritating, kinda funny looking characters and this is no exception. Mr Pink is probably the most annoying character in the movie but he is also the only one still acting professionally and Buscemi plays this kind of role superbly. Chris Penn is Nice Guy Eddie and you cannot envisage anyone else playing that role. As the character struggles to find out what has gone wrong with the plan, Penn comes into his own during the climatic face off, screaming at Mr White. The actor who makes the most impact and the character who the film is remember for is Michael Madsen's Mr Blonde. This unemotional and incredibly cruel S.O.B. is an iconic figure in the villainy hall of fame. As soon as he utter the words "I'm going to torture you anyway", you know he means business and the cop is going to die a terrible and extremely painful death. This is all due to Madsen's sheer screen presence as he can convey menace in just a look.
There is also good support from Lawrence Tierney as Joe Cabot, Eddie Bunker as Mr Blue, Kirk Baltz as the cop hostage and Quentin Tarantino himself as Mr Brown.
Reservoir Dogs in a classic that redefined a genre. Uncompromisingly violent but not to the point of glorification, this is a realistic, heart thumping, adrenalin ride that grabs you, beats you up and leaves you spitting blood from the sheer trauma of the experience. If fact what is considered its most disturbing and violent scene is all in your own imagination and is testament to Tarantino's unquestionable skill as one of the most talented filmmakers of any generation.


PICTURE & SOUND
Presented in Anamorphic Widescreen 2.35:1 with Dolby Digital 5.1 surround sound, the picture and sound quality are extremely good for a low budget feature. The picture quality is sharp throughout with even the energetic camera movements leading to no pixelation at all. The sound quality is also first rate as it emphasises the dialogue and also fills the speakers as K-Billy's Super Sounds of the 70s play.
BONUS FEATURES
DISC 1
Audio Commentary from Director Quentin Tarantino, Producer Lawrence Bender, Executive Producer Monte Hellman, Director of Photography Andrzej Sekula, Editor Sally Menke and actors Tim Roth, Chris Penn, Michael Madsen and Kirk Baltz
Not really a true commentary track but a collection of reflections or interviews with the cast and crew about certain scenes in the movie. Quentin Tarantino's comments are so passionate for the material as you'd expect for a writer/director with the highlight been when he describes the famous torture scene. Lawrence Bender provides some interesting insights into the making of the film and executive producer Monte Hellman reveals that he would have shot the movie completely differently. The track is OK but it would have been a lot better if Tarantino and the rest of the crew would have been in the same room watching the movie.
Theatrical Trailer
Your chance to watch the original 1992 theatrical trailer for Reservoir Dogs.
DISC 2
Original Interviews (54.57 mins)
Director Quentin Tarantino, Producer Lawrence Bender and stars Tim Roth, Chris Penn, Michael Madsen and Kirk Baltz appear in their own themed interviews. Each of them talk about the movie and what it meant to them, revealing some tasting behind the scenes information at the same time. Michael Madsen discusses the much touted Vega Boys project, Lawrence Bender reveals his cameo in the film, Tim Roth explains why he doesn't read in auditions and Quentin Tarantino explains how Harvey Keitel got involved in the project and how he writes a script.
Film Noir Files (19.02 mins)
Mike Hodges, Robert Polito, John Boorman, Donald Westlake and Stephen Frears talk about the Film Noir classics that influenced Reservoir Dogs. Covering "The Killing" (1950s), "Point Blank" (1960s), "Get Carter" (1970s) and "The Hit" and "The Grifters" (1980s) the group discuss the importance of each film and aspects such as dialogue, which made the film such classic examples of Film Noir.
Deleted Scenes (12.32 mins)
Entitled "Background check", "No Problem", "Doing my Job" and "Cutting off the Ear version A & B", some of these deleted scenes could have added to the movie. The first two show more of the relationship between Freddy (Mr Orange) and his handler, giving you more background. The most interesting scenes are the more graphic cutting off of the ear. You can see that Tarantino made the correct decision in choosing not to show the act.
Class of 1992 (28.29 mins)
Filmmakers Alex Rockwell, Chris Münch, Kate Shae, Tom Kalin and Quentin Tarantino discuss their memories of the 1992 Sundance Film Festival and how important it was to American independent film. They talk about how "In the Soup", "The Hours and Times", "Poison Ivy", "Swoon" and "Reservoir Dogs" influenced the independent film movement in the US and how the success of these films reopened Hollywood's eyes to low budget, character driven filmmaking.
Sundance Institute's Filmmaker's Lab: Scenes from Reservoir Dogs (11.39 mins)
Steve Buscemi and Quentin Tarantino re-enact two key scenes from Reservoir Dogs, Mr White meets with Joe and Mr Pink reveals his theory to Mr White. This shows that Quentin is actually a very good actor.
Securing the shot: Location Scouting with Billy Fox (4.21 mins)
Location manager Billy Fox reveals the secrets of the different buildings used in the production. From the famous warehouse to the Bar where they meet Mr Orange for the first time, Billy Fox offers an interesting insight into location scouting.
Tributes and Dedications (51.46 mins)
A dedication to the late, great Lawrence Tierney (Joe Cabot), the cast and crew talk passionately about the man and what he meant to them. This includes a great story about how he first met Lawrence and he invited himself to a barbeque at Chris's house. Eddie Bunker talks about his life, both on and off the big screen as he drives around Hollywood. Quentin Tarantino talks about his script dedications and how each of them influenced the writing of the movie. Monte Hellman, Jack Hill, Pam Grier and Roger Corman discuss low budget filmmaking and how they influenced Quentin Tarantino to work on Reservoir Dogs.
OVERALL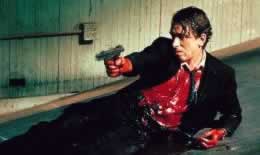 Taking the best parts from the 10th Anniversary US DVD release, this is a well-presented package and a must for any Region 2 Reservoir Dogs fans. The commentary track might not be the best but it still offers some interesting insights into the film. The very film studies oriented featurettes are interest but it would have been good if more about the actual making of the movie and some more behind the scenes footage. The picture and sound quality of the transfer are first rate however, making this the best version of this classic movie yet.
DVD


Pulp Fiction
Jackie Brown
---
The Usher Home | Hush, Hush... | The Big Story | The Usher Speaks
Stuck @ Home | Coming Soon | Links | Contact the Usher

CLASSICS