"It's springtime for Hitler"
After a string of failures producer Max Bialystock (Mostel) has lost every ounce of dignity to the point that he has to romance old ladies to get money to fund his next play. When the bank sends accountant Leo Bloom (Wilder) to check his records, Leo tells him that he would actually make more money having an enormous flop than a hit. This instantly gives Max an idea. He and Leo will produce sure-fire flop and walk away with a million dollars.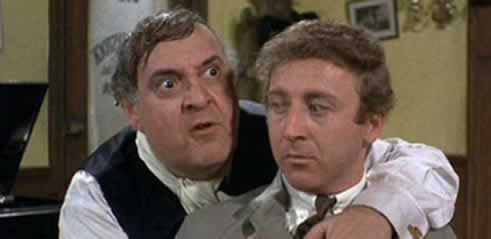 Mel Brooks' may have lost his way over the last couple of decades but there was a time when he was the king of comedy and back in 1968 this was the film that launched his career.
The Producers typified what Brooks does really well, taking a premise and then pushing it to the extreme. Probably best known for his masterful parodies 'Young Frankenstein', 'Spaceballs' and 'Blazing Saddles', Brooks started off with a movie that actually set the tone of many that would follow. This has a great premise that is instantly funny as soon as you think about it. What if a gigantic flop could make more money than an enormous hit but could you find a play that would be guaranteed to fail? When you produce a play that paints Adolf Hitler as a nice guy, you'd think you'd have discover a certain disaster but things don't always work out that way.
The excellent premise is backed up by two Stella comedic performances that instantly draw you into the film. Zero Mostel is masterful as the desperate Max Bialystock who will do anything to make some money. You cringe for him as he tries to scrounge money out of old ladies that are just glad of the attention. But it is when the plan starts falling apart when Zero comes into his own. The sheer panic he endures when he actually achieves the goal he was so desperate to gain before he came up with his elaborate scheme is comedic acting at its very best. Equally as good is Gene Wilder. This is the movie that kick-started his comedy career and the start of his collaborations with Mel Brooks. As Leo Bloom, Wilder created a manic, panic ridden character that would become his trademark but it is only when you see this performance you realise what a gifted comedic actor he actually is. This is a man who is an actor, plain and simple whose background has nothing to do with comedy but found a genre in which he can excel.
Their support is also first rate. Kenneth Mars is brilliant as former Nazi turned play writer Franz Liebkind. He shows a true passion for Hitler and can't believe what the producers have done to his beloved creation. Christopher Hewett, Lee Meredith and Estelle Winwood are also very good.
The premise is simple but the execution is very good. Brooks creates the situation really well but the movie comes into its own when "Springtime for Hitler" springs into life. The play is hysterical and it makes you wish that you could watch the whole thing on its own. The Brooks written songs are real highlights that leave you gagging for more, it is just a shame that the movie cuts to Max and Leo during the performance.
The Producers is a great movie that is filled with excellent comedic moments. The premise and execution is first rate and shows that Mel Brooks gets something right, he really gets something right and produces something that is high in the comedy echelons.


PICTURE & SOUND
Presented in Anamorphic Widescreen 1.85:1 with Dolby Digital 5.1 surround sound, this digitally remastered transfer is very good. Bearing in mind that the movie was made in 1968 the picture and sound quality are first rate. Don't expect much from the surround sound, except during the musical numbers where your speakers do come to life abit more, the emphasis is more on the exceptional dialogue, which you want with a film like this.
BONUS FEATURES
Making the Producers (62.32 mins)
Writer/director Mel Brooks, first assistant director Michael Hertzberg, composer John Morris, choreographer Alan Johnson, production designer Charles Rosen, casting director Alfa-Betty Olsen and stars Gene Wilder, Kenneth Mars, Lee Meredith and Andreas Voutsinas come together to reminisce about bringing The Producers to the sliver screen back in 1968. Split into five sections entitled "Opening", "Act 1", "Intermission", "Act II" and "Closing", just like a play, the documentary gives the cast and crew the chance to discuss their memories of the production and what the film did for their resulting careers. Mel Brooks reveals how he got the idea for the movie, the difficulties of getting it made and how some of this first choice cast left the production or didn't turn up before filming starts. He also talks about the problems he had getting any attention for the film until Peter Sellers saw the movie. This is a fascinating insight into low budget filmmaking in the 1960s and the reflections from the cast and crew, especially Mel Brooks and Gene Wilder, make this a must watch for fans.
Sketch Gallery (2.12 mins)
A montage of production designer Charles Rosen's set designs and sketches used to in the pre-production of the movie.
Trailer (2.12 mins)
Watch the original 1968 preview that was used to promote the movie.
Playhouse Outtake (3.41 mins)
Your chance to watch a deleted scene where Bloom, Max and Liebkind try and blow up the theatre with less than successful results.
'Peter Sellers Statement' read by Paul Mazursky (0.53 mins)
Filmmaker Paul Mazursky reads from the advert that Peter Sellers posted in Variety after seeing The Producers for the first time. You can't buy publicity like this.
OVERALL
A classic movie gets a great DVD treatment. While the absence of a commentary track is a bit of a disappointment, the hour long documentary make up for this slightly by answering most of the questions that would have been raised in a track. The presentation of the movie is first rate also making this a great package for fans and a fantastic way to discover a comedy classic.
DVD

---
The Usher Home | Hush, Hush... | The Big Story | The Usher Speaks
Stuck @ Home | Coming Soon | Links | Contact the Usher

CLASSICS