"Your mission, should you choose to accept it"
Assigned with a mission to stop a traitor stealing and selling classified information, Jim Phelps's (Voight) IMF team are ambushed and only Agent Ethan Hunt (Cruise) survives the hit. Now he is the man suspected of being the traitor and has to go on the run to clear his name. With help from Phelps's wife Claire (Béart), Ethan Hunt gathers together a new team to find out who the real traitor is and to do this they will have to break into one of the most secure places on Earth, CIA headquarters in Langley.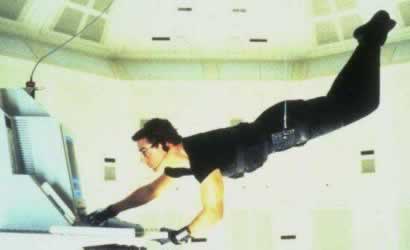 Updating classic TV shows might be the norm for Hollywood these days and they all tend to be not very good of late but the first 'Mission: Impossible' set the standard.
In the 60s and 70s, one spy show raised the bar when it came to intrigue and espionage was 'Mission: Impossible'. 'Your mission, should you chose to accept it' and 'this tape will self-destruct' became part of everyday conversation at the time and it was quickly embedded in the TV watching consciousness.
In 1996, Tom Cruise and director Brian De Palma resurrected the classic show and brought those impossible missions to the big screen with all the grandeur and spectacle that Hollywood could muster. Fans rejoiced as the biggest star in the world and one of the most visual and respected directors collaborated to bring 'Mission: Impossible' back and make it bigger than ever.
With the update came a new team and a new lead character. Playing IMF (Impossible Mission Force) agent Ethan Hunt, Tom Cruise created an American version of James Bond but what made the role different from the spy with a licence to kill was the fact that he was young and reckless. Even though he has all the gadgets and technology that is available to the 00 and the knowledge and know how to use them, you are in essence watching him grow into a lead agent. This is the action role that Cruise longed for and he grasps it with both hands.
De Palma has gathered together an excellent ensemble cast to support his lead actor and even Hunt's initial team is filled with fine actors, Kristin Scott Thomas and Emilio Estevez to name but two. The rest of the cast do get a bit more screen time however. Ving Rhames and Jean Reno as Luther Stickell and Franz Krieger, provide the technology and equipment needed for the mission with their usual style. Emmanuelle Béart provides some beauty and French style as Claire Phelps. Vanessa Redgrave provides the class as the mysterious Max. Jon Voight resurrects the only character from the original TV series, Jim Phelps who was played by Peter Graves and Henry Czerny plays the sleazy head of IMF Eugene Kittridge.
The first 'Mission: Impossible' adventure is a classic example in the spy genre. Master filmmaker Brian De Palma is on the top of his game and musters all of his visual flare and gift for story to produce a movie that fans of the series will be engrossed by, action fans will revel in and people who want to have their brain stimulated as well as their adrenaline. This is one mission that you should choose to accept.


PICTURE & SOUND
Presented in Anamorphic Widescreen 2.40:1 with Dolby Digital 5.1, the movie is presented well.
BONUS FEATURES
Mission: Remarkable - 40 Years of Creating the Impossible (11.27 mins)
Director Brian De Palma, director John Woo, director J. J. Abrams, producer Paula Wagner, screenwriter Robert Towne and stars Tom Cruise and Jon Voight talk about the original TV show and the three films that it spawned.
Mission: Explosive Exploits (5.10 mins)
Director Brian De Palma, producer Paula Wagner, stunt coordinator Greg Powell and stars Tom Cruise and Henry Czerny take you behind the scenes of the fish tank explosion and the CIA heist.
Mission: International Spy Museum (6.32 mins)
Executive director of the international spy museum Peter Earnest shows you the tools of the trade for spies. Here we see gadgets, bugs, cameras and weapons have changed over the years.
Mission: Spies Amongst Us (8.41 mins)
Executive director of the international spy museum Peter Earnest, CIA senior operations officer Chase Brandon, expert in special intelligent operation Dr. Derrin Smith and senior analyst Gregory Treverton talk about the possibility of a real IMF team and what spies have accomplished over the decades.
Mission: Catching the Train (2.40 mins)
Director Brian De Palma, visual effects supervisor John Knoll, associate Joe Letteri and star Tom Cruise take you behind the scenes of the channel tunnel sequence.
Agent Dossiers
Read the files on Ethan Hunt, Jim Phelps, Sarah Davies, Claire Phelps, Jack Harman, Hannah Joan Williams and Luther Stickell and find out about their aliases, skills, history and current assignment.
Excellence in filmmaking: Cruise (9.15 mins)
Watch the montage of clips taken from all of Tom Cruise's movies from 'Taps' and 'Risky Business', through 'Top Gun', 'Rain Man' and 'Born on the Forth of July' and onto 'Jerry Maguire', 'Minority Report' and 'War of the Worlds'.
Acceptance speech for BAFTA/LA Stanley Kubrick Britannia Award for Excellence in Film (3.20 mins)
Watch Tom Cruise's speech when he received his award from BAFTA
Acceptance speech for MTVs generation award (3.45 mins)
Watch Katie Holmes introduce Tom Cruise at the 2005 MTV Movie Awards
Theatrical Trailers
Watch the teaser and theatrical trailer for 'Mission: Impossible'
TV Spots
Watch the eight TV Sports that companied the theatrical release of the movie
Photo Gallery
View pubilicity and behind the scenes images from the production
M:I-III Teaser
View the teaser for the third mission
OVERALL
For a special collection edition version this is extremely disappointing. With no commentary and a collection of short and uninformative featurettes, this adds nothing to the single disc version that was released a few years ago.
DVD

---
The Usher Home | Hush, Hush... | The Big Story | The Usher Speaks
Stuck @ Home | Coming Soon | Links | Contact the Usher

CLASSICS