JOHN HUGHES HIGH SCHOOL YEAR BOOK
Starring: Molly Ringwald, Emilio Estevez, Paul Gleason, Anthony Michael Hall, Judd Nelson, Ally Sheedy, John Kapelos, Paul Dooley, Justin Henry, Blanche Baker, Kelly LeBrock, Bill Paxton, Robert Downey Jr., Vernon Wells & Ilan Mitchell-Smith
Writer/Director: John Hughes
Out to buy on DVD 22/09/08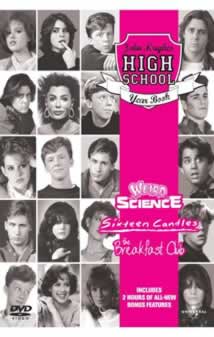 The Breakfast Club
Saturday morning detention was the place no one wanted to be, especially when Principal Richard Vernon (Gleason) is on duty but for the athlete Andy (Estevez), the brain Brian (Hall), the princess Claire (Ringwald), the basket case Allison (Sheedy) and the criminal John Bender (Nelson) this is going to be one Saturday that will change their young lives forever.
Weird Science
Gary (Hall) and Wyatt (Mitchell-Smith) are nerdy outcasts at high school who girls won't take any notice of. Hating this they decide to do something about it by creating their ideal woman. When their experiment works and Lisa (LeBrock) walks into their lives, nothing is ever going to be the same again.
Sixteen Candles
Samantha Baker (Ringwald) has been looking forward to her sweet sixteen party for most of her life but as the day approaches no one seems to remember and everything starts to go wrong.

When it came to making teen movies in the 1980s, one writer/director supplied some of the most influential high school flicks of the decade and his name was John Hughes.
The 80s supplied us with some of the best teen movies every created and the thing they had in common was that they were all written and directed by one man, John Hughes. While his career transformed in the 90s and disappeared not long after, it was his teen movies of the early 80s that defined not only his career but an entire generation.
'Sixteen Candles' started it all in 1984 and introduced the world to two actors that would become associated not only with the director but also come defining faces of genre in Anthony Michael Hall and Molly Ringwald. Set in a stereotypical American High School, what made this movie stand out was the honest of the performances from Hall and Ringwald and the way that John Hughes seemed to understand the pressures and tribulations of been fifteen and about to turn sixteen. This deservedly became a firm favourite with teenage girls and quickly made Hughes a director to watch. He followed this success up with a movie that really defined the teen movie for everyone else to try and imitate.
In 1985 'The Breakfast Club' hit the silver screen and redefined what people thought of a teen movie. Consentrating on five very different kids, played by Molly Ringwald, Emilio Estevez, Anthony Michael Fall, Judd Nelson and Ally Sheedy, in Saturday detention, this was the first movie that really showed the pressures of High School for normal American kids. Here we had a jock, a brain, an outcast, a criminal and the school sweetheart all trapped in the Library for the full day. For the first time these kids were allowed to talk, away from the pressures of their peers and allowed to talk for the first time. This wasn't only comedy, it was real drama as the kids opened up, sharing their fears and dreams, bearing their soles for the first time. Powerful, sweet, moving and funny, this is still the movie that all teen flicks have to surpass.
After defining the teen movie for decades to follow, trying to continue this run would have been impossible so John Hughes went for an all out comedy with 'Weird Science' in 1985. Teaming up again with Anthony Michael Hall, this is the story of two geeky high school students who couldn't get girls to even give them the time of day, so they turn to science. After watching 'Frankenstein' on TV, the hapless pair comes up with the idea of making the ideal women. This was outrageous, over the top and completely daft but you couldn't help but laugh and all the teenage boys who watched it, instantly fell in love with Kelly LeBrock.
John Hughes redefined the teen movie in the early 1980s. With 'Sixteen Candles' and 'The Breakfast Club' showing how good High School movie can be and 'Weird Science' becoming an instant cult classic, John Hughes was the man of that time, it is just a shame that he couldn't keep it up in the 90s and beyond.

---
The Usher Home | Hush, Hush... | The Big Story | The Usher Speaks
Stuck @ Home | Coming Soon | Links | Contact the Usher

CLASSICS