"We're going to need a bigger boat!"
For the quiet coastal town of Amity Island, the summer season is their busiest time of the year. Police Chief Brody (Scheider) never really had much to contend with other than the odd holidaymaker causing trouble or beach parties getting out of hand but this summer is different. After a mutilated body is washed up on the beach, Brody asks oceanographer Matt Hooper (Dreyfuss) to take a look at some pictures of the victim only for him to make a startling revelation. There is a Great White Shark hunting off the coast of Amity Island.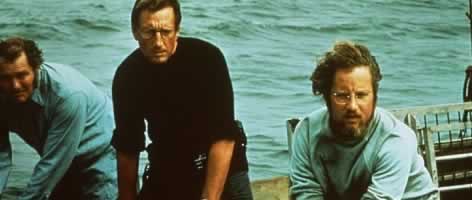 When it comes to naming some of the biggest and best blockbuster, popcorn movies of all time you can guarantee that in most people's list there will be one film circling all of the others waiting to strike and that film is 'Jaws'.
It's hard to believe that Steven Spielberg first real blockbuster was released in 1975 and it is still a complete joy to watch. In fact it is one of those rare films that get better and better each time you watch it. The reason for this is the story and the characters.
Forgetting that the shark looks rubbery from time to time, this movie is not about how realistic the shark looks it is the reaction and interaction of the three main characters, Brody, Hooper and Quint. Roy Scheider has always been an actor, who can command a screen, proving this many a time in films like 'The French Connection' and 'Marathon Man' but this is the role that he will be remembered for. As the local police chief of a tourist dependant seasonal town, Brody has his work cut out putting his theories of a possible shark attack ahead of summer business but when his theory become fact, this is when the character comes into his own. This is an excellent performance by Scheider, as he portrays the character in such as way that you can imagine him been real. This is an acting facet that runs through all of the main players. Richard Dreyfuss is the same as oceanographer Matt Hooper. Again this is a realistic character, driven by science and the intriguing notion of a 20 feet plus Great White Shark hunting in the Amity area. After his breakout role in 'American Graffiti', this was a part that would propel him into the major the major league and set his career up for decades to come. Completing the trio was the brilliant Robert Shaw as the hardened shark hunter Quint. This is a role that could have so easily have fallen into pantomime territory if given to a lesser committed actor but Shaw turns this into another memoriable performance and a classic character. Quint is a salty old seadog but he is the man you would want with you on a shark hunt. You only have to listen to his account from the USS Indianapolis to know that this is a driven man and one who you should respect.
Tying these three performances together is a story that is gripping from the off. Based on the best selling novel by Peter Benchley, screenwriter Carl Gottlieb has taken the essence of that story and delivered an edge of your seat drama that has everything you want in a blockbuster but something that these types of movies are often missing, character development. Not afraid to show the workings of Brody's family or pausing the action to have a character development moment with some great dialogue between three men on a boat, this is an example of how all 'event' movies should be written.
Bringing the tension to life was one of the all time classic movie scores by John Williams. The 'Jaws' theme is now part of motion picture folklore. It evokes feelings of sheer terror as you hear two notes get quicker and quicker until the shark attacks. Pure brilliance.
With special effects that are still good even by today's CG heavy standards, it is the story and character of 'Jaws' that make this a classic piece of cinema. This is the film that made everyone take notice of a filmmaker called Steven Spielberg and made you very afraid to go back into the water.


PICTURE & SOUND
Presented in Anamorphic Widescreen 1.85:1 with Dolby Digital 5.1 and dts surround sound tracks, transfer is good when you bear in mind that the film was made in 1979.
BONUS FEATURES
60 Page Commemorative Photo Journal This collector's booklet is filled with behind the scenes and publicity images from the movie, with facts and interesting stories from the set to accompany it. A fascinating read for fans.
Disc 1
Deleted Scenes and Outtakes (13.33 mins)
Eleven deleted or extended scenes that could have easily been put back into the movie for a director's cut but with a commentary or introduction, we don't know why Spielberg didn't include them. The outtakes are fun however.
From the Set (8.46 mins)
Recorded on the 6th May, 1974 British reporter Iain Johnstone interviews Steven Spielberg on the location of 'Jaws' in Martha's Vineyard. With never seen before behind the scenes footage, the featurette reveals the difficulties of the ocean bound shot and offers insight into the script and the cast during filming.
Disc 2
The Making of Jaws (2hrs 02.36 mins)
Director Steven Spielberg, author Peter Benchley, producers David Brown and Richard D. Zenuck, screenwriter Carl Gottlieb, production designer Joe Alves, former Universal MCA president Sid Steinberg and stars Roy Scheider and Richard Dreyfuss reflect about making 'Jaws'. This comprehensive documentary takes you from the acquisition of rights to the novel, through pre-production, filming and post-production as the cast and crew recollect stories and tales from the making of the movie. With behind the scenes footage from the actual 1974 shoot, the cast and crew regale you with tales from the sea, the troubles with the shark and how some of the famous scenes and lines came to be in the picture. For 'Jaws' fans this is completely fascinating and a complete joy to watch.
Jaws Archives
Storyboards
View the storyboards for the 'Opening Credits & Chris's Death', 'The death of the Kinder boy', 'Elton's death', 'Hooper's death/new fate' and 'Final confrontation'. These storyboards are by production designer Joe Alves.
Production Photographs
Behind the scenes and publicity shots from 'Jaws' including shots of Steven Spielberg directing and interacting with the cast and crew.
Marketing Jaws
View 'posters & ads', 'lobby cards', 'books', 'magazines' and 'marketing toys' that accompanied the 1975 release.
Jaws Phenomenon
View posters and lobby cards promoted the worldwide release of the film.
OVERALL
Despite been very similar to the 25th anniversary release of the film, this re-release is still exceptional and a great to celebrate 30 years of been scared to go back into the water. The extended documentary is superb, offering insights into the movie and what it was like to make a blockbuster in the 1970s. The deleted scenes are also good but the question is when is Steven Spielberg ever going to do a commentary track? This is a great package but those fans that brought the 25th anniversary set should think about laying out again for an extra hour on the documentary.
DVD

---
The Usher Home | Hush, Hush... | The Big Story | The Usher Speaks
Stuck @ Home | Coming Soon | Links | Contact the Usher

CLASSICS