"Every time a bell rings..."
George Bailey (Stewart) has the perfect life, a wife that adores him, beautiful children and a successful business but one Christmas Eve his business partner Uncle Billy makes a huge error that leaves Bailey Building and Loan owing huge amounts of money to the bank. This throws George into crisis and he even contemplates suicide. That's when he meets Clarence, his guardian angel who shows him what the world would be like if he never existed.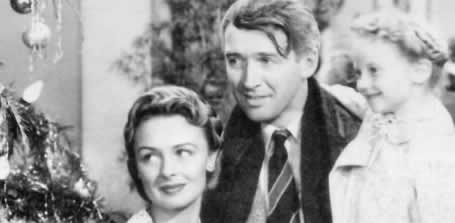 When it comes to defining the best Christmas movie of all time, there is one film that stands out head and shoulders above the rest and that movie is 'It's a Wonderful Life'.
Classic filmmaker Frank Capra regaled cinemagoers in the 'Mr. Smith Goes to Washington', 'Mr. Deeds Goes to Town' and many a much loved piece of cinema but nothing comes close to what he achieved with 'It's a Wonderful Life'. This is a movie that defines the spirit of Christmas and also has a feel good factor that hasn't really been surpassed since its 1946 release.
The story is simplicity itself. An extremely good man, loved by his family and community is driven to despair on Christmas Eve as his business and the lives of the people it serves hangs in jeopardy after his Uncle Billy loses the money he has to pay into Mr Potter's bank. Thinking that the only way out is to commit suicide, George Bailey is visited by Clarence, a guardian angel who shows him what the world would be like if he had never been born. This tale, while a variant on 'A Christmas Carol', might be a simple one, it hits home and will have you laughing and crying.
It is the central performance from the always-wonderful James Stewart that drives the film however. As George Bailey he creates an eternal everyman who everyone can connect and sympathise with and it is probably a character that only he could have played at the time. His support is also good with Donna Reed as his devoted wife, Thomas Mitchell as the hapless Uncle Billy, Lionel Barrymore as the villain Mr Potter and Henry Travers as angel in training Clarence.
When it comes to defining the best Christmas movie ever made you shouldn't go much further than 'It's a Wonderful Life'. With a heart warming story that should chill even the coldest of hearts, this is a movie that you cannot help but adore and one that defines the term 'Classic'.


PICTURE & SOUND
Presented in full screen 4.3 with Dolby Mono soundtrack, the transfer is very good baring in mind how old the movie is.
BONUS FEATURES
Interview (13.54 mins)
Frank Capra Jr. introduces a featurette about the career of his father, Frank Capra and the impact of 'It's a Wonderful Life'. With archive interviews with Frank Capra and James Stewart, the featurette looks at the impact of the movie and how it is still so beloved now.
Documentary (22.43 mins)
Hosted by Tom Bosley and featuring interviews with Frank Capra, Sheldon Leonard and James Stewart this short documentary looks at the history of movie and the impact it has had all over the world. The group talk passionately about the movie and its themes, giving their take on why they think it is just a festive hit.
OVERALL
The DVD treatment for this classic movie is not as good as you might have hoped. The lack of a commentary is disappointing and the featurettes are a little short and too archive to really make an impact. While most of the people involved in the film have not sadly passed away, but a more up to date retrospective would have worked so much better.
DVD

---
The Usher Home | Hush, Hush... | The Big Story | The Usher Speaks
Stuck @ Home | Coming Soon | Links | Contact the Usher

CLASSICS