"Tell her Ditto..."
After been killed during a mugging, Sam's (Swayze) love for Molly (Moore) keeps him from moving on and he remains by her side as a ghost. When he discovers that Molly is in danger, Sam is unable to warn her so he turns to Oda Mae Brown (Goldberg), a fake psychic who doesn't realise that she actually has the gift. Now Sam and Oda Mae have to convince Molly that Sam is still here and that her life is in danger.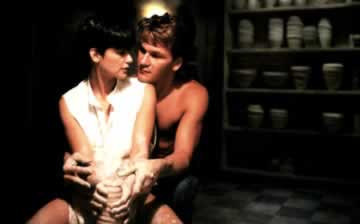 When it comes to naming the great screen romances in cinematic history, one film will make most top 100 lists, Ghost.
Released in 1990, the story of a spirit who stays with his fiancée because her life is in danger struck a cord with moviegoers around the world. It was also a huge hit with critics and went on to gain numerous award nominations and win two Oscars. The story is simple but effective and most importantly driven by the power of love and it is this that resonated with audiences.
The thought of been able to watch over loved ones from beyond the grave is a comforting one. For Sam however, the need to watch over his fiancée Molly was driven by a fear for her safety. After he is killed during a botched mugging, Sam turns away from the light that beckons him to eternal peace and stays on Earth as a ghost but that comes with its own set of new challenges. While he can see and hear what is happening to Molly he can touch or talk to her. This makes it hard to communicate the danger she is facing until Sam finds psychic Oda Mae Brown, a faker who didn't actually realise that she had the gift. Now the pair faces a race against time to get Molly to believe them and save her from danger.
A love story, even a supernatural one, needs two leading performer that have great screen chemistry and Patrick Swayze and Demi Moore definitely have it. After the unparalleled success of 'Dirty Dancing', Patrick Swayze was struggling to find a role that would give him another real success at the box office but as Sam he created a character that would be as remembered as Johnny Castle. The role gives him the chance to show a more dramatic tone to his acting as he is charged with showing a lot more emotion in this role than any other he played before it. For Demi Moore this was the role that made her into a superstar. After been part of the 'Brat Pack' throughout the 1980s, 'Ghost' gave her the opportunity to show what she could do outside of an ensemble cast. As Molly she creates a character that every woman who like to be and every man would like to protect. It is when the pair come together however that they really shine as they portray a couple very much in love.
While the two leading performers get up the couple's chemistry, it is Whoopi Goldberg's performance as Oda Mae Brown that steals the movie. With an Academy Award winning performance, Whoopi brings comedy to the fake psychic who doesn't actually realise that she can really talk to dead people. There is also a good performance from the underrated Tony Goldwyn, who would go on to become a successful director.
'Ghost' is a romance movie that you cannot help but enjoy, whatever sex you are. With a winning combination of the supernatural, some action, comedy and romance, the film has something that will appeal to most watchers. It is the enduring love stories that will have the biggest appeal however and is the thing that makes the movie such a classic date movie.


PICTURE & SOUND
Presented in Widescreen 1.85:1 Anamorphic with Dolby Digital 5.1 and dts soundtracks, the transfer is very good.
BONUS FEATURES
Commentary by director Jerry Zucker and writer Bruce Joel Rubin
The man behind the helm and his screenwriter come together to remember the impact 'Ghost' had on them and the box office in 1990. This funny and chatty commentary allows the pair to talk about getting the movie made, the success of the film, the award wins, the cast and how it has affected their careers. This is a good reflective commentary from two men who feel very passionate about the movie.
Ghost Stories: The Making of a Classic (13.06 mins)
Director Jerry Zucker, screenwriter Bruce Joel Rubin, production designer Jane Musky and stars Patrick Swayze and Whoopi Goldberg reminisce about the production of the movie. With an interview with Demi Moore, recorded in 1990, included in the conversation the group talk about the getting involved, casting, the chemistry between Patrick and Demi, the response to the movie and the Oscar wins.
Inside the Paranormal (8.35 mins)
Mediums Shelley Duffy, Laurie Campbell, George E. Patzell and Jame Van Praagh talk about what it is like to be a psychic and how actuate 'Ghost' was in portraying the afterlife.
Alchemy of a Love Scene (6.17 mins)
Director Jerry Zucker, screenwriter Bruce Joel Rubin, production designer Jane Musky, production designer Adam Greenberg and stars Patrick Swayze and Whoopi Goldberg talk about the famous pottery love scene from the movie.
Cinema's Great Romances (19.42 mins)
American Film Institute (AFI) historian Patricia Hanson, film critic and author of 'Chick Flicks' Jami Bernard, screenwriter Bruce Joel Rubin and Whoopi Goldberg talk about the AFI '100 Years…100 Movies' series. For the '100 Movies…100 Passions' list they highlight 'Roman Holiday', 'Love Story', 'A Place in the Sun', 'Barefoot in the Park', 'Sabrina', 'Reds', 'Grease', 'An Officer and a Gentleman', 'To Catch a Thief', 'Harold and Maude', 'Witness', 'Titanic', 'Breakfast at Tiffany's' and 'Ghost'.
Theatrical Trailer (2.33 mins)
Watch the preview from 1990 that predated the film's release at cinemas. Photo Gallery View behind the scenes and publicity shots from the movie
Trailers
Previews of 'Dreamgirls', 'Titanic' and 'The Last Kiss'
OVERALL
The Special Edition of 'Ghost' offers fans plenty of extras for fans. The commentary track is good and the featurettes cover most aspects of the film's production and more. This is a good package that compliments the movie extremely well.
DVD

---
The Usher Home | Hush, Hush... | The Big Story | The Usher Speaks
Stuck @ Home | Coming Soon | Links | Contact the Usher

CLASSICS