DIE HARD & DIE HARD 2 BOX SET
DIE HARD
Starring: Bruce Willis, Alan Rickman and Bonnie Bedelia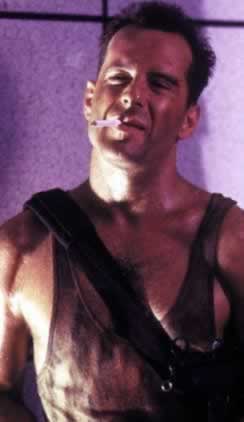 Director: John McTiernan
Running time: 127 mins
Certificate: 18
John McClaine (Willis), is a NYPD cop visiting LA for a Christmas party at his wife'sfirm in the Nakatomi Tower. Getting there, John goes for a casual clean up in the bath room after meeting with his wife, Holly (Bedelia). While in the bathroom, terrorists seize the building, led by a mad German called Hans Gruber (Rickman) they demand $640 million in negotiable bonds from the Nakatomi vaults. Amazingly, McClaine (barefooted and with only a small firearm at his side) manages to wage an explosive war on this large group of terrorists. Obviously, this is no ordinary city cop, and being Christmas time and all, is it really in the festive spirit to endanger one John McClaine? Good luck, Hans...

Full of outrageous explosions and over-the-top stunts, this is the perfect action movie, the action man's action movie, if you will. The extras on this disk are some of the greatest I've seen. The interactive features are surprisingly enjoyable, and the sheer amount of stuff to see and do and read is excellent. It'll take you a good few weeks to truly appreciate this disk alone, and we haven't even got onto number two yet! I was made to cringe on a number of occasions because of the fact McClaine only had his feet to walk on, and at points I was in as much agony as he was. It's a pretty strenuous film to sit down and watch, and it really does take it out of you. But by the end of it, you want to be that man himself, because he's an all action American hero! John McClaine, we salute you. Yippee ki-yeah mother...!

Scene selection; Commentary from director John McTiernan and production designer Jackson DeGovi; Commentary from visual effects producer Richard Edlund; Newscasts; Deleated bits and pieces; Two magazine articles; Scene editing workshop; Audio mixing; Glossary; Interactive slide show; Full script; Extended "Power Shutdown" scene; Original theatrical trailers; Advertising campaign featurette; Text commenatry with cast and crew.

DIE HARD 2: DIE HARDER
Starring: Bruce Willis, Bonnie Bedelia, William Sadler
Director: Renny Harlin
Running time: 118 mins
Certificate: 18

John McClaine is bac, and it's yet another yuletide action spectacular, this time in an airport. Once again, John's wife is the cause of it all, no wonder they had problems in the next film, and the good, old faithful husband is waiting at the airport for her. Unfortunately (you saw it coming), the airport is taken over by...terrorists, and like the true action hero he is, John puts himself in the middle of it all. This time however, the terrorists - a group of mercenary ex-army commandos, want General Esperanza released. Esperaza is a dictator who is soon to arrive at the airport to stand trial on drug smuggling charges, and the commandos are out there to rescue him, afterall, they're his loyal men. If they don't get what they want, the terrorists threaten to let planes flying around the airport drop out of the sky one-by-one, as they each run out of fuel. This time, it's gotten personal, because McClaine's wife is on one of the planes...

How can the same crap happen to the same guy twice? This is a hell of a movie, more spectacular and far more thrillling than the last. This time there's some serious tension being built up, and it all seems that less gritty, which is good for an action film of this nature. McClaine's character is improving with age, and you can sense that classic Willis bozo charm building up as the film progresses. The other characters in the film are more believable, if less prominant than the first, and all the terrorist fuss seems worthy, rather than unnessessary like it seemed in the original Die Hard. The extras are not as good as the first film, but they are by no means bad. There's enough to keep you interested, and a distinct documentary, which was the one thing missing from the first. Die Hard 2 is a better film with a worse disc than the first, leaving it around the same rating. It's just a shame they didn't add Die Hard With A Vengeance to the set.

Commentary by director Renny Harlin; Documenatry "The Making of Die Hard 2'; Four deleated scenes; Interview featurette with Renny Harlin; Featurette "Villian's Profile"; Two behind-the-scenes featurettes; Storyboard sequence; Two visual effects senquences; Three side-by-side comparisons; Four trailers.

Overall Box Set

Guest Review by Jay Em
---
The Usher Home | Hush, Hush... | The Big Story | The Usher Speaks
Stuck @ Home | Coming Soon | Links | Contact the Usher
The Usher Classics