"She's take this seriously "
Eric "Otter" Stratton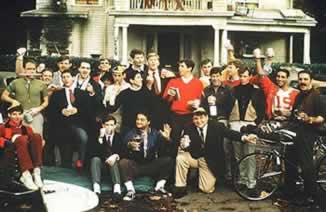 1962 at Faber College, Dean Wormer (Vernon) has a major problem with one fraternity on campus, Delta House. Putting them on 'double secret probation' at the start of the semester, he needed just one excuse to have them expelled. But for its members lead by Otter (Matheson), Boon (Riegert) and Bluto (Belushi), they didn't care it was business as usual and that business included, girls, drink, parties and making life hell for their new pledges.

Setting the standard in 1978 for all US college movies to come, Animal House is the definition of a cult comedy film.
The first movie from the National Lampoon stable, the film broke new ground and created the Frat House genre but what made it so memorable was its characters. Writers Harold Ramis, Douglas Kenney and Chris Miller did what very unique at the time, they created characters that people either recognised from they own college experience or outrageous personalities that they longed to be while they where there. Every man wanted to be Otto, Boon or D-Day, every women wanted to be Katy or even Mandy but everyone wanted to know someone like Bluto.
What also made it standout was its pure outlandishness, as it captured the essence of the newly discovered freedoms of the 60s when the film was set and mixed it with the liberal, outrageous comedy of the 70s, pioneered by TV hits like Saturday Night Live. Been drunk and high was cool, girls where just playthings to be pursued and conquered and actual college work was something you did your best to cheat your way through. The movie created an idyllic college situation that everyone wanted to live but none of them had probably experienced.
The movie contained breakout roles for many now established actors. Tim Matheson role as lothario Eric 'Otto' Stratton, set the standard for the college ladies man with his "she'll take this seriously" line one of the all time classics in comedic cinema. Peter Riegert's Boon was the friend you wished you had at college or university. Loyal, reliable and up for anything after a few drinks, Riegert made Boon and his relationship with Karen Allen's Katy one of the most memorable parts of the film. Tom Hulce and Stephen Furst make memorable pledges as Pinto and Flounder as they find their way through the college experience with comic naivety. There are also noticeable appearances by Mark Metcalf and John Vernon as the villains of the piece the near Nazi-like Douglas Neidermeyer and the Delta House obsessed Dean Wormer. Also look out for Kevin Bacon making his cinematic debut as Omega pledge Chip Diller.
This was a genre-changing movie. From Elmer Bernstein's dramatic score, the first time an alterative piece of music had been used within a comedy, to the mixture of classes within a group, Animal House started a comedic revolution and could be classed as one of the most important comedy films of all time. The waves it caused are still been felt today and without it we might have never had the outrageous, gross-out comedies that have been a success over the last two decades.
Animal House is the quintessential College/University movie that every film has to try to adhere to. It is ingrained not just in US culture but everywhere where Higher Education is available. Everyone now has visions of excessive drinking, Toga parties and larger than life characters when they think of college and university and it is all thanks to this one film. When you finish watching it, you will want to pledge to Delta House.
Food Fight!


PICTURE & SOUND

Presented in Widescreen 1.85:1 Anamorphic with a digitally remastered Dolby Digital 5.1 soundtrack, the transfer is quite good seen as the movie was low budget and made in 1978. The picture quality is slightly dark in the night time and indoor scenes but this isn't too bad. The sound quality is good but it doesn't make use of the rear speakers as much as it could have, especially during the party scenes. Also the annoying music from the early 90s video release is included during the canteen scene, this is totally out of place for the 1962 setting and there is no reason given for the change from the original release.
BONUS MATERIAL
Where are they now? A Delta House update (23.20 mins)
A hilarious update of what the characters from the movie are up to now. Making out that the movie was actually documentary filmed by John Landis, the director tracks down most of the original cast who, in character, tell you what they have been doing since graduation. Highlights include Boon and Katy's many marriages, Babs at Universal studios, Mrs Wormer as a drunk and trying to track down the elusive D-Day.
MXPX - Shout Music Video
MXPX do a cover of the classic song, famously played by Otis Day and the Nights in the movie.
Did you know that? Universal's anecdotes
This brings up interesting information about the movie while you enjoy the film. For example, did you know that the girl John Belushi was dancing with at the Toga party was his wife?
The Year Book: An Animal House Reunion (45.17 mins)
The cast and crew reminisce about there experiences making movie. The documentary tracks the film from the original idea to casting and from filming to premiere. This is an extremely interesting insight into the making of the film as everyone from the cast, production staff, writers and director discuss their memories and experiences of the Animal House phenomena and how the genre-changing movie effected their lives.
Trailer
The original 1978 trailer is included.
OVERALL

A classic movie deserves a classic DVD and Universal has almost given us one. The documentaries are great and worth buying the disc for alone but it would have been perfect if a director's or cast commentary had been included. For fans of the movie you must make the pledge to buy this.
DVD

---
The Usher Home | Hush, Hush... | The Big Story | The Usher Speaks
Stuck @ Home | Coming Soon | Links | Contact the Usher

CLASSICS