THE 80s BRAT PACK COLLECTION

THE BREAKFAST CLUB
Starring: Emilio Estevez, Anthony Michael Hall, Judd Nelson, Molly Ringwald, Ally Sheedy and Paul Gleason
Writer/Director: John Hughes
Running Time: 97 mins

High school is never the easiest time of your life but for jock Andy (Estevez), geek Brian (Michael Hall), rebel John (Nelson), miss popular Claire (Ringwald) and recluse Allison (Sheedy) life just got a little harder. The five of them could be more different and who never even imagine coming within each other's circles but as the day proceeds, they find out they have more in common than they would think.
ABOUT LAST NIGHT…
Starring: Rob Lowe, Demi Moore, James Belushi, Elizabeth Perkins and George DiCenzo
Director: Edward Zwick
Running Time: 113 mins
Meeting at their favourite Chicago bar 'Mother's', Danny (Lowe) and Debbie (Moore) share a one-night stand. They make a connection however and decide to start something, much to the grievance of their best friends Bernie (Belushi) and Joan (Perkins) who know this will change them. As Danny and Debbie get closer and their relationship gets more serious, both of them realise that they want different things.
ST. ELMO'S FIRE
Starring: Emilio Estevez, Rob Lowe, Andrew McCarthy, Demi Moore, Judd Nelson, Ally Sheedy, Mare Winningham and Andie MacDowell
Director: Joel Schumacher
Running Time: 110 mins
Having just graduated from Georgetown University, Kirby (Estevez), Billy (Lowe), Kevin (McCarthy), Jules (Moore), Alec (Nelson), Leslie (Sheedy) and Wendy (Winningham) are finding it making their way after college. As they start new jobs and start the journey into adulthood, relationships that seemed so strong in college start to change but everything seems to return to the way it was when they meet up at their favourite bar, Saint Elmo's.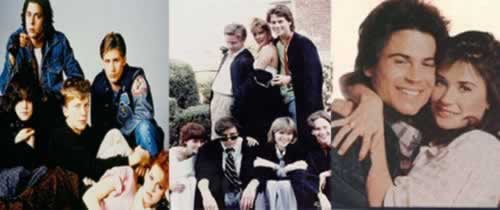 When it came to naming the biggest and coolest stars of the 80s, you could get any bigger than the Brat Pack.
Rob Lowe, Emilio Estevez, Demi Moore, Judd Nelson, Andrew McCarthy, Ally Sheedy, Anthony Michael Hall and Molly Ringwald were the superstars of the time and Hollywood knew it. Knowing they were onto box office gold, the press named 'Brat Pack' made many films together as an ensemble cast. Filmmakers knew if they had a collection of these young stars in their movies, the audience would come in droves.
This was very different than the usual leading actor/actress star approach, as the younger audience wanted to see these stars together and have multiple story arcs to follow. These made for a very different kind of film, ones that reflected the relationships, the fashions and the music of the time. This DVD box set gives you three classic examples.
When it came to producing films that captured the 80s high school experience, one writer/director was a master, John Hughes. With hits like 'Pretty in Pink', 'Sixteen Candles', 'Ferris Bueller's Day Off' and 'Weird Science', Hughes' films were what the teenage market wanted to see. When it comes to the ultimate high school movies and one that defined the era perfectly, you couldn't get any better than 'The Breakfast Club'.
If you forgot about the fashion and the music, this film is still extremely relevant today. The differences in social circles are highlighted with great skill with some wonder dialogue and acting from the excellent ensemble cast. You have the popular girl, the geek, the jock, the rebel and the outcast all forced to come together in detention and it is their interaction that makes the film resonate with its target audience, making it a classic of the time and the genre.
As the Brat Pack got older so did the stories they were involved in and 'St. Elmo's Fire' is a classic example. Following a group of friends that have just graduated from college, the movie deals with the first experiences of adulthood. Getting a job, moving into their own home, changing friendships and forging new relationships all come to bear.
Again you have multiple characters with their own story arcs but these are now very grown up stories that allow the audience that had grown up with these actors to see how their lives moved on after high school. Director Joel Schumacher tries to bring the same dynamic as was so successful for John Hughes but the lack of a coherent script and even sympathetic characters, make this more look that substance.
As the 80s rolled on and the Brat Pack got older, their subject matter moved on again. 'About Last Night…' deals with first serious relationships of the mid-twenties generation. In a sexually provocative time, when money, sex and the single life was one of parties and excesses, this movie dealt with the pressures of relationships during that time.
Superstars Demi Moore and Rob Lowe were the leads in the movie, but like other films made for the target audience the supporting cast was just as important as the main characters. Elizabeth Perkins and James Belushi provided the comedy and arguments to the film, as they see their friends moving away from them. Director Edward Zwick shows his skill with characters and dialogue to produce a film that is still relevant even today.
'The 80s Brat Pack Collection' includes two classic movies from the group and one that is just average. Both 'The Breakfast Club' and 'About Last Night…' are great example of why the group were as popular as they were and even 'St. Elmo's Fire', however average it is, still had the charm and performances to show you why this group of actors were so popular.
The Breakfast Club

St. Elmo's Fire

About Last Night…


PICTURE & SOUND
'The Breakfast Club' is presented in Anamorphic Widescreen 1.75:1 with Dolby Digital 5.1 and dts soundtracks. 'St. Elmo's Fire' is presented in Anamorphic Widescreen 1.85:1 with Dolby 2.0 stereo sound. 'About Last Night…' is presented in Anamorphic Widescreen 2.35:1 with Dolby Digital 4.0 surround sound.
BONUS FEATURES
The Breakfast Club
Theatrical Trailer (1.28 mins)
Watch the original trailer from the cinematic release and realise how bad trailers were in the 80s
St. Elmo's Fire

Director's Commentary
Joel Schumacher provides a nostalgic track for his third film. Co-writing the film, he talks about how he wanted to show Georgetown and the emerging yuppie culture of the time. He also reveals how he went about casting the picture and wanting to create an honest and frank look at young people of the 80s and the pressured they faced to succeed. This was considered shocking at the time. Schumacher's commentary is pretty good and worth a listen for any fans of the film and the actors.
Theatrical Trailers
The cinematic trailers for 'About Last Night…' and 'Mortal Thoughts'
Talent Profiles
Read text profiles for 'Joel Schumacher (Director)', 'Emilio Estevez', 'Rob Lowe', 'Demi Moore', 'Ally Sheedy' and 'Judd Nelson'
About Last Night…
Theatrical Trailers
Watch the cinematic trailers for 'About Last Night…' and 'Mortal Thoughts'
Talent Profiles
Read text profiles for 'Rob Lowe', 'Demi Moore', 'James Belushi' and 'Edward Zwick'
OVERALL
With only 'St. Elmo's Fire' having a commentary track, the lack of real extras for all of the films seems like a wasted opportunity. It would have been great to have seen the stars of the films talking about their roles and the impact of the Brat Pack. Fans will be very disappointed.
DVD

---
The Usher Home | Hush, Hush... | The Big Story | The Usher Speaks
Stuck @ Home | Coming Soon | Links | Contact the Usher

CLASSICS