Starring:
Jonah Hill, Max Records, Ari Graynor, Landry Bender, Kevin Hernandez and Sam Rockwell
Director:
David Gordon Green
Running Time:
81 mins
Out to buy or rent on
DVD/Blu-Ray/Download 14/05/12
"Need a sitter?"
Even though he has graduated from college, Noah Griffith (Hill) was still living with his mother and still did not have a job but when his Mom's friend's babysitter calls in sick, Noah reluctantly agrees to cover. Expecting an easy night, he soon discovers that babysitting for Slater (Records), Rodrigo (Hernandez) and Blithe (Bender) is not going to be an easy ride. A phone call from his girlfriend Marisa (Graynor) to come to a party, changes everything however, setting off a chain of events that Noah could have never imagined.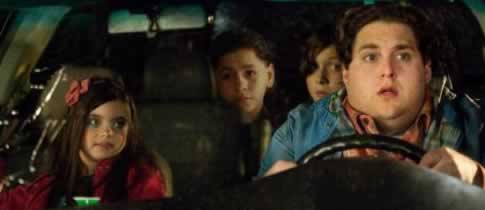 Jonah Hill has made a career out of been the overweight slacker who just needs some motivation to be a success but can he convince as a babysitter?
With an Oscar nomination for his work on 'Moneyball' in 2011, Jonah Hill's career continues its journey upwards. After graduating from supporting roles in hit comedies, Jonah Hill really came to prominence in 'Superbad' and his career skyrocketed from there but before he shed all the pounds, he had one last overweight slacker to play in 'The Sitter'.
Reminiscent of a young 'John Candy', Jonah Hill plays Noah Griffith, an overweight college graduate who is reluctant to leave home and start his life after finishing his studies. Desperate to get into the pants of Marisa, played by Ari Graynor, a girl who was just using him for company while she pines for a ex, Noah is at her beck and call but when his mother announces that she has to cancel her first date since Noah father walked out on them because her friend can not get a babysitter, Noah agrees to cover. As soon as he takes charge of Slater (Max Records), Rodrigo (Kevin Hernandez) and Blithe (Landry Bender) for the night, Marisa calls him with the promise he has been waiting for but first he needs to pick her up something to bring to the party and that is where the trouble starts. From then on in we have a series of events that not only teach Noah a few life lessons or two but the kids also.
Feeling very much like a slightly ruder and riskier John Hughes comedy, 'The Sitter' is made all the more watchable by the performances of Jonah Hill and the three kids. Without this, the film could have been a normal, run of the mill comedy but it is actually much funnier and far more watchable than it should have been. Sam Rockwell almost steals the show as a drug dealer who just wants an 8th best friend in New York but it is the Hill and the children who are the stars.
'The Sitter' is much better than it should have been. While it treads a well-trodden comedy path, the performances and some of the set pieces make this a comedy worth watching but just don't expect anything that you would hire a babysitter to go and see.


Deleted Scenes
Gag Reel
Theatrical Trailer
Sits-N-Giggles
For Your Consideration
The Making Of The Sitter
Jonah the Producer
---
The Usher Home | Hush, Hush... | The Big Story | The Usher Speaks
Stuck @ Home | Coming Soon | Links | Contact the Usher

2012