Starring:
Tom Hanks, Julia Roberts, Cedric the Entertainer, Gugu Mbatha-Raw, Taraji P. Henson, Pam Grier, Rami Malek, Maria Canals-Barrera and George Takei
Writer/Director:
Tom Hanks
Running Time:
98 mins
Out to buy on Blu-Ray/DVD 14/11/11
"I'm sorry Larry but we will have to let you go"
Fired from his job for not having a college education, Larry Crowne (Hanks) decides to take control of his life and head to community college. Majoring in Economics, he decides to also take a public speaking class with a less than enthusiastic teacher in Mrs. Tainot (Roberts). As Larry embraces the college experience, becoming part of a scooter club, making new friends and working part time as a short order cook, his life starts to take a positive turn and that starts to rub off on his teacher.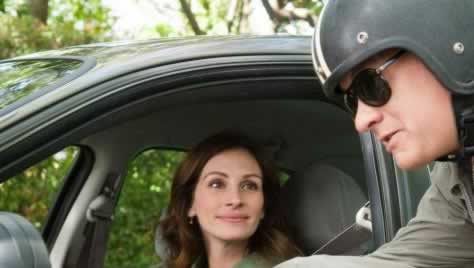 Tom Hanks maybe no stranger in front of the camera but you might not know that he likes step behind the camera too.

In 1996, Oscar winning actor Tom Hanks decided to see if he could don the writer and director's caps and bring us 'That Thing You Do'. The light-hearted story of a teen band in the 60s was a reasonable hit and gave Hanks the bug but not for the big screen. Turning his talents to television, directing episode of 'Bands of Brothers' and 'From the Earth to the Moon', it has taken Tom Hanks fifteen years to return to the director chair for a feature and in 2011 he bring us 'Larry Crowne'.

Writing and directing again, Tom Hanks moves into more modern times to tell a tale of man who has to start his life again. An ex-US Navy man, Larry Crowne is fired from his job because he does not have a college education. In his forties and unemployed, Larry decides to go to college and study economics but also take a class in public speaking. While he revels in the college life style, buying a scooter, dressing a little more casual with the help of his new friend Talia and embracing the his new classes but one of his teachers, Mrs. Tainot is not feeling the same about her job. Disenchanted with teaching Mercedes Tainot really does not want to teach her class this year but when she walks in to discover that she has the mandatory ten students, she reluctantly decides to continue. Of course, this turns out to be the best class of students she has ever had but it is Larry that is learner she really falls for, in more ways than one.

The plot is cheesy, predictable and full of clichés but there is something about 'Larry Crowne' that is very likeable. The chemistry between Tom Hanks as Larry Crowne and Julia Roberts as Mrs. Tainot is there for everyone to see. The pair really bounce off one and other, making the movie far more watchable than the flakey premise deserves. When you add the excellent supporting cast of British actress Gugu Mbatha-Raw as the loveable Talia, all of his classmates from his public speaking class and the wonderful George Takei as Dr. Matsutani steals every scene he graces, having real fun as Larry's Economics teacher.

'Larry Crowne' is one of those films that is just plain nice. With Roberts and Hanks bouncing off each other and a supporting cast that has a lot of fun with their roles, you can forgive the cheesy shortcomings of the plot and the awful Photoshop end credit sequence. If you just want to smile for ninety-eight minutes, you cannot really go wrong with 'Larry Crowne'.


Audio Description, Making Of Larry Crowne, Deleted Scenes, Fun On the Set, Tom Hanks Interview
---
The Usher Home | Hush, Hush... | The Big Story | The Usher Speaks
Stuck @ Home | Coming Soon | Links | Contact the Usher

2011