Starring:
Thomas Turgoose, Holliday Grainger, Rafe Spall, Steven Mackintosh and Susan Lynch
Director:
Tom Harper
Running Time:
93 mins
Out to buy on DVD 23/08/10
"You can't tell anyone"
When David (Turgoose) discovers that his best friend Emily (Grainger) is been forced to move away from their Holiday Camp home to live with her father in the city, he agrees to help her run away. Telling her mother Sharon (Lynch), their friend Steve (Spall) and everyone on the site that he had not seen her, everyone starts to think that she has ran away. In fact she is hiding in a cave along the coast from the site and David is smuggling food and supplies to her. As the days pass however, the police become involved and David finds it more and more difficult to keep Emily's secret.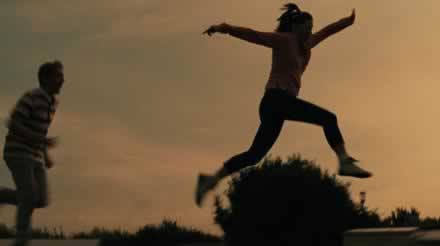 Grimsby-born actor Thomas Turgoose made a real impact when he appeared in 'This is England' when he was just fourteen but can the young lad from North Lincolnshire continue to show that potential?
When Shane Meadows released 'This is England' in 2006, it was the performance of a young fourteen year-old unknown with no previous acting experience that made the film so memorable. His portrayal of 'Shaun', a bullied kid who finds friends among the skinhead gangs quickly propelled Thomas Turgoose into the memories of many a British film fan. Turning his talents to horror in 'Eden Lake' and then working with Shane Meadows again in the wonderfully funny 'Somers Town', Thomas Turgoose gets the chance to show his talent for drama again in 'The Scouting Book for Boys'.
This is the story of two life long friends about to be torn apart by the courts as Emily is forced to move and live with her father. Having grown up together in the Norfolk coast campsite, David and Emily had become like brother and sister, sharing their summer days on the site with not a care in the world. The news that Emily had to move away and they would only ever get to see each other when either of them came to visit, sounded like the end of the world so Emily decides to put a plan in motion that could allow her to stay. She runs away and David has to tell everyone that he does not know where she has gone, all the while she would be hiding in a cave along the coast from the site with David bringing her the food and the supplied she needed to stay hidden. Of course David agrees but little did he know that the scheme would become more and more complicated as the days passed as the police would become involved and he would have to continually tell lies. The problem is that as the police investigate a simple runaway girl turns into a possible abduction and David learns some truths about Emily that he never wanted to hear.
This storyline requires two young actors who can be extremely convincing and in Thomas Turgoose as David and Holliday Grainger as Emily they have found just that. For a coming of age story and one that deals with the consequences of friends growing up, the performances of the two leads had to draw you in and make you understand both of their points of view. Why would they go to the extremes to stay together on the site and was it just for their friendship or is there more to it? For Thomas Turgoose's David, you had to believe he would lie for his friend but it is how the character grows and changes during the duration of the film that reveals again the young actor from Grimsby's talent for the more dramatic role. Holliday Grainger's Emily also has to be convincing as the naive girl who thinks her problems can be easily solved by hiding from them. The supporting cast is also very good, with another good turn for the highly talented Rafe Spall as Steve and the brilliant Susan Lynch as Emily's self-destructive mother Sharon.
With difficult subject matter and a plot that will draw you in emotionally, 'The Scouting Book for Boys' is a film that succeeds because of the performances. Well written, superbly acted but extremely tragic, this is a difficult film to enjoy but one that will stick with you for along time after the credits role.

---
The Usher Home | Hush, Hush... | The Big Story | The Usher Speaks
Stuck @ Home | Coming Soon | Links | Contact the Usher

2010