Starring:
Lee Pace, Judy Greer, Caroline Sunshine, Finley Jacobsen, William H. Macy, David Wallliams and the vocal talents of Owen Wilson, Emma Stone, George Lopez, Christopher Mintz-Plasse, Steve Coogan, Fergie, Kiefer Sutherland and Sam Elliott
Director:
Tom Dey
Running Time:
87 mins
Out to buy on Blu-Ray/DVD 14/02/11
"CALIFORNIA!"
When you spend your life continually been told you are doing everything wrong, your confidence is never that high, no matter how big you are. For a Great Dane to be afraid of everything, especially water and to have a cat called Carlos (Lopez) for a brother, Marmaduke (Wilson) was not your average dog. When his family moves to California however, life gets even more complicated as he now has to fit in with a new crowd at the dog park with pedigree alpha-dog Bosco (Sutherland) making his life hell, especially when his girlfriend Jezebel (Fergie) catches Marmaduke's eye.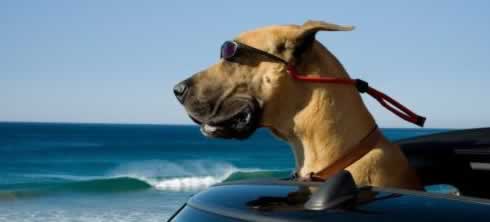 When it comes to providing entertainment for young children there is nothing better than talking animals getting up to high jinx but can a huge dog with the voice of Owen Wilson capture their imaginations?
The cinema is a place where animals can talk and for decades movie stars have been providing voices for everything from dogs to ducks and cats to cockroaches. Live action films like 'Homeward Bound', 'Doctor Dolittle', 'Joe's Apartment', 'Stuart Little', 'Babe', 'Cats & Dogs' and 'Garfield' as well and the hundreds of animated talking creatures have entertained kids since the dawn of cinema. Listening and seeing animals talk brings a smile to their faces like nothing else and studios have exploited this to the maximum but when it comes to bringing one of comic's biggest animal stars to the silver screen is 'Marmaduke' just too big?
Created in the 1950s by Brad Anderson, the story of the cumbersome Great Dane has graced comic strips for decades. Spawning an animated series in the 80s, Marmaduke's adventures with the Winslow family have entertained generations but the very, very big dog has not graced the silver screen until now but instead of the usual big dog, big trouble that has been the stable of many a Marmaduke adventure, director Tom Dey and his creative team have created something a little different, a high school movie for dogs.
Picture the story. A slightly awkward, misunderstood kid moves from Kansas to California and instantly becomes the new kid on the block. Having troubling fitting in, his confidence takes an even bigger bashing when he becomes the target of the local bully and is made a fool of constantly in front of all of the cool kids. Something happens however that reveals he true worth and he then becomes to coolest kid in town but he forgets about the friends who welcomed him in the first place and a life lesson is learnt. This may sound like every other teen, high school drama/comedy for the last three decades but this time all the major players are talking dogs. This, of course, is to try and appeal to a broader audience but in the end the film is about talking dogs that have adventures, surf and even has a dance number in it.
Bringing the mix of computer animated and real life animals to the silver screen is a collection of celebrity voices. Leading the line is Owen Wilson as Marmaduke, who is basically a big dog version of himself. Up and coming starlet Emma Stone is Mazie, the tomboy dog who is the only one who gives Marmaduke a chance and George Lopez is Carlos the cat, Marmaduke's Winslow brother. You also have Fergie providing the voice of Jezebel, the rough collie who Marmaduke adores from a far and Kiefer Sutherland as Bosco, the beauceron alpha-dog at the dog park. You also have human cast of Lee Pace and Judy Greer as the Winslows and William H. Macy as Phil's eco-friendly boss Don Twombly but these all play second fiddle to the animal characters.
'Marmaduke' is a film made for children, to be enjoyed by children. While the new kid on the block storyline is there to try and make the film all the more watchable for the adults accompanying them, there is not much for anyone older than ten years old to really enjoy about the film. Children however will like it and be prepared to have that conversation again about getting a family dog but just make sure it is not as big as Marmaduke.
(For Kids Only)


DVD
DVD Feature
Digital Copy
VAM
3 x Deleted Scenes
'Cowabarka' featurette
Canine Casting
Blu-ray Triple Play

Blu-ray feature
DVD feature

Digital Copy
VAM
8 x Deleted Scenes
'Cowabarka' featurette
Canine Casting
Puppy Marmaduke and Kitty Carlos: Home Movies
Marmaduke Mayhem! Gag Reel
---
The Usher Home | Hush, Hush... | The Big Story | The Usher Speaks
Stuck @ Home | Coming Soon | Links | Contact the Usher

2010