"Jacket on! Jacket off!"
When his mother gets transferred from their home in Detroit to Beijing, 12 year-old Dre Parker (Smith) finds it difficult to fit in. Quickly realising that China is very different to Detroit, Dre makes a friend in classmate Meiying (Han) but Cheng (Wang) doesn't take kindly to her spending time with the new American student. Making his life hell at school, Dre takes matters into his own hands but as the kung-fu trained Cheng and his gang try and beat Dre up, the handy man for Dre's apartment building Mr. Han (Chan) intercedes. Going to see their kung-fu trainer, Master Li (Yu), Mr. Han asks him to instruct his students to leave Dre alone but Master Li says he will only do so if Dre competes in the Beijing open kung-fu championships. Now Mr. Han has to train Dre in the ways of kung-fu but can a 12 year-old kid from Detroit who has only had a few karate lessons take on the bullies and win?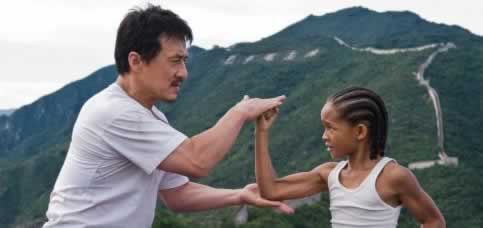 As Hollywood continues to make the assumption that audiences will not watch anything that was produced before 1990, remakes continue to head back to the silver screen but can one of the big teen movies of the 80s proves that all reimagining's are not that bad?
In 1984 a film was released that would play on the 70s and 80s obsession with martial arts but also teach us a life lesson at the same time. It was a movie that would become the pivotal mentor and apprentice flick for the decade and would spark numerous sequels, clones and parodies for decades to come. That film was 'The Karate Kid'. Making superstars of Ralph Macchio as Daniel and Pat Morita as Mr Miyagi, the film is rightly considered a classic of the 80s but when you go back to it after over a quarter of a century, the film is not as 'good' as you remember it to be. With the fashions, the music and the acting really dating the original, the announcement of a remake should not be greeted with hostility, as this is one premise that can be retold.
For the 2010 'Karate Kid' the premise shifts from Los Angeles, USA to Beijing, China, with Cherry Parker having to take a new job in the Orient and bringing her son Dre along with her. The clash of culture is more extreme than the East Coast/West Coast of the original, with the out of place American boy finding it even more difficult to fit in with Beijing school kids. Of course local bully Cheng sees Dre as an easy target, especially when he becomes friends with Meiying, the girl he really likes. This leads to Dre been attacked and beaten up by the bully and his friends but he is saved by the janitor of his apartment block, Mr. Han. When he sees Dre trying to learn Karate from his American DVDs, his mother takes him to a kung-fu school only to discover that Cheng and his friends are been trained there. Distraught and not knowing what to do, Mr. Han offers to train Dre and the Master of the Kung-Fu school offers Dre the chance to fight in the Martial Arts championships to prove himself. This, of course, is the essence of the original story but there are point that make this version far better than the dated original.
This time around we have a real 'Karate Kid'. Up and coming star and son of superstars Will Smith and Jada Pinkett Smith, Jaden Smith is twelve years old in the film, not twenty-two years old like Ralph Macchio was in the original. This fact makes the movie all the more engaging for younger audiences, especially when Dre's training starts. If you could wish to be trained by anyone in martial arts there is one man that most people would ask for, the legend that is Jackie Chan. While his Asian movie career is unsurpassed, his Hollywood career has been a little more hit and miss with no one ever giving him the chance to play anything other than comedic action star that the West loves. This all changes with his portrayal of Mr. Han. While he has some large shoes to fill following the late, great Pat Morita, Jackie excels as the reluctant teacher trying to cope with Dre's attitude towards training. Like the original, it is the mentor and apprentice, the almost father and son relationship that makes the movie and the chemistry between Jackie Chan and Jaden Smith make the movie so watchable.
While we could argue that the film should have been in fact called 'The Kung-Fu Kid', the 2010 remake of 'The Karate Kid' is a rarity, a reimagining that surpasses the original. It could be argued that it is overlong, running at two hours twenty minutes but the performances from Chan, Smith and the rest of the cast draw you into the familiar story, as it heads for its inevitable conclusion. The film is destined to become a firm family favourite, and, as it did with the original, expect your kids to be asking for martial arts lessons after watching it.


A Double Play Blu-Ray/DVD combo
Blu-ray Special Features:
On Location: The Karate Kid Interactive Map of China
Alternative Ending
Play All Hosted by Jackie Chan
Production Diaries Hosted by Jackie Chan
Chinese Lessons - Learn Chinese!
Music Video: Justin Bieber Featuring Jaden Smith "Never Say Never"
Just for Kicks: The Making of The Karate Kid
movieIQ+sync(TM)
PS3 Wallpaper Theme
---
The Usher Home | Hush, Hush... | The Big Story | The Usher Speaks
Stuck @ Home | Coming Soon | Links | Contact the Usher

2010