"Thank you for nothing, you useless reptile"
When your father is the leader of the Vikings, you have a lot to live up to and Hiccup (Baruchel) was struggling to do just that. His father Stoick (Butler) was a man of legend and went into battle with the village's deadliest enemy on a daily basis. Hiccup just didn't have it in him to be the fierce warrior his father longed him to be, instead he was a thinker, an inventor, someone who could make a contraption that would do the job for him. When the village comes under attack again, Hiccup is desperate to show his father and the rest of Vikings that he can bring down their most illusive enemy, the deadly Night Fury but the Vikings of Berk didn't fight a normal enemy. They fought Dragons.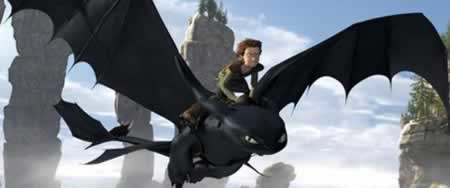 The computer generated animated family movie is becoming a real battle ground for the studios but two Animation Houses are consistently producing hit after hit and now it is DreamWorks turn again.
DreamWorks and Pixar have been battling it out for box office domination and the yearly animation Oscar for over a decade now, with Pixar gaining slightly more critical and commercial success that its main challenger. While Pixar maybe slightly in the lead, the release of a new DreamWorks animated film is still something to look forward to. Classics like 'Kung-Fu Panda', 'Madagascar', 'Monsters vs. Aliens', 'Over the Hedge' and the 'Shrek' franchise have become firm family favourites and 'How to Train Your Dragon' is about to join them.
Based on the novel by author Cressida Cowell and the first in a series of books featuring the character of Hiccup, this is the story of a Viking Chieftain's son who is struggling to make his mark in a village filled with warrior. More of a thinker than a fighter, Hiccup causes more trouble than the main enemy of the village with his inventions. The village's enemy is nothing like any Viking has faced before, dragons and all of the Vikings are trained to kill the winged fire breathers on sight. When he fires his latest invention at the fabled Night Fury dragon, the following morning he is amazed to see the creature trapped and injured in his net but when it comes to killing the beast, Hiccup just can't do it. Instead he decides to care for the creature and the two learn a lot about each other, proving they can live together. Of course, this makes for a fantastic mix of adventure, action and comedy.
After years of just hiring big name actors to voice animated versions of themselves, DreamWorks have taken a leaf out of Pixar's book and cast people to give a vocal performance. Comedy actor Jay Baruchel breaths life into Hiccup, the young Viking who befriends Toothless, the dragon. America Ferrera is creates Astrid, the young Viking who wants to show that girl can slay dragons too. Jonah Hill, Kristen Wiig, T.J. Miller and Chris Mintz-Plasse have fun as fellow Dragon fighting trainees. Talk show host Craig Ferguson is excellent as battle scared Gobber and Gerard Butler is well cast as Hiccup father and chief or Berk, Stoick. With only a strange mixture of Irish and Scottish accents posing a question of casting, this is a great cast of characters that will become firm family favourites.
As with most CGI animated movies, DreamWorks has decided to release 'How To Train Your Dragon' in 3D. While 2009's 'Monsters vs. Aliens' utilised the new technology with great aplomb, the same cannot be said about this movie. There are two standout 3D moments in the entire film and therefore it does not justify the extra expenditure for the audience to view the film with another dimension. Some say that the jury is still out on 3D but it studio keep releasing movie with a lackluster use of the technology, movie audiences are going to turn their back on paying for the so called 3D experience.
Even with the lackluster 3D, 'How to Train Your Dragon' is still a classic in the making. Hopefully this will be the start of a new DreamWorks franchise based on the Cressida Cowell books, as these are characters that you will want to see again. A gem of an animated movie, 'How To Train Your Dragon' is set to become a firm family favourite and one that everyone should enjoy… in 2D.


Double Play Blu-ray & DVD pack
Animator's corner featuring Picture-in-Picture Storyboards
Behind-the-scenes footage and interviews
Dragon fun facts and Viking games
Deleted scenes

---
The Usher Home | Hush, Hush... | The Big Story | The Usher Speaks
Stuck @ Home | Coming Soon | Links | Contact the Usher

2010