Starring:
Jonah Hill, Russell Brand, Rose Byrne, Colm Meaney, Lars Ulrich, Pink, Christina Aguilera, Kristen Bell and Sean 'P. Diddy' Combs
Writer/Director:
Nicholas Stoller
Running Time:
109 mins
Out to buy on Blu-Ray/DVD 01/11/10
"That's the best part about the Jeffrey. It goes away and then it comes back."
As an intern at one of the world's biggest Record Labels, Aaron Greenberg (Hill) had his dream job but the record business isn't as wealthy as he first thought and his boss Sergio Roma (Combs) is looking for ideas to increase revenue. Speaking up in the ideas meeting, Aaron tells his boss that is has been ten years since Infant Sorrow's groundbreaking gig at the Greek Theatre in Los Angeles and they should put on an anniversary concert and sell the TV rights around the world. Deciding to go with idea and Infant Sorrow signing on for the deal, all Aaron has to do is travel to London and pick up the front man from the band, Aldous Snow (Brand) but with him falling off the wagon after splitting up with his long-term girlfriend Jackie Q (Byrne), can Aaron get him to LA in seventy-two hours to perform in front of a sell out crowd?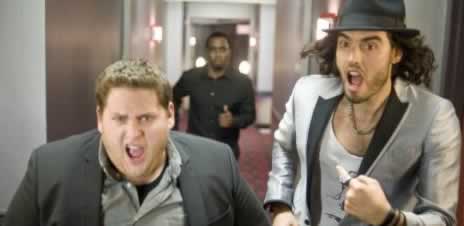 There is no denying that Britain's Russell Brand is a talent, unconventional but a talent but can he take the lead in a film?
Usually when you think of a sequel you might think of the continuing adventures of the main characters from the first film, but sometimes a supporting character can stand out so much they receive their own chance in the limelight. When 'Forgetting Sarah Marshall' was released in 2008, it was the supporting role of superstar rock star Aldous Snow that made Hollywood notice Russell Brand for the eccentric talent that British fans already know all about. Now comedy Uber-Producer Judd Apatow and his creative team have taken Brand's character and given him the chance to shine.
Portrayed as one of the biggest rock stars in the world in 'Forgetting Sarah Marshall', Russell Brand's Aldous Snow gets the chance to really show why in 'Get Him to The Greek'. When you think of someone living the rock and roll lifestyle, drowning in money and courting controversy everywhere they go, many a rock star would come to mind and that is what Aldous Snow encapsulates. Thinking he can change the world with music, living his life with his over the top girlfriend Jackie Q, played with real relish by Rose Byrne, in the public eye, Aldous Snow is rock and roll personified and this is a role that champions Brand's comedy talent. While we know he is an extremely gifted comedian however, he gets the chance to show a little more of his range however.
When a film is based within the music industry and is about a huge rock and roll star, the music itself becomes a key ingredient and this fact gives Russell Brand and Rose Byrne to reveal another facet to their talents, singing. To have characters that are rock stars you have to see them sing and perform and for 'Get Him to The Greek' we see Jackie Q and Aldous Snow with his band Infant Sorrow do just that. Brand and Byrne perform all of their own songs and with titles like "Supertight", "African Child (Trapped In Me)", "Just Say Yes", "Inside You", "Yeah Yeah Oi Oi", 'Going Up", "Ring 'Round" and "The Clap", these are well written, comedy songs that could also be hit singles. A mixture of live performances and hilarious parody music videos, the music is a highlight of 'Get Him to The Greek' but that is not all.
The film is not all about the performances of Russell Brand and Rose Byrne, as this is a road/buddy movie and Aldous Snow's buddy and traveling partner is Jonah Hill. While not playing the same Albous Snow obsessed fan from 'Forgetting Sarah Marshall', Hill plays an intern at a record label called Aaron Greenburg who comes up with a plan to increase sales by putting on a ten-year anniversary concert at the Greek Theatre in Los Angeles. The only thing he has to do is get Aldous Snow from London to Los Angeles on time to do the gig but that was never going to be easy. Jonah Hill is quickly becoming one of Hollywood's best-known comedic actors and his slightly overweight, everyman persona makes him even more likeable. Add to this a scene-stealing role for Sean 'P. Diddy' Combs as record executive Sergio Roma, 'Man Men' star Elisabeth Moss as Aaron's girlfriend Daphne and a plethora of cameos from some huge star names and you have an ensemble that only enhances the film.
'Get Him to the Greek' is a showcase for the talent of Russell Brand. A hilarious road movie and a well-written buddy pic combine to bring us a film that will have you laughing out loud. Throw in some great comedy songs and a fantastic cast and you have a movie that shows what a star Russell Brand truly could be.


Includes both Theatrical and Extended versions of the film
U-Control Music notes (Theatrical)
Auditions
Deleted Scenes
Music Videos for African Child, I Am Jesus, Ring 'Round, Supertight and Just Say Yes
Alternate/Extended Scenes
Alternate Intro / Alternate Ending
Blind Medicine
Line-O-Rama
Gag Reel Pts 1 and 2
Interviews
Getting to Get Him to the Greek
Getting in Tune with the Greek
The Making of African Child
World Tour Riding Daphne
VH1 Storytellers - Furry Walls
The Today Show The Clap
Feature Commentaries
Karaoke
Pocket Blu
---
The Usher Home | Hush, Hush... | The Big Story | The Usher Speaks
Stuck @ Home | Coming Soon | Links | Contact the Usher

2010