Starring:
Christian Cooke, Tom Hughes, Jack Doolan, Felicity Jones, Matthew Goode, Anne Reid, Emily Watson, Ricky Gervais, Stephen Merchant and Ralph Fiennes
Directors:
Ricky Gervais & Stephen Merchant
Running Time:
95 mins
Out to buy on Blu-Ray/DVD 30/08/10
"Why does Noddy have a bell on his hat?"
In 1973, Freddie Taylor (Cooke) knew that he didn't want to stay in the small town of Cemetery Junction and follow in the footsteps of his father (Gervais) by working at a factory all his life. Starting his new job as an insurance salesman, Freddy sees this as the start of his life plan of earning lots of money, buying a house, getting married and starting a family. His best friends Bruce (Hughes) and Snork (Doolan), just want to continue going out drinking, trying to pull the birds and getting into fights but Freddy has new responsibilities and with that he has to chance.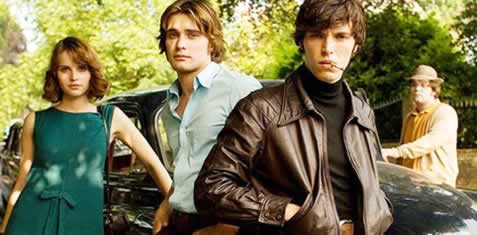 The men behind the smash TV shows 'The Office' and 'Extras' reunite for their first film project together but can they recreate the magic on the big screen?
When Stephen Merchant and Ricky Gervais brought 'The Office' to the small screen in 2001, the show was greeted with critical acclaim around the world. The story of an average office in Slough became a firm viewer favourite and went on to spawn an American version. After three seasons in the UK, the pair moved onto 'Extras'. The story of a budding actor, looking for that big break while been a lowly extra on the set of many a celebrity riddled film. Critical acclaim and huge audience figured followed but after just thirteen episodes, the show ended. Now a huge celebrity in US as well as the UK, Ricky Gervais went onto star in 'Night at the Museum', 'For Your Consideration', 'Stardust' and 'Ghost Town' before writing and directing 'The Invention of Lying' but fans always longed for him to work with his friend and writing partner Stephen Merchant again. Now they have their wish.
While the high concept comedy 'The Invention of Lying' didn't quite meet with the same critical and commercial success of Gervais' previous projects, 'Cemetery Junction' proves again that Merchant and Gervais are worth all of the plaudits they have gained over the years. Set in 1973, the story revolves around three life long friends as one of them, Freddy, played by Christian Cooke, sets out to try and be different by starting a job as an insurance salesman. Quitting his job at the factory, Freddy didn't want to be like his father and friends, stuck in town of Cemetery Junction for the rest of his life, struggling to get by. This is a journey for Freddy but we also see how his two best friends, Bruce and Snork grow as well. Bruce is played by Tom Hughes, is always looking for women, drink and a good fight but is on the edge of completely making a mess of his life and ending up like his father, who he detests. Snork, played by Jack Doolan, is the slightly over weight, wears oversize 'Elton John' glasses and always ruins the moment when he or his friends are with a group of girls by saying something completely inappropriate. The three friends have grown up together but now they have to face the fact that they moving on with their lives and the future might just not be living in Cemetery Junction.
The supporting cast is also very good. Ralph Fiennes is the manager of the Insurance company that Freddy starts to work for. The character also started life in Cemetery Junction but has left the village behind but is now one of the richest men in the region who has very strong opinions on work, the home and how a marriage should be. Emily Watson plays his downtrodden wife who struggles to get her husband's attention. Felicity Jones is their daughter Julie, who is about to marry Mike Ramsey (Matthew Goode), his father's right hand man but Freddy shows her there is more to life than what her parents and money have to offer. Ricky Gervais himself is joined by Julia Davis as Freddy's parents with Anne Reid playing Freddy's Gran. Their family moments on screen during family dinners are laugh-out-loud funny, saying things and commenting on 70s life in a small village. Steve Spiers is also very good as Sgt. Wyn Davies, the police officer keeping an eye on the three boy's behaviour.
'Cemetery Junction' proves again how good a writing partnership Ricky Gervais and Stephen Merchant are. Mixing comedy, social issues with a sprinkling of drama is a difficult thing to do but the trio achieve this. By concentrating on the writing and the directing and not having much screen time, 'Cemetery Junction' isn't just a vehicle for Ricky Gervais' acting but a showcase for their filmmaking talent.


Commentary with Writers/Directors Ricky Gervais and Stephen Merchant
movieIQ+sync (logo) and BD-Live connect you to real-time information on the cast, music, trivia and more while watching the movie!
Cast Commmentary with Christian Cooke, Tom Hughes, and Jack Doolan
Deleted Scenes
The Directors: A Conversation with Ricky Gervais and Stephen Merchant
The Lads Look Back: The Stars Discuss Cemetery Junction
Seventies Style: Production and Costume Design
Snow Dude
The Start of Filming
Week 1
Meet The Boys
The Directors On Set
---
The Usher Home | Hush, Hush... | The Big Story | The Usher Speaks
Stuck @ Home | Coming Soon | Links | Contact the Usher

2010