"Will you be my baby daddy?"
After years of waiting Zoe (Lopez) had given up on finding the one man who would sweep her off her feet. Desperately wanting a baby, Zoe starts her back up plan by getting artificially inseminated. On the same day as her first treatment however, she meets Stan (O'Loughlin), a charming cheese seller from the New York farmer's market who just might be the man she has been waiting for. The problem is that on the night of their first date, Zoe takes a pregnancy test and it is positive but she doesn't want to lose the man of her dreams.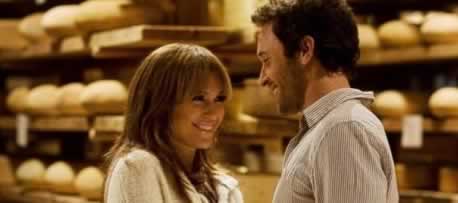 When a woman gets to a certain age and does not have a man or a child, she has to take matters into her own hands but do you think someone who looked like Jennifer Lopez would have that problem?
After four years away from the silver screen, Jennifer Lopez returns and to a tried and tested genre, the romantic comedy. This one is a little different for her however. While she is no stranger to the genre after appearing in 'Maid in Manhattan' and 'The Wedding Planner', she is still better known for her more dramatic turns in films like 'Bordertown', 'Angel Eyes' and the excellent 'Out of Sight'. With her know mixing her music and film career with family life, easing back onto the big screen with a comedy about been pregnant might have sounded like a great idea but unfortunately it was not.
Why is it that Hollywood seems to think that everyone has a plan? However unorganised with maybe in life, we all have goals that we want to achieve by a certain time in our lives. For the fairer sex, Hollywood loves to use the big ticking clock to their fortieth year and highlight it as a landmark for a baron loneliness that they will never escape from. With most producers, directors and writers seeing forty as the age were they struggle to create anything for a woman to do on screen, the ticking clock becomes even more prevalent for an actress, never mind an ordinary woman. For the latest J-Lo project and with her passing the fabled big 4-0 during the production of the film, the film mixes the ticking clock with the chance to be happy.
Hollywood loves to point out that a woman's reliance on a man for child is not essential anymore and the 'Back-Up Plan' of the title is Jennifer Lopez's character Zoe is a simple one. If she is single in her late thirties, then she will use a sperm donor to become pregnant. While you may find it impossible to think that anyone who looks like Jennifer Lopez would ever struggle to find a man, this is what we have to believe to set the premise up. Of course then she finds one in the shape of Alex O'Loughlin's Stan, the man of her dreams but by this time she is already pregnant. He seems to be up for the challenge however but the nine months of her pregnancy are never going to be easy on them or their relationship.
You would think that a premise and a storyline like this would be one that would work for both sexes, as it could be shown from both angles but unfortunately it is not. 'The Back-Up Plan' is one of those movies that women should watch on their own or with their girlfriends, as there is nothing for the male audience to enjoy her in the slightest. There are circumstances were films can lead to arguments, even between the most committed of couples and this is one of them, especially with a love scene taking place in a cheese store, that can't be very hygienic and must break thousands of health and safety laws. This movie defines the label 'Chick-Flick' and will create tension among movie watchers from both sides of the gender divide.
'The Back-Up Plan' is as girly as it can get. With nothing here to entice the male audience in, this is a 'Chick-Flick' that will be enjoyed by the fairer sex and deplored by the men folk. This aside, it is a welcome return for Jennifer Lopez and one that shows that she is very much at home in rom-coms. It is still far too hard to believe that someone who looks like her would not be able to find herself a man though.


movieIQ+sync and BD-Live connect you to real-time information on the cast, music, trivia and more while watching the movie!
Belly Laughs: Making The Back-Up Plan
Deleted Scenes
---
The Usher Home | Hush, Hush... | The Big Story | The Usher Speaks
Stuck @ Home | Coming Soon | Links | Contact the Usher

2010