"You have to be two people. The saint and the sinner. The librarian and the stripper."
As the producer of Sacramento's morning TV show, Abby Richter (Heigl) didn't really have time to find her perfect man but when the show's rating start to struggle, her boss Stuart (Searcy) hires the city's most controversial TV personality to liven up the show. With his segment, 'The Ugly Truth' Mike Chadway (Butler) pulls no punches when it comes to talking about relationships, telling women what they have to do to catch their perfect man. When Mike meets Addy, she takes an instant dislike to him but he offers her a bet. That bet is that he can find her perfect man and show her how to act to get him or he will quit the show but will she follow all of his advice?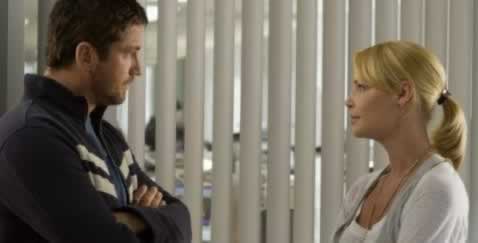 Since the dawn of time, women have wondered exactly what is going on inside a man's head but the truth might be a little too ugly for them to grasp.
Based on a story by Nicole Eastman, the 'The Ugly Truth' offers an insight into the female and male mind that the romantic comedy has only really touched upon. The eternal question of 'I wonder what they are thinking?' is something that the sexes have been asking forever, with neither gender every really wanting to say exactly what they are thinking. Men can't even fathom what is going on in a woman's mind and women tend to think that most of their thinking is done by their private parts more than their minds. For the most part this is true but a movie that offers an insight into both genders is one that could be both insightful and, of course, funny.
Here we have Abby, a beautiful and talented TV producer who has put her career before love, making her extremely picky when it comes to finding a man. She wants someone who fits into her life and not someone to share her life with. Her world is turned upside down however when the station hires controversial late night TV host Mike Chadway to bring 'The Ugly Truth' to breakfast television. This is a man who tells it how it is, ruining everything that Abby and the rest of female kind want to keep secret about themselves and revealing exactly what a man wants from a woman. Of course, she thinks Mike is the epitome of what is wrong with men but when he offers to help her find a man, she can't help put take up his offer because he has promised to quit the station if he fails. With both of them learning an insight into each other and most importantly themselves, this is a recipe for comedy and the film provides plenty of laugh-out-loud moments.
It is the chemistry between stars Katherine Heigl and Gerard Butler that make the movie work. While starring in the hit TV show 'Grey's anatomy', Katherine Heigl has also managed to make a string of hit movies like 'Knocked Up' and '27 Dresses' and it is easy to see why. Talented and incredibly beautiful, she has a real gift for comedy and shines again in 'The Ugly Truth'. Gerard Butler's career is one of the most varied in Hollywood. From action star in 'Gamer', 'Law Abiding Citizen' and '300' to musical star in 'The Phantom of the Opera'. Butler is no stranger to romantic dramas and comedies after starring in 'Dear Frankie' and 'P.S. I Love You'. As Mike Chadway he gets the chance to really let lose and have fun with a role that all men would love to be. The support is also good with Cheryl Hines and John Michael Higgins having fun as presenters Georgia and Larry, Bree Turner as Abby's friend Joy and Eric Winter as heartthrob Colin.
'The Ugly Truth' is filled with laugh out loud moments and a cast that really enjoy playing their characters. While the ending is a little predictable and the humour is very rude, this is a fun movie that offers and insight into the sexes that few comedies have ever done.


PICTURE & SOUND
The Blu-Ray disc presents the movie in High Definition widescreen 1:85 up to 1080p, with Dolby TrueHD 5.1 surround sound.
BONUS FEATURES
Select Commentary with director Robert Luketic and producer Gary Lucchesi
Listen to the director and producer talk about the sequences entitled 'Opening sequence', 'Mike's first broadcast', 'Abby meets Colin', 'Mike coaches Abby', 'Baseball game', 'Vibrating panties', 'The Late, Late Show with Craig Ferguson', 'Mike & Abby dance' and 'The hot air balloons', the pair offer an insight to the key scenes from the movie.
Deleted & Extended Scenes (16.22 mins/HD)
Entitled 'Date with Great Gatsby Guy (Extended)', 'Dear Mike', 'No Date tonight', 'A fine line between adorable and retarded', 'Dating Colin (Extended)' and 'Morning Madness/Balloon Festival (Extended)', these deleted and extended scenes suffer from the lack of a commentary or introduction to explain why they were cut or removed from the movie.
Alternate Endings (5.12 mins/HD)
Watch two alternate ending but they lack a commentary or introduction to explain why they were not used.
Gag Reel (10.22 mins/HD)
Watch the cast and crew have fun on set and make a hash of their lines while filming 'The Ugly Truth'.
The Truth is Ugly: Capturing the Male and Female point of view (12.48 mins/HD)
Director Robert Luketic, producer Tom Rosenburg, screenwriters Nicole Eastman and Karen McCullah Lutz and stars Katherine Heigl, Gerard Butler, Bree Turner and John Michael Higgins talk about the difference between men and women and bringing this to the silver screen.
The Art of Laughter: A Making of Hilarious Proportions (15.53 mins/HD)
Director Robert Luketic, producer Tom Rosenburg, screenwriters Nicole Eastman and Karen McCullah Lutz and stars Katherine Heigl, Gerard Butler, Bree Turner, Eric Winter and John Michael Higgins talk about the many funny moments in the movies.
Trailers
Previews of 'Cloudy with a Chance of Meatballs' and 'Have you heard about the Morgans?'
BD Live
Place the Blu-Ray into an internet enabled player or a PS3 and gain access to even more special features.
OVERALL
The Blu-Ray treatment for 'The Ugly Truth' is one that fans will enjoy. With good featurettes and deleted scenes, this is a decent package but one that doesn't really take advantage of the new facilities available on the HD format.
BLU-RAY

---
The Usher Home | Hush, Hush... | The Big Story | The Usher Speaks
Stuck @ Home | Coming Soon | Links | Contact the Usher

2009