Starring:
Dylan Walsh, Sela Ward, Penn Badgley, Amber Heard, Sherry Stringfield, Braeden Lemasters and Skyler Samuels
Director:
Nelson McCormick
Running Time:
101 mins
Out to buy on DVD 18/04/10
"Who am I here?"
When Susan (Ward) meets David (Walsh) in the supermarket, she thinks the widower is the ideal man for her. Six months later and the couple are engaged and planning the wedding and when her eldest son Michael (Badgley) comes home from Military School, her family is complete. Michael is a little suspicious however because no one can be as perfect as David seems to be but his future stepfather has a secret that he will do anything to keep.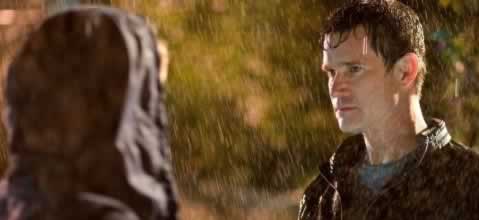 Hollywood's version of the horror genre has become a little stale as of late but can another remake inject something new?
When Hollywood delivers a horror movie to the box office, fans of the genre are becoming disenchanted with the constant stream of sequels and remakes of 70s and 80s hits. The constant cavalcade of lackluster horror flicks coming from Tinsel Town shows that Hollywood has ran out of ideas but can the remake of 1987 serial killer flick 'The Stepfather' which starred 'Lost' star Terry O'Quinn change that. The answer is yes and no.
The story of a single parent with three children, who meets, who she thinks could be the ideal man. A widower who really doesn't like to talk about his past, he is charming everyone but her eldest son returns from military school, he begins to suspect that his new potential stepfather might not be the man he claims to be. Of course this makes for a suspense thriller with the audience knowing what the Stepfather has done and is going to do, the writers need to keep the potential twists and turns interesting enough to engage the audience and this new version of 'The Stepfather' succeeds, for the most point.
When you are casting a movie like this, you need to cast someone in the leading role who doesn't look like he could have a murderous motive for getting involved with a family. Step forward 'Nip/Tuck' star Dylan Walsh as David Harris. Better known for his TV work, Walsh moves onto the big screen and gets the chance to show what he can do, playing a completely different character from cosmetic surgeon Dr. Sean McNamara. Turning from the nicest person you could ever meet but, of course, he needs to be able to change into a murderous killer and for the most part, Dylan Walsh does just that. Sela Ward is Susan Harding, the woman charmed by Harris and Braeden Lemasters and Skyler Samuels play her younger children. There is also support from Sherry Stringfield, Paige Turco and up and coming starlet Amber Heard as Kelly Porter. It is Penn Badgley, star of the hit TV show 'Gossip Girl', who makes the biggest splash however. He is the former wild-child Michael Harding who was sent away to military school but returns to the arms of his family and his new potential Stepfather. This is a good role for the young actor and one that gives him a little more to do.
'The Stepfather' is another Hollywood remake but one that isn't as bad as it could have been. With a few good twists and turns to keep you watching and an ending you will not expect, this is a decent remake and one that will keep suspense horror fans happy.


Gag Reel
Commentary with Director Nelson McCormick, Penn Badgley and Dylan Walsh
Featurette: "Open House: Making the Film"
Featurette: "Visualising the Stunts
---
The Usher Home | Hush, Hush... | The Big Story | The Usher Speaks
Stuck @ Home | Coming Soon | Links | Contact the Usher

2009